Veteran says psilocybin mushrooms changed his life as Arizona looks into funding for research
PHOENIX - Psychedelic mushrooms are illegal under federal law, but a current bill being discussed in Arizona has opened up the conversation about their benefits for conditions such as PTSD, depression, and anxiety. 
Those benefits have already helped thousands of people in states where they are legal, like Colorado and Oregon.
HB 2486 is going back and forth, and it's currently in the House. It wouldn't legalize mushrooms for recreational use, but allow funding for studies.
An Arizona veteran says the mushrooms helped his depression, and a local mushroom farmer explains the science behind them.
After military veteran Dan Horner's experience with mushrooms, he wanted to help others, so he created The Science of Psychedelics Conference, allowing a chance to educate, inform and enlighten the public on natural medicines.
"A friend of mine recommended mushrooms, and I was able to use those and relieve my depression so quickly that I just thought 'this is incredible' and there is no reason why these should be illegal and they should be available to people that have serious difficulties like this," Horner said. "The applications of psychedelics in medicine, it's a revolution. It's going to change everything, and it is coming pretty quickly, quicker than I think most people realize and especially people in the mental health field realize."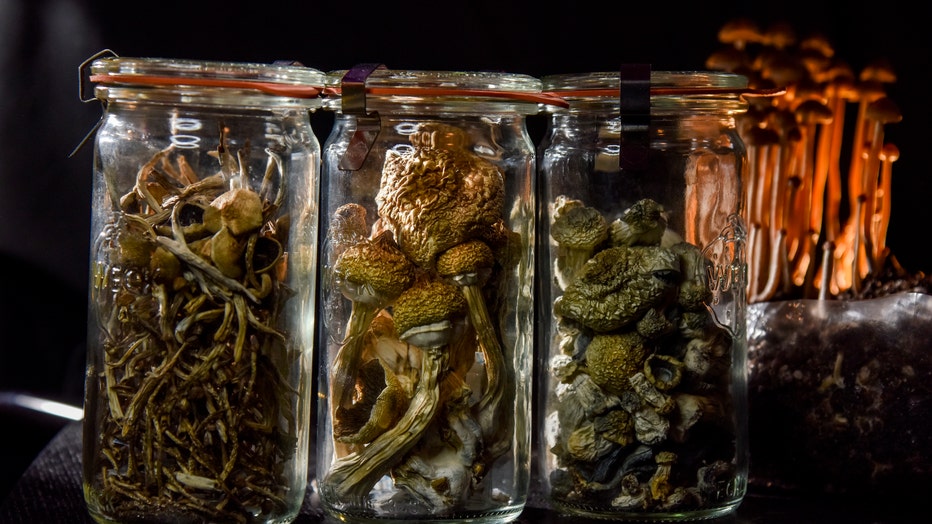 WASHINGTON, DC - FEBRUARY 5: A DC resident has an operation growing psilocybin mushrooms, including these Galindoi variation of Psilocybe mexicana mushrooms, two middle, and Psilocybe cubensis mushrooms, left and right, in Washington, DC, on Monday, (Getty Images)
He knows the state isn't looking to legalize the widespread use of psychedelics, but he's hoping proposed bills will start the conversation.
"The research should be the first step, and it's a step to make sure that we proceed in a very measured fashion with our eyes wide open, that we are taking the right steps in the right directions," Horner said.
When it comes to research, Michael Crowe is the guy to know. He owns Southwest Mushrooms, and although everything he grows is legal for culinary purposes, he knows the science behind all mushrooms.
"Psychedelic mushrooms are psilocybin mushrooms. Basically contain a compound called psilocybin and that compound is really interesting because it is real similar to the neurotransmitter serotonin and when you ingest it, it basically affects the way the brain perceives things," he explained.
The proposed bipartisan bill, if signed into law, would fund a $30 million research program to study these mushrooms.
According to capitol sources, the bill hasn't made it out of the House just yet. The language of the bill could be reworked and attached to another bill, but time is ticking before the legislative session is closed.
Whichever way this goes, Horner and Crowe want the benefits to be explored.
"Basically have a lot of potential behind medicinal value being able to treat depression, PTSD, anxiety, substance abuse disorders and a lot of other ailments," Crowe explained.
The Science of Psychedelics & Spiritual Medicine Conference will be held from April 28-30.