Woman dies in Laveen street racing crash, 4 hospitalized
PHOENIX - Two cars street racing in Laveen caused a crash that killed a 19-year-old woman and knocked out power for thousands of residents Saturday night, police said.
Four people were also hospitalized in the collision near 39th Avenue and Southern, including the drivers.
Phoenix investigators say the collision happened just before 9:30 p.m. on Aug. 19. Witnesses reported seeing the two vehicles racing westbound down Southern Avenue moments before they crashed into each other.
By the time first responders arrived, one of the cars had rolled over and another had hit a fence. 
Two men were pulled from the car that rolled over, and one of them sustained life-threatening injuries. Another passenger in that vehicle, 19-year-old Lesli Vega Bolanos, was "partially ejected" and died.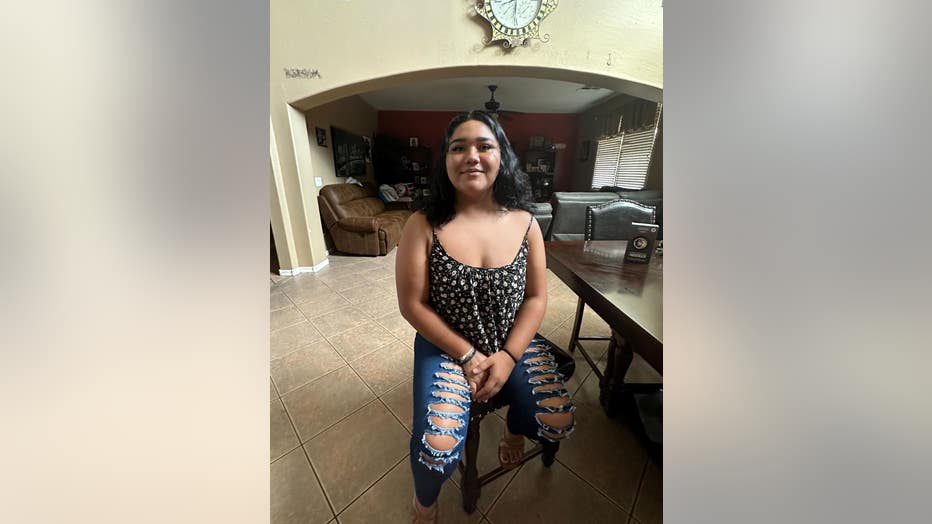 19-year-old Lesli Vega Bolanos
The driver and passenger in the other car suffered minor injuries and were treated at the hospital.
A witness told police that it looked like the cars were driving above 80 miles per hour. The posted speed limit is 40 mph.
The crash caused one of the vehicles to hit an electric pole, knocking out power to thousands of residents in the area. According to the SRP outage map, workers have managed to restore power to most of the homes.
The investigation is ongoing.
Memorial grows for woman killed
In the blink of an eye, dozens of lives have been tragically lost on this portion of Southern Avenue.
"Even after that streetlight … they put that streetlight there, but people are still getting killed. Why? Why? That's what I ask. Why?" said Vangie Ojeda, sister of Bolanos.
Her brother, Luis Ojeda, was killed in a hit-and-run, just two weeks before this crash.
"I don't know … I think there's something evil here," Ojeda said.
In 2018, residents took to the street in protest, demanding the city of Phoenix do something to make the road safer. Since then, a new traffic light and crosswalk were installed.
But, deadly crashes keep happening.
The grieving sister, who continues to search for the driver that killed her brother, blames speeding drivers and the lack of lighting.
Relatives of Bolanos are trying to raise money to send her to Mexico where her parents and immediate family live.
You can find their GoFundMe here.
A witness named Neelov Alam said, "I come back, the road is closed and everything and the entire neighborhood is dark."
Neighbors say this is a heartbreaking tragedy that is becoming far too common in the area.
"That intersection on 37th, i think how many, 5, 6 different people have died over there. There's a lot of memorials over there as well," Alam said. "I think it makes a lot of sense to have a lot of police over here."
Shafiq Shaikh has lived here for over ten years and is also wanting to see a wider road and other improvements to make it safer.
"What I notice throughout my time living here in this community has been in that intersection, because of the road conditions is why most of the accidents happen," Shaikh said.
Where it happened: