Yosemite's 'Firefall' returns in 2023: Here's how you can catch a glimpse of the fire in the sky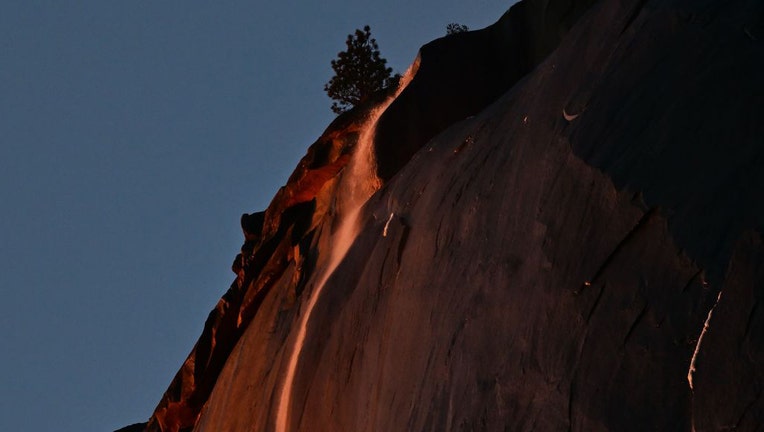 article
YOSEMITE NATIONAL PARK, Calif. - Nature lovers, get ready. Every year in mid-to-late February, hundreds of people flock to Yosemite National Park in California and make their way to Horsetail Fall in hopes of catching a glimpse of the spectacular "Firefall."
Dropping more than 2,000 feet down the eastern side of El Capitan, Horsetail Fall is a seasonal waterfall that flows during the winter and spring months.
The streams are fed entirely by snowmelt and runoff, so it dries up during the summer months.
How does 'Firefall' happen?
Firefall occurs when the sun is setting. When the beams of sunlight shine down on Horsetail Fall at a particular angle, the water shines bright and looks like a river of molten lava flowing off the mountain.
However, conditions need to be perfect to witness a sight that will never be forgotten.
First, there needs to be enough water at Horsetail Fall. At the end of 2022 and the first half of 2023, California received record amounts of rain and mountain snow from an onslaught of atmospheric rivers.
THESE ARE THE DAYS NATIONAL PARKS WILL HAVE FREE ADMISSION IN 2023
It also can't be too cold as the sun is setting. Otherwise, the river will freeze and stop flowing.
The sky also needs to be clear for the sun to shine on the mountain.
FIRE IN THE SKY: YOSEMITE'S 'FIREFALL' DRAWS THOUSANDS TO WITNESS NATURE'S MAGNIFICENT SPECTACLE
When and how to see 'Firefall' at Yosemite in 2023
This year, the dazzling Firefall event at Yosemite National Park will run through the end of February.
If you're hoping to travel to the national park, you need to be aware of some restrictions that are in place due to the event's popularity.
The event began on Feb. 10 and will run through Feb. 27. In 2023, a reservation will be required to drive into Yosemite 24 hours a day from Feb. 17-19 and from Feb. 24-26. Additionally, parking will be restricted in some areas, according to the National Park Service.
Park visitors need to park at Yosemite Falls parking, which is just west of the Yosemite Valley Lodge, and walk 1.5 miles (each way) to the viewing area near the El Capitan Picnic Area.
If that lot is full, NPS officials said visitors can park at Yosemite Village or Curry Village and use the free shuttle, which stops in both locations, to get to Yosemite Falls parking and the Yosemite Valley Lodge.
US MULLS LIFTING PROTECTIONS FOR GRIZZLY BEARS AT YELLOWSTONE, GLACIER NATIONAL PARKS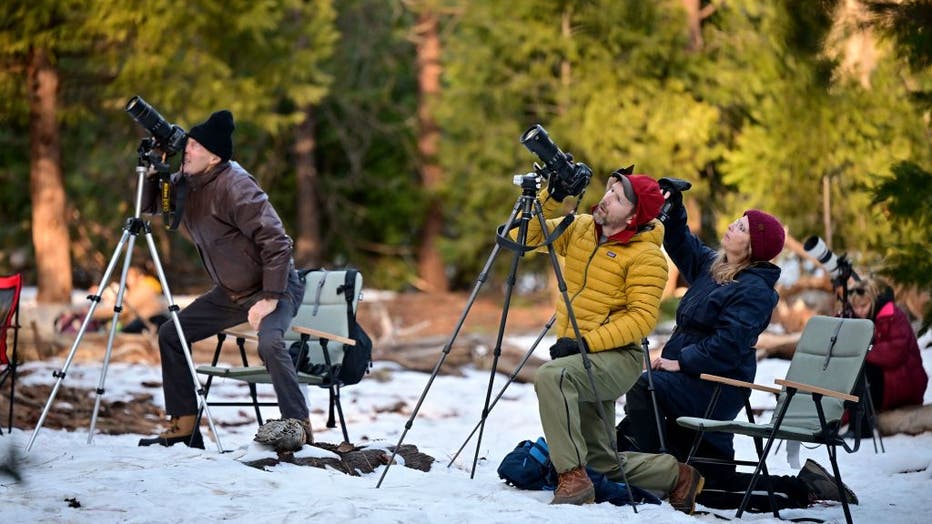 Photographers ready their tripods and cameras to capture the orange glow from water flowing off Horsetail Fall while backlit by the setting sun during the "Firefall" phenomenon in Yosemite National Park, California on Feb. 15, 2023. (Photo by FREDERI
The complete list of restrictions can be found on the park's website.
The NPS also recommends bringing warm clothes and a headlamp for each person. Visitors should expect snowy and icy conditions, so warm footwear and traction for boots are recommended.
Don't forget that there is a lot of walking. Expect to walk quite a bit both to and from the viewing area.
Visitors also need to stay out of burned areas and watch for burned brush and trees, which could unexpectedly fall.