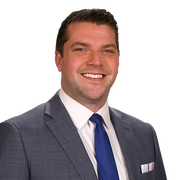 Steve Nielsen
Weekend Morning Anchor
Steve Nielsen joined FOX 10 News in January of 2020 and is excited to be back in the Valley reporting.
Raised in California, Steve first fell in love with Phoenix while getting his degree at the Cronkite School at Arizona State.
Steve spent nearly a decade on the East Coast reporting for WPRI-TV in Rhode Island. The smallest state punched above its weight class in news.
He stood just feet away as FBI agents raided the Rhode Island House Speaker's office. Eventually, the speaker pleaded guilty to bribery. Steve went to multiple Super Bowls covering the Patriots, reported in Fenway Park as the Red Sox won the World Series, and even interviewed the players at the Little League World Series.
Steve's reporting in Rhode Island earned him 7 New England Emmy nominations. He appeared nationally on FOX News in the days after the Boston Marathon Bombing. He's most proud of his work covering more than 50 cold cases in one year. His coverage helped detectives receive hundreds of tips on the region's most challenging investigations.
It was in Rhode Island Steve met his talented, intelligent, and beautiful wife Susan. Their family grew with the birth of their son Cormac, in 2018. 
Before his time in the Ocean State, Steve spent two years cutting his teeth in the mornings at KFDX in Wichita Falls, TX. In the evenings, he earned his master's in International Relations at Midwestern State University. 
He interned in college at several Phoenix television and radio stations. He always wanted to come back to the desert and cherishes the opportunity to now tell your stories in Phoenix. 
While not a work, you can find Steve smiling and laughing at parks and trails in the valley soaking up the sun with his wife and son.
The latest from Steve Nielsen