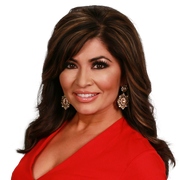 Syleste Rodriguez
Arizona Morning Anchor
Syleste is thrilled to be working in the Valley of the Sun. She is a fourth-generation Phoenician, originally from Tempe, Arizona, her family is one of the first five families of Tempe and is listed in the Tempe Historical Museum.
She joined FOX 10 in January 2013. Syleste has been recognized with numerous awards, Anchor of an Emmy Award-Winning Morning Show Newscast in 2012 and Emmy Nominated for her story in a series on Drought in Arizona in 2010. She was also awarded by the Autism Society of America for Best Broadcast Story.
As a student, she won a Hearst Collegiate Pulitzer for her work on Sheriff Arpaio, Polygamy and a story on an Ecstasy Ring at Arizona State University. Syleste is also deeply connected to the Hispanic community in the Valley, emceeing dozens of events as well as graduating from Valle del Sol's Hispanic Leadership Institute in 2008.
She's worked in Boise, Idaho as well as in Flagstaff, Arizona and interned at multiple stations in Phoenix while attending Arizona State University.
Syleste grew up in the East Valley, went to Marcos de Niza High School in Tempe, and attended Arizona State University, graduated with a bachelor's degree in Broadcast Journalism and is currently working on a Master's in Public Policy at Arizona State University.
When not at work, Syleste's days are busy with her three young children and her supportive hubby, she also volunteers at her church as well as at Newswatch, the student run newscast at her Alma Mater the Walter Cronkite School of Journalism at Arizona State University.
The latest from Syleste Rodriguez
FOX 10's Syleste Rodriguez checks out a historic home in central Phoenix built in 1942 by architect Fred Guirey.
Reuse and recycle can help save you money, but also help you make some cash, too. One Valley family is doing just that and while digging through what some call trash, they discovered something pretty valuable.
FOX 10's Syleste Rodriguez checks out shipping container homes transformed into Eco-friendly neighborhoods in the Valley.
Valley lawyer Brian Foster's beautiful home is built into the mountains high above the Ahwatukee Foothills. FOX 10's Syleste Rodriguez has the story.
"Shiloh," a private retreat for CEO's for Fortune 500 companies, is so big, it has it's own name. FOX 10's Syleste Rodriguez checks out the home in northeast Scottsdale.
FOX 10's Syleste Rodriguez visits the home of philanthropist Camerone Parker McCulloch, who's been featured on "Project Runway." Her closet is in a penthouse on 24th Street and Camelback.
FOX 10's Syleste Rodriguez explores a splendid hilltop home in Fountain hills complete with mountain views, a 12 person theater and an 800 bottle wine cave.
Willo Home Tour is coming up this weekend in the Valley and it features homes built in the early-1900s -- some are restored, while others are modern and contemporary. FOX 10's Syleste Rodriguez has a preview of the tour.
FOX 10's Syleste Rodriguez checks out a cool modern home in Arcadia with breathtaking views of Camelback Mountain.