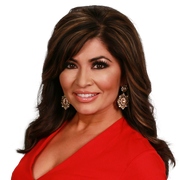 Syleste Rodriguez
Arizona Morning Anchor
Syleste is thrilled to be working in the Valley of the Sun. She is a fourth-generation Phoenician, originally from Tempe, Arizona, her family is one of the first five families of Tempe and is listed in the Tempe Historical Museum.
She joined FOX 10 in January 2013. Syleste has been recognized with numerous awards, Anchor of an Emmy Award-Winning Morning Show Newscast in 2012 and Emmy Nominated for her story in a series on Drought in Arizona in 2010. She was also awarded by the Autism Society of America for Best Broadcast Story.
As a student, she won a Hearst Collegiate Pulitzer for her work on Sheriff Arpaio, Polygamy and a story on an Ecstasy Ring at Arizona State University. Syleste is also deeply connected to the Hispanic community in the Valley, emceeing dozens of events as well as graduating from Valle del Sol's Hispanic Leadership Institute in 2008.
She's worked in Boise, Idaho as well as in Flagstaff, Arizona and interned at multiple stations in Phoenix while attending Arizona State University.
Syleste grew up in the East Valley, went to Marcos de Niza High School in Tempe, and attended Arizona State University, graduated with a bachelor's degree in Broadcast Journalism and is currently working on a Master's in Public Policy at Arizona State University.
When not at work, Syleste's days are busy with her three young children and her supportive hubby, she also volunteers at her church as well as at Newswatch, the student run newscast at her Alma Mater the Walter Cronkite School of Journalism at Arizona State University.
The latest from Syleste Rodriguez
This hearty yet filling soup won't spoil your New Years diet. It's easy, healthy and perfect for a chilly winter evening!
Karen Vicker has beaten cancer three times, and she has also dealt with other medical issues along the way. Now, she is hoping to inspire others by taking part in the New York City Marathon.
FOX 10 is proud to sponsor the Making Strides Against Breast Cancer walk and lead the fight against this deadly disease. Syleste Rodriguez spoke with Arizonans who have been affected by breast cancer. Here are their stories.
After suffering a severe injury during a rollover crash, a Paradise Valley Community College softball player is back in the game with a prosthetic leg -- and a positive attitude anyone would be fortunate to have. FOX 10's Syleste Rodriguez reports.
"I don't think there has been a better time to be a female in business," she said. "With the power of social media and the ability we have to create our own jobs, no one showed me how to do this, I just made it up and I'm still making it up.
Mayor Chris Riggs says the town does not have the resources or funds to support migrants, many who arrive with hopes of seeking asylum and making their home in America.
It's an incredible story: a Chandler police lieutenant helps rescue a woman in Utah who was dangling off a cliff. FOX 10's Syleste Rodriguez reports.
A WNBA star turned coach has made a mark in the Valley on the court and in the community.
It's a long drive -- six hours -- up to these small towns on the Navajo Nation.