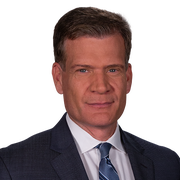 Brian Webb joined FOX 10 News in May 2019. He co-anchors the weekend editions of FOX 10 News broadcasts - Saturdays and Sundays from 5 pm to 6 pm and 9 pm to 10:30 pm.
Brian worked for KPIX in San Francisco and CBS News in New York City after covering the news in the Valley for seven years, from 2006 until 2013.
In his 20 year career, Brian has served as an embedded reporter in Bosnia, reported from Washington, DC after the 911 terror attacks and more recently covered the 2016 presidential campaigns in New York.
But his favorite stories are about giving a voice to everyday men and women who are facing struggles and reaching goals.
Brian grew up in Newton, KS, then earned a basketball scholarship to Regis University in Denver, CO.
He and his wife are glad to be back in the Valley of the sun close to friends and family.
The latest from Brian Webb