Cardinals routed 24-6 by Redskins in Wilks' debut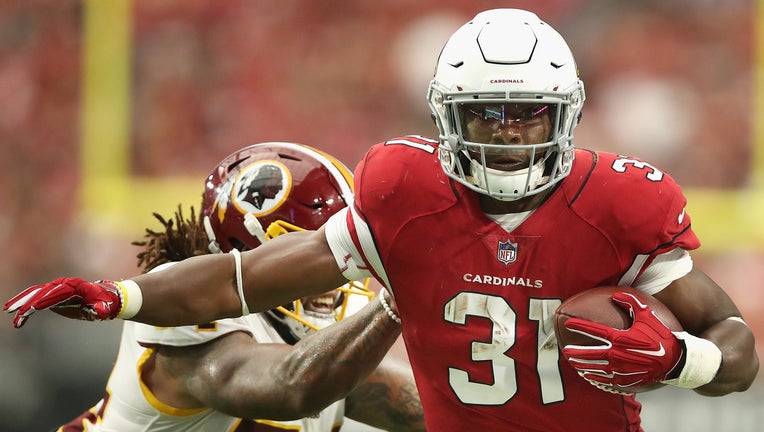 article
GLENDALE, Ariz. (AP) - The new-look Arizona Cardinals looked a lot like the old ones with a desert dud of a debut under coach Steve Wilks.
Pushed around all afternoon, the Cardinals were dominated in nearly aspect on Sunday to open the Wilks era with an ugly 24-6 loss to the Washington Redskins.
"Obviously, you don't want to start the season like this," Cardinals quarterback Sam Bradford said. "We felt like we were in a much better position and felt like we were going to come out and play much better than we did."
Coming off an 8-8 season, the Cardinals were hoping to rebound quickly with a new coach and quarterback.
Wilks, the former Carolina defensive coordinator, was hired to replace the retired Bruce Arians. Bradford signed a $20 million contract to replace the retired Carson Palmer and, hopefully, teach the NFL ropes to Josh Rosen, the No. 10 overall pick in this year's draft.
Bradford was mostly ineffective, unable to find receivers downfield or move Arizona's offense. He threw for 153 yards with an interception on 20-of-34 passing - most of that after Arizona fell behind 21-0 and had to start passing.
David Johnson, signed to a three-year contract extension the night before, found little room to run and became an afterthought when the Cardinals had to start passing, finishing with 37 yards on nine carries. Arizona had 213 total yards and went 1 for 8 on third downs.
"You saw early on we were running the ball well," Wilks said. "When you get in a situation where you get behind, it sometimes gets you out of what you really want to do. All night we were playing catch-up and that was really the issue, that we were never really able to get into a rhythm when we go behind."
Arizona's defense played on its heels all day, missing tackles and assignments as Washington had one long drive after another.
Alex Smith threw for 255 yards and two touchdowns on 21-of-30 passing in his first game with Washington. Adrian Peterson ran for 96 yards and scored in his first game in his Washington debut and the Redskins racked up 429 yards to win their opener for the first time in five tries under coach Jay Gruden.
"There's no reason to panic, but this is not OK, this is not acceptable," Cardinals defensive tackle Corey Peters said. "We have to take a good look in the mirror and point the finger at ourselves."
The Redskins pushed the Cardinals defense around throughout the first half, reeling off small-chunk plays on scoring drives of 80, 73 and 92 yards.
Smith hit Chris Richardson on a 13-yard pass for the first score and Jordan Reed on a 4-yard TD to put the Redskins up 21-0. Peterson scored on a 1-yard run in between. Washington had 261 yards and controlled the ball for nearly 23 minutes in the first half.
Arizona's offense spent the first half sputtering in neutral, leading to boos from the home crowd.
Bradford was unable to throw anything down the field, hitting 3 of 7 passes for 11 yards. Outside of a couple of decent Johnson runs, the Cardinals had no running game to speak of, finishing the half with 36 total yards - one less than they had in penalties.
"We can't run 13 plays in the first half and expect to win," Bradford said. "We've got to figure out a way to get points early, figure out a way to convert third downs."
The Cardinals' offense finally got something going late in the third quarter, but Bradford overthrew Ricky Seals-Jones and was intercepted by Quinton Dunbar.
Johnson scored on a 2-yard touchdown run with about six minutes left in the fourth quarter. After the failed 2-point conversion, the Cardinals were down 24-6 - well on their way to losing their first game under Wilks.
___
For more AP NFL coverage: https://apnews.com/tag/NFL and https://twitter.com/AP_NFL