Cash in on $10K playing FOX Bet Super 6 NASCAR contest featuring Atlanta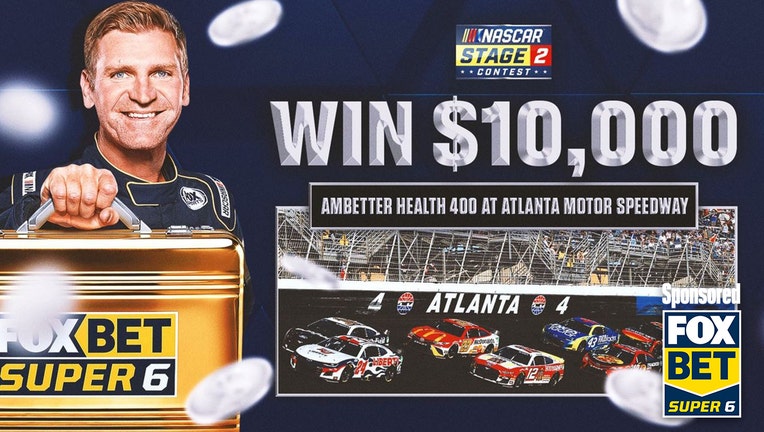 article
Welcome to Atlanta, where the … racers race? Well, that's not exactly how the song goes, but we'll allow it since NASCAR is heading to the Atlanta Motor Speedway for this weekend's Ambetter Health 400 on FOX.
And Jamie Little — the award-winning FOX Sports NASCAR pit reporter covering both Saturday's Truck Series and Sunday's Cup Series — gave us the inside scoop ahead of the action in the A.
"On Sunday morning, I get there before the garage even opens for all the teams. By the time they get there, the pit road has already been split, so I'll know what cars I have. 
"But once I put the headset on, I've got it on for six hours straight. And that's the cool thing about my job. I'm right in the mix, I talk to the drivers first hand — whether they're getting in the car, out of the car or just wrecked."
And when it comes to the coolest moments of covering race day, chatting with first-time winners ranks at the top of the leaderboard for this ARCA Menards Series play-by-play announcer.
"Their raw emotion in that moment when they're climbing out of the car — before anybody else gets to talk to them — is the most exciting and rewarding part of my job."
As a 22-year broadcast veteran in the industry, Jamie Little's big personality weaves through virtually every facet of the thrilling sport. She has covered nine Daytona 500 races and was the first woman ever to cover a televised Supercross and motorcross event. 
And here's a nugget you might not find on her impressive resume. Early in Jamie's career, she almost caught on fire covering a race.
"We were wearing fire suits at the time, so things were different," she laughed. "But you have to keep your head on a swivel."
When asked to describe NASCAR in just one word, Jamie quickly commented that it's "ever-changing."
"There are so many story lines for every driver in the field — the things that happen on the track and then their personal lives, too. People care about all of that. Just like the NFL, there's always news.
"And in NASCAR, the rules change, the cars change, the pit crews and the way that they do things changes. It's all changing at such a rapid pace."
And since NASCAR is evolving at record speeds, we're giving you an opportunity to join the ride and win some cash while doing it playing FOX Bet Super 6.
FOX Bet Super 6 is a free-to-play contest where you can pick six different outcomes in the NASCAR Stage 2 Contest featuring the Atlanta Motor Speedway to win Clint Bowyer's $10,000. Just download the FOX Bet Super 6 app on your phone or mobile device, make your picks and submit your selections before the race gets underway this Sunday.
Playing for the $10,000 grand prize is free, it's easy and fun. And people really do win!
We got a Little help from Jamie ahead of this weekend's FOX Bet Super 6 NASCAR contest. So check out her insight before you head to the app to make your own picks!
Which of these drivers will have the best finish at the end of the race?
Denny Hamlin, Joey Logano, Martin Truex Jr., Kyle Busch, Kyle Larson, Kevin Harvick
"Hmmm…I'm gonna go with Joey Logano. This is a mile-and-a-half intermediate track, but it races like Daytona, and Joey Logano is very good at that style of track. 
"Larson and Truex are not."
Prediction: Joey Logano
Which manufacturer — Chevrolet or Ford — will have the most cars on the lead lap at the end of Stage 2 and how many will they have?
1-3, 4-5, 6, 7, 8, 9, 10, 11, 12, 13+
"Let's go Chevy and 12."
Prediction: Chevrolet, 12
Which of these drivers — Blaney or Byron — will have the fastest lap by the end of Stage 2 and how many yellow laps will there be?
0-9, 10-11, 12-13, 14-15, 16-17, 18-19, 20-21, 22-23, 24-45, 26+
"I'm going to say Blaney will have the fastest lap because he's so good at this style of racing, and I'm going with 60 laps under caution."
Prediction: Blaney, 26+
Which team — Joe Gibbs Racing or Hendrick Motorsports — will have the most laps led by the end of Stage 2 and how many laps will they lead?
1-13, 14-20, 21-26, 27-33, 34-40, 41-47, 48-54, 55-61, 62-66, 67+
"I'm definitely going with Hendrick. I think that team is going to be really strong."
Prediction: Hendrick Motorsports, 48-54
Which manufacturer — Ford or Toyota — will have the car that gains the most positions by the end of Stage 2 and how many will they gain?
1-4, 5-8, 9-10, 11-12, 13-14, 15-16, 17-18, 19-20, 21-22, 23+
"It's a toss-up, but I'm going with Ford."
Prediction: Ford, 15-16
Which driver — Almirola or Briscoe — will have the best finish at the end of Stage 2 and by how many positions?
1, 2, 3, 4, 5, 6, 7, 8-10, 11-14, 15+
"Almirola. Aric [Almirola] is really good at this style of racing. Chase [Briscoe] is still such a newbie to NASCAR and to the Cup Series. I could see him getting caught up in a wreck."
Prediction: Almirola, 15+
Jamie sprinkled in some extra insight for spectators getting geared up for Atlanta.
"To me personally, this weekend will be some of the most exciting racing we have. We've only had two races on this track since they repaved it. There's gonna be big packs, big wrecks, and there will be a lot of passes and a lot of lead changes. 
"This is all the perfect stuff that people need to watch out for this weekend."
Are you ready to play to win $10K on the A? With help from our expert, your engines should be fired up and ready to go.
Download the FOX Bet Super 6 app and submit your selections for the NASCAR Stage 2 Contest now! Then be sure to share your picks with us by tagging @FOXSuper6 and @EricaReneeD and using the #EricaSuper6 hashtag across all social media platforms.
All systems go. Good luck!
Download the FOX Bet Super 6 app for your chance to win thousands of dollars on the biggest sporting events each and every week! Just make your picks and you could win the grand prize. Download and play today!
No purchase necessary. Open to legal residents of the US, excluding WA. 18 and older. See terms and conditions at foxsuper6.com. Sponsored by TSG Interactive US Services Limited.