ASU police officer dies in crash on State Route 101
TEMPE, Ariz. - An Arizona State University police officer has died in a single-vehicle motorcycle crash on the Loop 101 near University Drive, Department of Public Safety officials said on Jan. 14.
ASU police identified the victim as Joseph Montgomery, a 13-year veteran of the department. DPS troopers said the officer may have hit a wall while on the freeway.
According to officials, Montgomery was on his personal motorcycle when the crash happened. The cause of the crash is unknown.
"We don't know if it was a mechanical failure on the bike or anything like that. That will come out in the investigation, but just unfortunately, a single-vehicle tragic accident that took Officer Montgomery from us," said ASU Police Spokesperson Adam Wolfe.
Montgomery is survived by his wife and four children. Meanwhile, several Valley law enforcement agencies have shown support for the department on social media.
"There's been a tremendous outpouring of love from our brothers and sisters in blue, and we're very thankful for that," said Wolfe.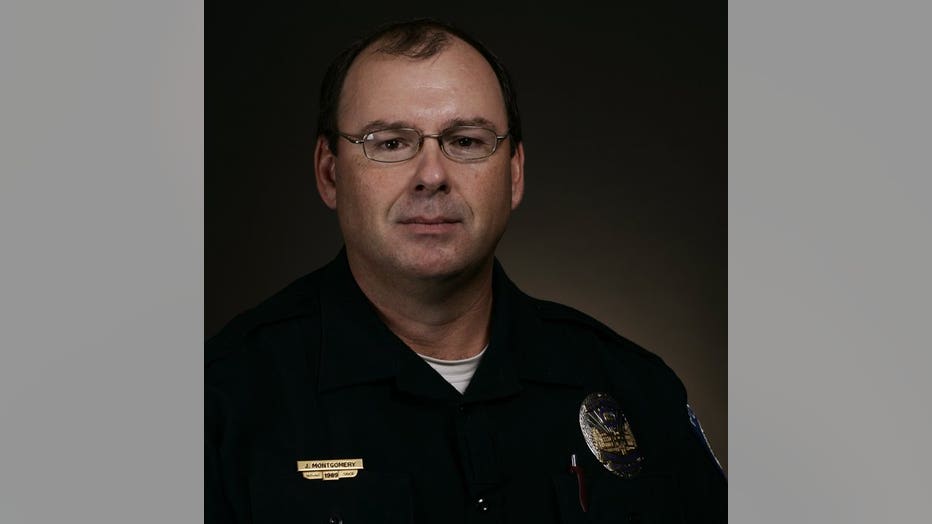 Officer Joseph Montgomery (ASU Police)
Wolfe says Montgomery dedicated himself to the department for more than a decade.
"We tend to have more people come and go being that we're with the university, so there tends to be a bit more burnout, but not for him," said Wolfe. "He was here for a long time, which is a great testament to him, and he was just so valuable to this department. It is a great loss."
Wolfe says Montgomery was part of a team of 20-plus patrol officers.
"It's gonna be tough on that group, particularly tough on the department," said Wolfe. "We're a department of only about 86 officers, so losing one is gonna be felt by everybody."
The exit ramp for University Drive was closed during the investigation.
2nd police officer death in the Valley within a week
Montgomery's death on Jan. 12 marked the second death of a Valley law enforcement officer within the span of a week.
On Jan. 11, Chandler Police officials say Officer Tyler Britt, a 19-year veteran of the department, died of COVID-19.
"Each day Tyler came to work, he made a difference. He was passionate about his job and touched countless people's lives over the course of his career. His passing is a tremendous loss to our department and the Chandler community. He will be sorely missed," read a statement released by Chandler Police Chief Sean Duggan.
"Everyday when they say goodbye, we always encourage them to hug them extra tight," said Angela Harrolle, CEO of the 100 Club of Arizona. "You just never know what that day holds."
Get breaking news alerts in the FREE FOX 10 News app. Download for Apple iOS or Android.