Biden visits US-Mexico border as migrant crisis spirals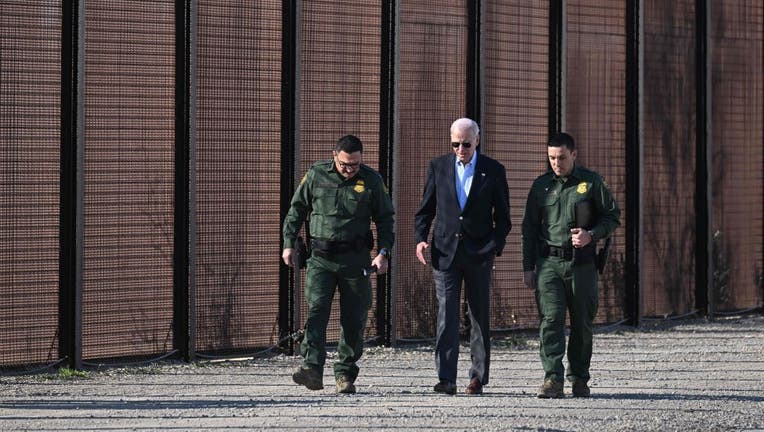 article
President Joe Biden walked a muddy stretch of the U.S.-Mexico border and inspected a busy port of entry Sunday on his first trip to the region after two years in office, a visit shadowed by the fraught politics of immigration as Republicans try to blame him for the record numbers of migrants crossing into the country.
At his first stop, the president observed as border officers in El Paso demonstrated how they search vehicles for drugs, money and other contraband. Next, he traveled to a dusty street with abandoned buildings and a small playground. Near the street was a metal border fence that separated the U.S. city from Ciudad Juarez. 
His last stop was the El Paso County Migrant Services Center — but there were no migrants in sight. As he learned about the services offered there, he asked an aid worker, "If I could wave the wand, what should I do?"
Biden's nearly four-hour visit to El Paso was highly controlled. He encountered no migrants except when his motorcade drove alongside the border and about a dozen lined up on the Ciudad Juárez side. His visit did not include time at a Border Patrol station, where migrants who cross illegally are arrested and held before their release.
The visit seemed designed to showcase a smooth operation to process legal migrants, weed out smuggled contraband and humanely treat those who have entered illegally, creating a counter-narrative to Republicans' claims of a crisis situation equivalent to an open border.
But his visit was likely to do little to quell critics from both sides, including immigrant advocates who accuse him of establishing cruel policies not unlike those of his hard-line predecessor, Donald Trump.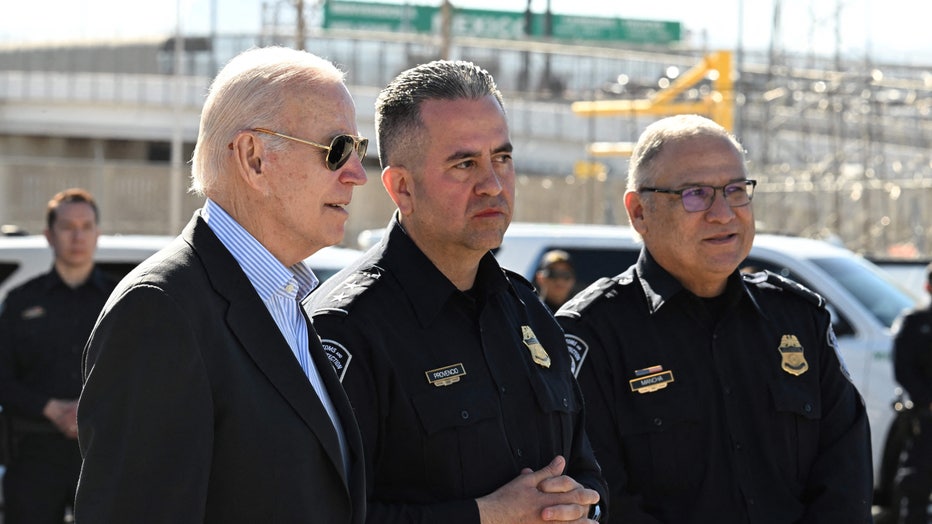 US President Joe Biden speaks with US Customs and Border Protection police on the Bridge of the Americas border crossing between Mexico and the US in El Paso, Texas, on January 8, 2023.(Photo by JIM WATSON/AFP via Getty Images)
In a sign of the deep tensions over immigration, Texas Gov. Greg Abbott, a Republican, handed Biden a letter upon his arrival in the state that said the "chaos" at the border was a "direct result" of the president's failure to enforce federal laws. Biden later took the letter out of his jacket pocket during his tour, telling reporters, "I haven't read it yet."
Elsewhere in El Paso, hundreds of migrants were gathered Sunday outside the Sacred Heart Catholic Church, where they have been sleeping outdoors and receiving three meals a day from faith groups and other humanitarian organizations.
The migrants included several pregnant women, including Karla Sainz, 26, eight months along. She was traveling in a small group that included her 2-year-old son, Joshua. Sainz left her three other children back home in Venezuela with her mother.
"I would ask President Biden to help me with a permission or something so we can work and continue," she said.
Juan Tovar, 32, one of several people in her group, suggested he also had political reasons for leaving his home country.
"Socialism is the worst," he said. "In Venezuela, they kill us, they torture us, we can't talk bad about the government. We are worse off than in Cuba."
Noengris Garcia, also eight months pregnant, was traveling with her husband, teen son and the small family dog from the tiny state of Portuguesa, Venezuela, where she operated a food stall.
"We don't want to be given money or a house," said Garcia, 39. "We just want to work."
Asked what he's learned by seeing the border firsthand and speaking with the officers who work along it, Biden said: "They need a lot of resources. We're going to get it for them."
READ MORE: Migrants entering into US stunned to hear of new asylum limits
Immigration for years has been a serious point of conflict, exposing both the dysfunction of the U.S. system as well as the turmoil within migrants' home countries that has pushed many to flee. Administration officials have tried to counter Republican criticism by saying Congress should work with them to increase border security funding and overhaul immigration policy.
Biden's announcement on border security and his visit to the border are aimed in part at quelling the political noise and blunting the impact of upcoming investigations into immigration promised by House Republicans. But any enduring solution will require action by the sharply divided Congress, where multiple efforts to enact sweeping changes have failed in recent years.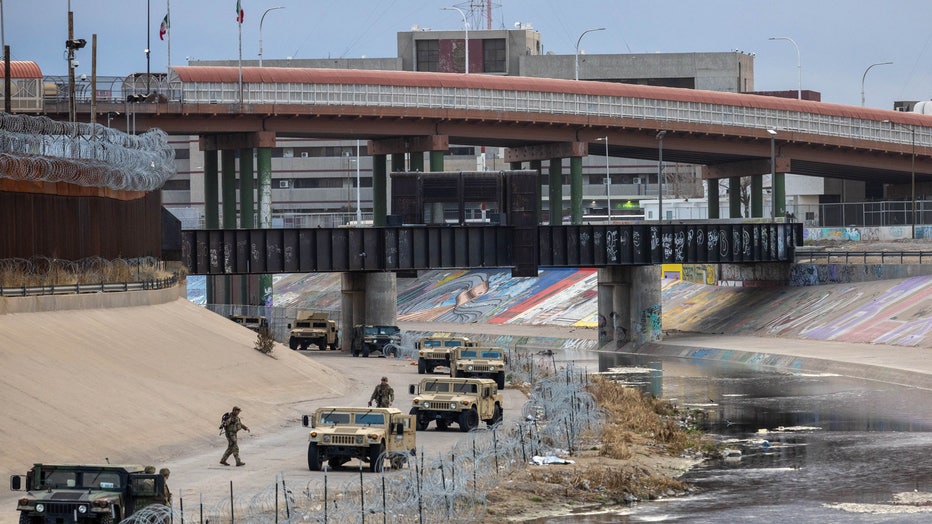 Texas National Guard soldiers stand guard at the U.S.-Mexico border on January 07, 2023 as viewed from Ciudad Juarez, Mexico. U.S. President Joe Biden is set to visit El Paso on January 8th (Photo by John Moore/Getty Images)
From Texas, Biden headed south to Mexico City, where he and the leaders of Mexico and Canada will gather on Monday and Tuesday for a North American leaders summit. Immigration is among the items on the agenda.
In El Paso, where migrants congregate at bus stops and in parks before traveling on, border patrol agents have stepped up security before Biden's visit.
READ MORE: NC State broadcaster suspended for referring to 'illegal aliens' at Sun Bowl in El Paso
Migrants and asylum-seekers fleeing violence and persecution have increasingly found that protections in the United States are available primarily to those with money or the savvy to find someone to vouch for them financially.
The numbers of migrants crossing the U.S.-Mexico border has risen dramatically during Biden's first two years in office. There were more than 2.38 million stops during the year that ended Sept. 30, the first time the number topped 2 million. The administration has struggled to clamp down on crossings, reluctant to take hard-line measures that would resemble those of former President Donald Trump's administration.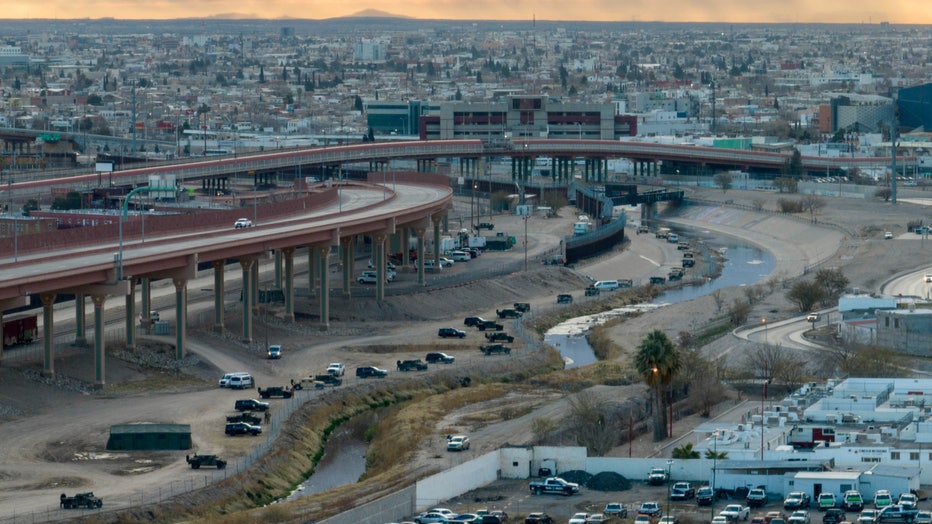 As seen from an aerial view Texas National Guard and state troopers guard the U.S.-Mexico border on January 07, 2023 as viewed from Ciudad Juarez, Mexico.(Photo by John Moore/Getty Images)
The policy changes announced this past week are Biden's biggest move yet to contain illegal border crossings and will turn away tens of thousands of migrants arriving at the border. At the same time, 30,000 migrants per month from Cuba, Nicaragua, Haiti and Venezuela will get the chance to come to the U.S. legally as long as they travel by plane, get a sponsor and pass background checks.
The U.S. will also turn away migrants who do not seek asylum first in a country they traveled through en route to the U.S. Migrants are being asked to complete a form on a phone app so that they can go to a port of entry at a pre-scheduled date and time.
READ MORE: Fentanyl seizures at the border continue to spike and shatter records in 2022
Homeland Security Secretary Alejandro Mayorkas told reporters aboard Air Force One that the administration is trying to "incentivize a safe and orderly way and cut out the smuggling organizations," saying the policies are "not a ban at all" but an attempt to protect migrants from the trauma that smuggling can create.
The changes were welcomed by some, particularly leaders in cities where migrants have been massing. But Biden was excoriated by immigrant advocate groups, which accused him of taking measures modeled after those of the former president. Administration officials disputed that characterization.
For all of his international travel over his 50 years in public service, Biden has not spent much time at the U.S.-Mexico border.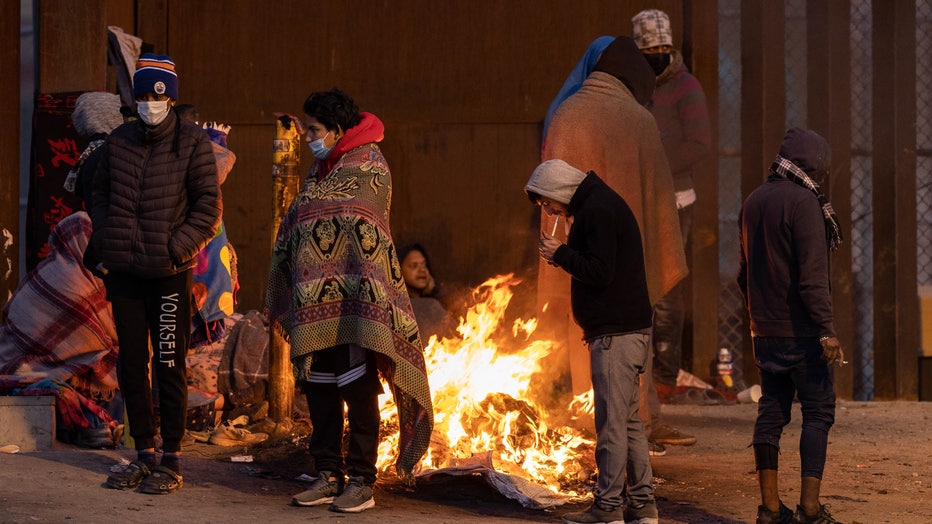 Immigrants wait overnight next to the U.S.-Mexico border fence to seek asylum in the United States on January 07, 2023 as viewed from Ciudad Juarez, Mexico. U.S. President Joe Biden is set to visit El Paso on January 8th (Photo by John Moore/Getty Im
The only visit that the White House could point to was Biden's drive by the border while he was campaigning for president in 2008. He sent Vice President Kamala Harris to El Paso in 2021, but she was criticized for largely bypassing the action, because El Paso wasn't the center of crossings that it is now.
President Barack Obama made a 2011 trip to El Paso, where he toured border operations and the Paso Del Norte international bridge, but he was later criticized for not going back as tens of thousands of unaccompanied minors crossed into the U.S. from Mexico.
Trump, who made hardening immigration a signature issue, traveled to the border several times.