Billboards go up in Buckeye seeking more information on teen's 2020 homicide
BUCKEYE, Ariz. - Two digital billboards were put up in Buckeye to encourage anyone with information to come forward about the 2020 homicide of a teenage girl named Anaiah Walker.
"Anaiah Walker was found dead on the I-10 median west of Watson Road on Friday, May 22, 2020," police said. She was 16 and had been hit by a car.
With some car parts left at the scene of the homicide, investigators determined the suspect's car is likely a 2016-2018 Honda Civic LX or LE with factory color "midnight burgundy pearl."
The billboards can be seen along I-10 near Miller Road.
There is a reward of up to $12,000 from Silent Witness for anyone who can offer information that'll lead to an arrest and/or conviction.
If you know anything about the death of Walker, contact Silent Witness at 480-WITNESS, 480-TESTIGO for Spanish-speakers. You can choose to remain anonymous.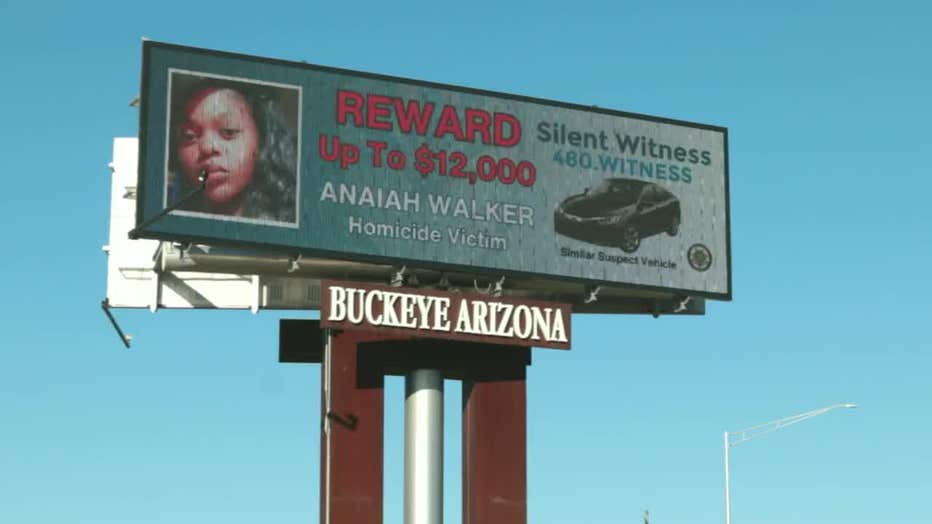 Digital billboard for Anaiah Walker in Buckeye, Arizona
Area of where Walker was killed:
Buckeye Police is searching for the driver of a vehicle accused of hitting and killing 16-year-old Anaiah Walker. (Buckeye Police Department)