Convict Cuisine: Former Phoenix inmate brings prison-inspired food to all
PHOENIX - We often feature restaurants, chefs, and food trucks from time to time, but we have never covered anything quite like this.
"Nobody knows about this type of food," said John Avila, the owner of Prison Pies. "You know, the stuff that we did in prison was just totally different than anything you eat out here."
It's called 'convict cuisine,' and a former inmate from the Phoenix area is bringing prison-inspired food for the people who want a taste of what life can be like on the inside, at least in terms of food.
"Don't knock it until you try it," said Avila. "A lot of people think 'ooh, prison food its nasty' or 'why would anybody eat like that' or 'hey, you're out of prison now. Why you still eating like that?' And hey, the food is good."
Avila came up with the idea while serving 2.5 years behind bars. He said he had to get innovative with his limited jail snacks.
After he was released from prison, Avila made his dream a reality.
"We officially started in 2020. All the restaurants were closed, and food trucks [were] everywhere, so I just figured that was the right time to get our name out there and start the business," said Avila. "Within a couple of weeks, the first few people that started trying it, they started talking about it. [After that], everybody just loved the food."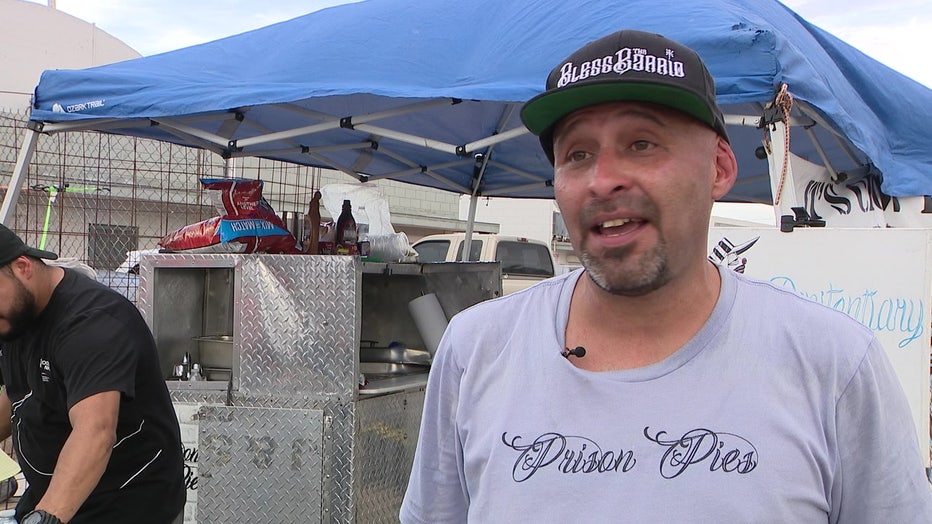 Avila's company now has quite the following on social media, and the unique food combinations keep bringing back customers who want more.
"We make prison-style tamales. Those tamales are made of Doritos. The masa is made of Doritos," said Avila. "We also make nachos. We make one of our favorite things. One of the things that people like the most is our Cadillac Coffees. We put chocolate syrup, caramel, and then your choice of either snickers, Reese's, or any kind of chocolate you want in it."
Prison Pies