Deadline looms large for backdated PACT Act benefits: Here's what you should know
PHOENIX - Veterans who were impacted by burn pits in Afghanistan and exposed to toxins have a big deadline that is looming.
According to the Department of Veterans Affairs, those who want to receive backdated PACT Act benefits have to file by Aug. 9, 2023.
Here's what you should know about the PACT Act, as well as the benefits veterans can receive.
What is the PACT Act?
According to the Department of Veterans Affairs, PACT Act is the short name for a bill known as "Sergeant First Class Heath Robinson Honoring our Promise to Address Comprehensive Toxics Act."
The law, according to the VA's website, has the following effects:
Expanding and extending eligibility for VA health care for veterans with toxic exposure and veterans of the Vietnam Conflict, Gulf War, and post-9/11 eras.
Adding more than 20 presumptive conditions for burn pits, Agent Orange, and other toxic exposures
Adding more presumptive-exposure locations for Agent Orange and radiation
Requiring the VA to give a toxic exposure screening to every veteran enrolled in VA health are
Helping to improve research, staff education, and treatment related to toxic exposures.
What's a "presumptive condition"?
According to the VA's website, a "presumptive condition" is a condition that the VA automatically assumes is caused by a person's military service. Those with a presumptive condition only need to meet service requirements in order to satisfy the presumption.
This, according to the website, is different from other disabilities, where a person trying to get a VA disability rating will need to prove that their military service caused the condition.
Prior to the passing of the PACT Act, the AP reported that 70% of disability claims involving exposure to the pits were denied by the Department of Veterans Affairs.
When was the law signed?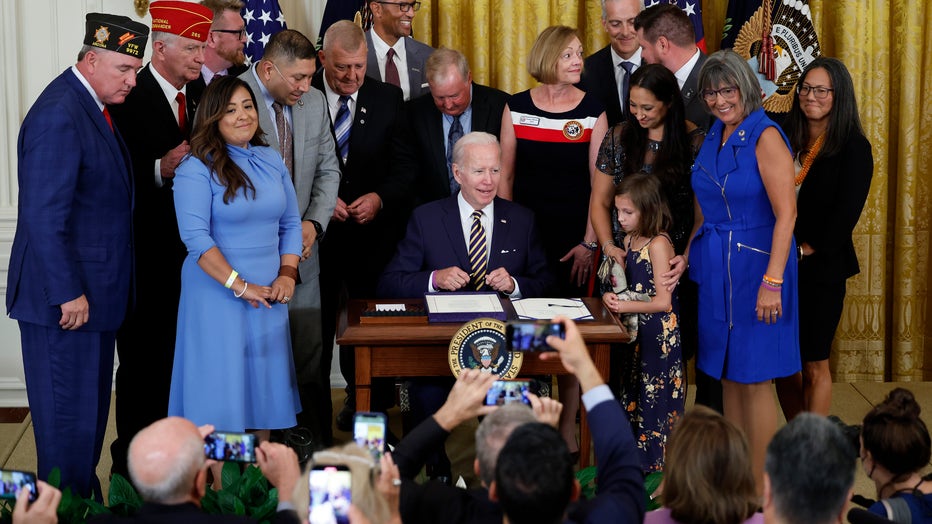 U.S. President Joe Biden prepares to sign the PACT Act during a ceremony with Veterans Affairs Secretary Denis McDonough (R) and others in the East room of the White House on August 10, 2022. ((Photo by Chip Somodevilla/Getty Images))
The PACT Act was signed into law by President Joe Biden on Aug. 10, 2022.
"We owe you," said President Biden, during the signing ceremony. "You're the backbone. You're the steel. You're the sinew. You're the very fiber that makes this country what it is."
During the signing ceremony, the Associated Press reported that President Biden drew a very direct link between the brain cancer that killed his son, Beau, and burn pits.
Beau Biden, who once served as Delaware's Attorney General, died in 2015.
How will the bill help some veterans?
According to the AP, the law capped a years-long battle to ensure treatment for chronic illnesses that veterans have blamed on burn pits.
In a 2016 document published by the Department of Veterans Affairs, burn pits are described as an area devoted to open-air combustion. These pits were used to dispose of chemicals, tires, plastics, medical equipment and human waste on military bases. 
"The use of burn pits was a common waste disposal practice at military sites outside the United States, such as in Iraq and Afghanistan," read a portion of the documents.
On the American Cancer Society's website, it is stated that "environmental sampling of the air and soil near burn pits has documented the presence of several chemical compounds shown in studies to be linked with inflammation and body tissue damage, particularly in the respiratory tract."
Similarly, the VA's website also states that while on active duty, military service members may have been exposed to a variety of airborne hazards. The website lists smoke and fumes from open burn pits as being among the hazards.
What burn pit-related conditions are now deemed as presumptive conditions?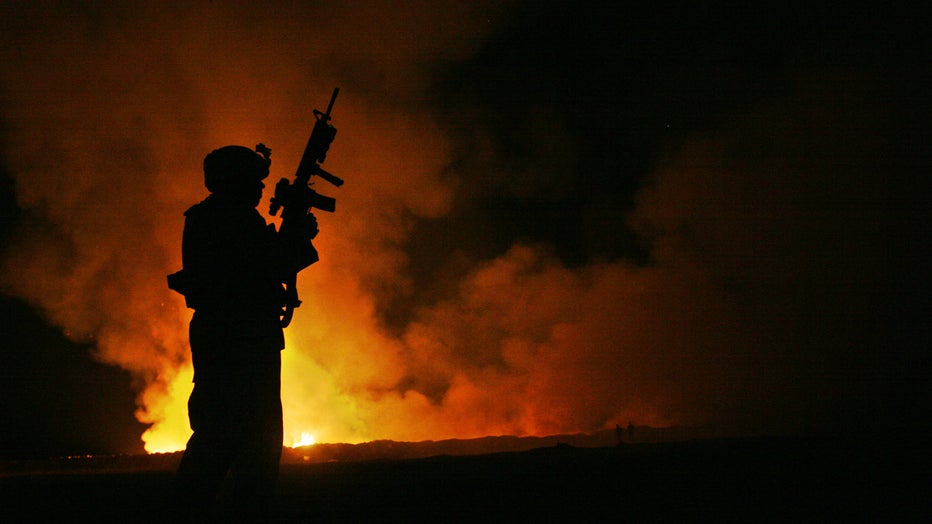 ((Official USMC photograph by Cpl. Samuel D. Corum))
On the VA's website, it is stated that a number of burn put and other toxic exposure conditions are now considered to be presumptive conditions under the PACT Act, including:
Brain cancer
Gastrointestinal cancer of any type
Glioblastoma
Head cancer of any type
Kidney cancer
Lymphoma of any type
Melanoma
Neck cancer of any type
Pancreatic cancer
Reproductive cancer of any type
Respiratory (breathing-related) cancer of any type
Asthma that was diagnosed after service
Chronic bronchitis
Chronic obstructive pulmonary disease (COPD)
Chronic rhinitis
Chronic sinusitis
Constrictive bronchiolitis or obliterative bronchiolitis
Emphysema
Granulomatous disease
Interstitial lung disease (ILD)
Pleuritis
Pulmonary fibrosis
Sarcoidosis
Who qualifies for the new benefits?
According to the VA's website, the department has determined that people who served in the following locations on or after Aug. 2, 1990 have had exposure to burn pits or other toxins:
On or after Aug. 2, 1990
Bahrain
Iraq
Kuwait
Oman
Qatar
Saudi Arabia
Somalia
The United Arab Emirates (UAE)
The airspace above any of these locations
Similarly, the VA has determined that people who served in the following locations on or after Sept. 11, 2001 have had exposure to burn pits or other toxins:
Afghanistan
Djibouti
Egypt
Jordan
Lebanon
Syria
Uzbekistan
Yemen
The airspace above any of these locations
What else is included in the PACT Act?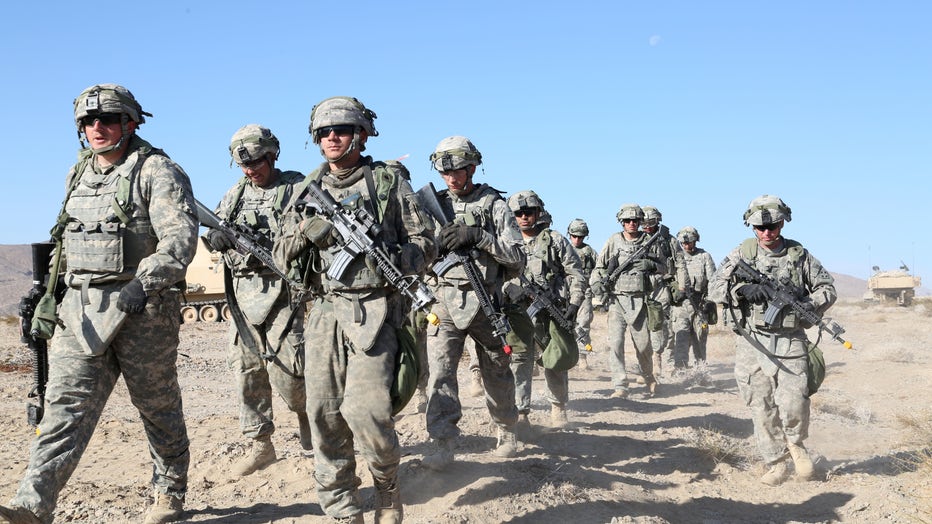 U.S. Army Soldiers from Charlie Battery, 3rd Battalion, 29th Field Artillery Regiment, 3rd Armored Brigade Combat Team, 4th Infantry Division, march in a formation during Decisive Action Rotation 15-02 at the National Training Center on Fort Irwin, C ((U.S. Army photo by Spc. Randis Monroe/Released))
According to the AP, as a result of the PACT Act, veterans who have served since the Sept. 11 attacks will have a decade to sign up for VA health care, double the current five years.
The legislation also includes more help from Vietnam Conflict veterans. According to the AP, hypertension is added to a list of ailments that are presumed to be caused by exposure to Agent Orange, a herbicide used by the U.S. military to clear vegetation.
In addition, the AP reports that veterans who served during the war in Thailand, Cambodia, Laos, Guam, American Samoa and Johnston Atoll will also be considered to have been exposed to the chemical.
The VA's website also states that people who took part in cleanup efforts in the following areas, during a specified date, are now presumed to have had exposure to radiation:
Enewetak Atoll, from January 1, 1977 to December 31, 1980
Off the coast of Palomares, Spain, from January 17, 1966 to March 31, 1967
Thule Air Force Base in Greenland from January 21, 1968 to September 25, 1968
You mentioned an Aug. 9 deadline…
While VA officials say there is no deadline to apply for PACT Act benefits, those who file their claim, as well as those who submit an intent to file by Aug. 9, 2023 may receive benefits that are backdated to Aug. 10, 2022.
What are families of veterans saying?
On Aug. 8, we caught up with an Arizona woman who said her loved one is suffering from the effects of burn pits.
Alexa Tanner's husband, Michael, has a type of brain tumor known as glioblastoma, and is receiving hospice care in their home.
The couple had previously discussed the possibilities of burn pits having an adverse impact on Michael's health.
"His friend was saying that people have to stand guard, so even though it's not actively burning, that smoke is in the air all day," said Tanner. "He said when you were standing guard around it, people would be throwing up, they would be fainting, they would be getting headaches, dizziness."
The Tanners qualified for full disability coverage through the VA, but Michael's Marine Corp friends may now qualify for assistance under the PACT Act.
Read about their full story here.
Support the family: https://gofund.me/3f95d60c
File for VA disability compensation
https://www.va.gov/disability/file-disability-claim-form-21-526ez/introduction
Register an intent to file a VA claim
https://www.va.gov/resources/your-intent-to-file-a-va-claim/
The Associated Press (AP) contributed to this report.