Kid Rock shoots up Bud Light cans with rifle to protest Dylan Mulvaney partnership: 'F--- Bud Light'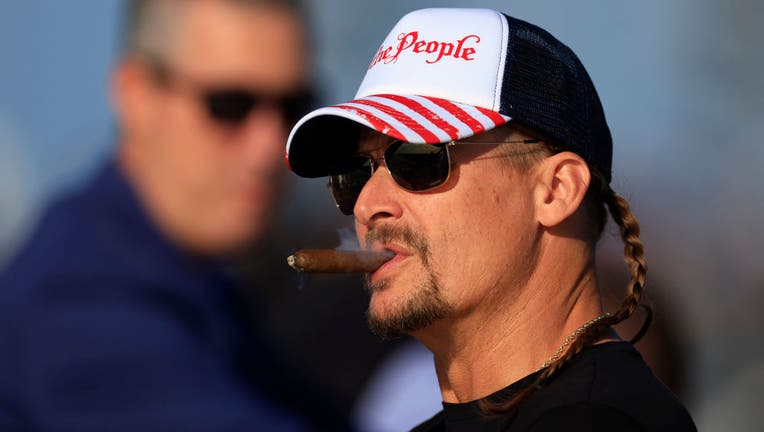 article
Singer Kid Rock used several Bud Light cases for target practice on Monday, shooting them with a rifle in response to the news that beer maker Anheuser-Busch made a transgender woman a Bud Light spokesperson.
RELATED: Bud Light's pact with trans activist Dylan Mulvaney sparks outrage, praise
After destroying several dozen beers with some heavy firepower, the performer turned to the camera and declared "F--- Bud Light and f--- Anheuser-Busch!"
Rock's explosive statement happened after the beer company sent a pack of Bud Light to transgender woman and activist Dylan Mulvaney with her face on it over the weekend. The biological male has been celebrating "365 Days of Girlhood," marking each day up to a year, since undergoing her transition from male to female.
The camera then immediately panned to reveal Rock holding a rifle and taking aim at several Bud Light cases laid out on a table about fifteen yards in front of him. 
In an intense burst of gunfire, the musician tore through the beer cans, spraying foam and sparks everywhere. When he stopped firing, the table was drenched in beer and blue can fragments were strewn about.
The camera then panned back to Rock, who turned around, flipped the bird at the camera and said, "F--- Bud Light and f--- Anheuser-Busch! Have a terrific day." The video ended with one last look at the beer can carnage he left. 
In less than 12 hours, Rock's video had already received more than eight million views.
Anheuser-Busch has since responded to the backlash generated by making Mulvaney a Bud Light partner. In a statement to Fox News, the company explained, "Anheuser-Busch works with hundreds of influencers across our brands as one of many ways to authentically connect with audiences across various demographics and passion points."
CLICK HERE TO GET THE FOX NEWS APP
It added, "From time to time, we produce unique commemorative cans for fans and for brand influencers, like Dylan Mulvaney. This commemorative can was a gift to celebrate a personal milestone and is not for sale to the general public."