Lori Vallow sentenced to life in prison, what's next for the convicted child killer?
PHOENIX - Lori Vallow is officially booked into the Pocatello Women's Correctional Center in Idaho a day after she was sentenced to life without parole for killing two of her children and conspiring to kill her husband's late wife.
As of 9:24 a.m. MST, she's known as inmate no. 153745.
This is her latest mugshot.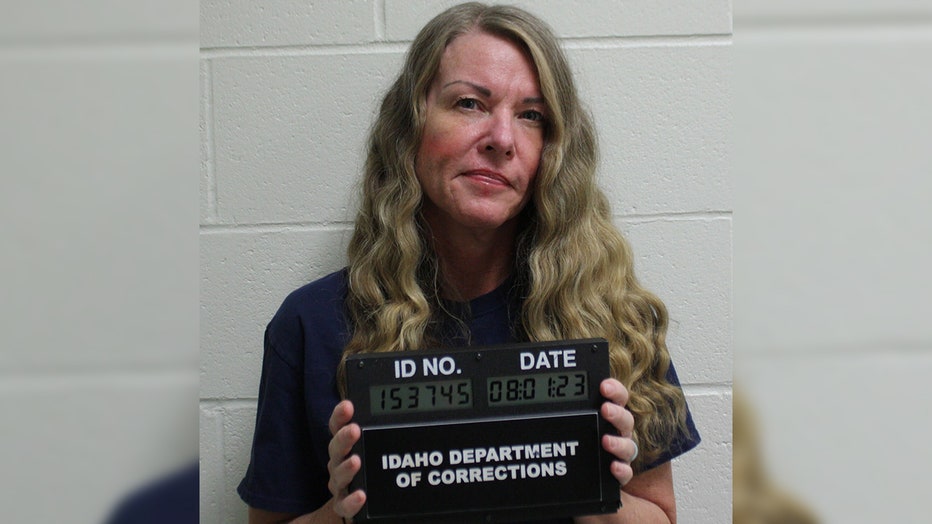 Lori Vallow prison mugshot
You see her holding up the Idaho Department of Corrections (IDOC) marker. A look at her left ring finger – she has a band on it.
Remember her husband and alleged co-conspirator Chad Daybell is waiting for his own triple murder trial next April.
An IDOC spokesperson that it could take up to four weeks to determine where Vallow is assigned for housing at the facility.
She's now a convicted child murderer who's sentenced to five life terms, including three consecutive life sentences for murdering her two kids JJ Vallow and Tylee Ryan, and conspiring in the death of Chad Daybell's first wife Tammy.
She has no possibility of parole.
The warden at the correctional center, Janell Clement, could not comment specifically on Vallow but talked about the general intake process.
"Our receptions and diagnostics is an intake process. It's called RDU when they're received from county jail we bring them into our faculty get them assimilated, get their clothing taken care of and then get them down to a housing unit where they are assessed for up to two weeks on up to four weeks, but most likely 14 days for an assessment period while they have a dental exam a mental health exam, a medical exam and assessment based on housing and what their case management needs might be," Clement said.
What's next for Lori Vallow in Arizona
The Maricopa County Attorney's Office has filed a request to extradite Vallow back to Arizona.
A Maricopa County grand jury indicted Vallow in February 2022 for conspiring to kill her niece's former husband Brandon Boudreaux. She's also been indicted on charges of conspiring to kill her previous husband Charles Vallow.
He was shot and killed by Alex Cox in July 2019, who claimed it was self-defense.
It remains to be seen if Governor Hobbs has signed off on the requisition.
On July 26, days before Vallow was sentenced to life in prison without parole, Maricopa County Attorney Rachel Mitchell spoke on the charges the Arizona resident is facing.
"Once that happens, there are two ways that we can proceed with the extradition," Mitchell said.
She explains the second way called the "Governor's Requisition," saying it doesn't put a time constraint on how long she can be in Maricopa County.
That's her plan of action as the first way does add a time constraint. 
"It's the 'Interstate Agreement on Detainer,' and that only allows for the individual to be in Arizona for 180 days. We're not doing that," she said about the first option.
Mitchell says she counts on Arizona Gov. Katie Hobbs to "follow her oath and follow the law, and I'm going to count on her to do that here."
Previously, Maricopa County Attorney Rachel Mitchell said the Governor's Requisition process will begin when Vallow was sentenced in Idaho. Mitchell has also said if all goes according to plan, allow should make it back to Arizona to face charges by the end of 2023.
If Vallow is found guilty of the crimes in Arizona, will she serve her time in Arizona or stay in Idaho?
"If she's convicted here, she would go back there and do the sentence there," Mitchell said.
Would Lori's life sentence impact possible sentencing in Maricopa County?
"No. I mean, victims deserve justice. One victim's justice is not recognizing another victim who suffered, who died," the attorney said.
More about where Lori is housed
There are more than 330 inmates at Pocatello Women's Correctional Center where Vallow is staying.
"PWCC is the department's first facility designed specifically to meet the unique program needs of female residents. It opened in April 1994, has an operating capacity of 331 female residents and houses all custody levels. The facility operates the reception and diagnostic center for women. PWCC also has vocational work projects, Correctional Industries, education, programming, pre-release program and work-release program," the facility's website says.
Pocatello is located in Bannock County, and is the county's largest city. The 2010 Census shows 54,255 people living there at the time.