Your little do-it-yourselfer can have a birthday party at Lowe's
article
MOORESVILLE, N.C. - Do you have a child at home who loves all things construction, building, and creating? Lowe's will soon host in-store kids' birthday parties — complete with DIY projects for the party attendees, pizza, and even party favors to take home. 
Lowe's on Thursday announced its new "Build a Birthday" parties, in which parents can book a paid, private party at 10 different stores across the U.S. The company said the pilot program builds off of its successful free monthly workshops for kids. 
The Lowe's in-store birthday parties are for children ages 5 and older, and the two-hour party packages are available on Fridays, Saturdays, and Sundays at the following stores:
Brooklyn, NY
North Bergen, NJ
Orem, UT
Huntersville, NC
Noblesville, IN
Naperville, IL
Franklin, TN
Eastlake, CA
Central Dallas, TX
North Peoria, AZ
The base price package for up to 12 guests starts at $349, and a more "premium" package starts at $399. 
Lowe's said additional guests can be added at $20 per person, for up to 20 kids total. 
Each Build a Birthday party packages comes with "all the essentials of an awesome party," like safety goggles, aprons, and party construction hats, the company said. The parties are led by a Lowe's "Red Vest Party Captain," offering kids "practical- and hands-on knowledge in a fun, in-store environment."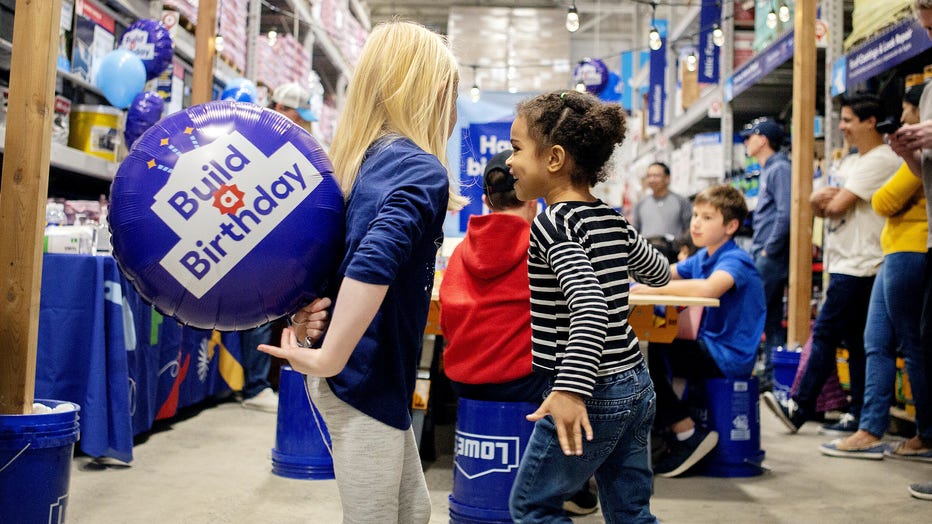 Parents can now book a paid, private party in 10 Lowe's stores across the U.S. (Credit: Lowe's)
On the website, parents can select the party date and then filter through the various package options — including which DIY project they'd like to do for the party. Some of the kit options include projects like wooden castles, race cars, or even a hanging chalkboard sign.
From there, Domino's pizza, drinks, and dessert options are also offered, followed by various party favors like T-shirts, water bottles, slap bracelets, fidget spinners, and backpacks. Food, beverage, and party favor items are all additional costs.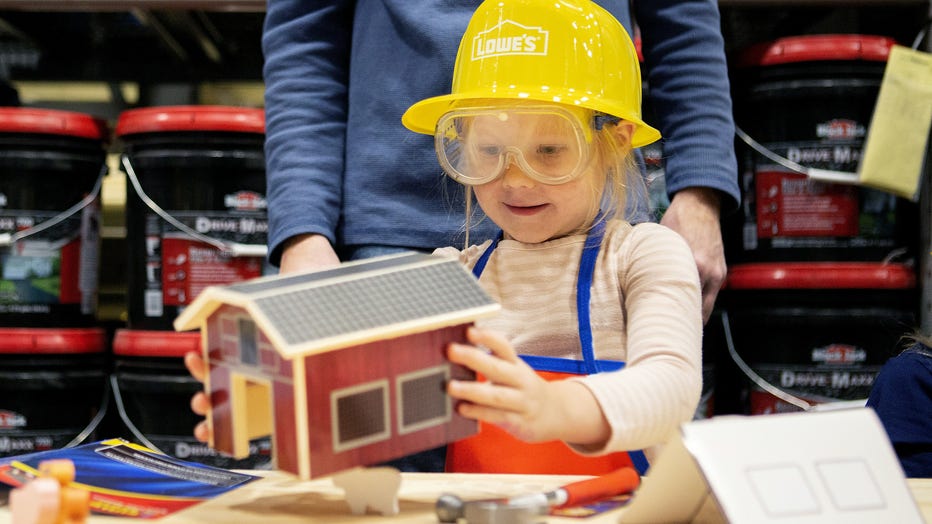 The Lowe's in-store kids' birthday parties include project options like wooden castles and race cars. (Credit: Lowe's) 
"Home improvement is about the whole family and that's why we have Weekending at Lowe's events every Saturday at our stores, including our kids' workshops that help us feel connected to our littlest DIYers," Jen Wilson, Lowe's senior vice president of enterprise brand and marketing, said in a statement. "And this launch is a natural extension of that relationship – not only do we want to inspire future builders, but we want DIY – and Lowe's – to be an integral part of family milestones and memories."
Lowe's said it's offering $100 gift cards to the first 50 parties booked between Jan. 19 and March 17. 
This story was reported from Cincinnati.