Man attacked by swarm of bees in Paradise Valley, in critical condition
PHOENIX - A man is in critical condition after being attacked by bees in a gated community in Paradise Valley.
The attack happened Friday morning in an area near 56th Street and Shea Boulevard, fire officials said.
Both Scottsdale and Phoenix first responders came and found that a man in his 40s was being actively stung by a swarm of bees.
"Crews quickly ran to the man's side, fighting off the bees themselves with fire-stream foam," said Capt. Scott Douglas with Phoenix Fire.
The man was hospitalized in critical condition. No firefighters were hurt.
A worker from Arizona Professional Pest Control was on the scene removing the hive. 
Officials say a landscaper was the man that was attacked by the swarm after unwittingly opening the cover of a valve box while he was working on the sprinkler system.  It is estimated that there could have been 50,000-60,000 bees in the hive.
"Someone opened the valve box, and there was a beehive inside it," said Michael, a worker with Arizona Professional Pest Control.
Workers say that neither the homeowner nor the landscaper knew there was a hive on the property.
"The homeowner is doing a full removal," said Michael. "When I leave here, there will be no bees."
The hive was concealed inside the valve box for the past 3-4 months. Workers say it's a common place for bees to move into.
"Cool dry space for them to get into, they like it," Michael said.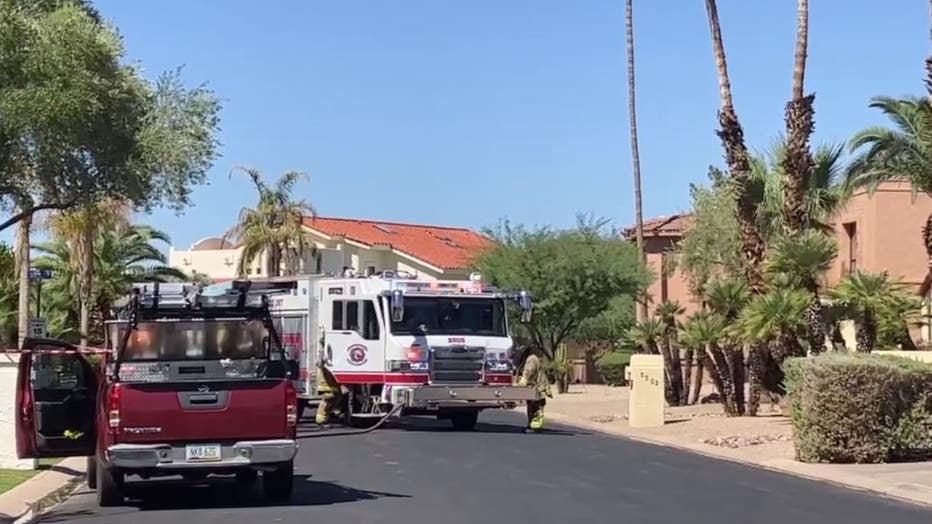 The bee attack took place in a gated community near 56th Street and Shea Boulevard.
Where it happened