See it: Tooth of largest shark that ever lived washes ashore in North Carolina
CAPE LOOKOUT, N.C. - Exploring the beach can be exciting as you never know what kind of treasures you might stumble upon.
Last Sunday, a mother and son had an incredible experience during their beachcombing excursion on Cape Lookout, North Carolina when they stumbled upon a huge shark tooth on the beach.
The tooth was even rarer because it belonged to a now-extinct shark species known as a megalodon.
"While we are not known for shark teeth on our beach, every once in a while, they do show up, much to the delight of the finder," Cape Lookout National Seashore said in a social media post with a photo of park ranger happily holding the large fossil.
SEE THE DEAD, FROZEN SHARK FOUND ON ICY MASSACHUSETTS BEACH DURING POLAR VORTEX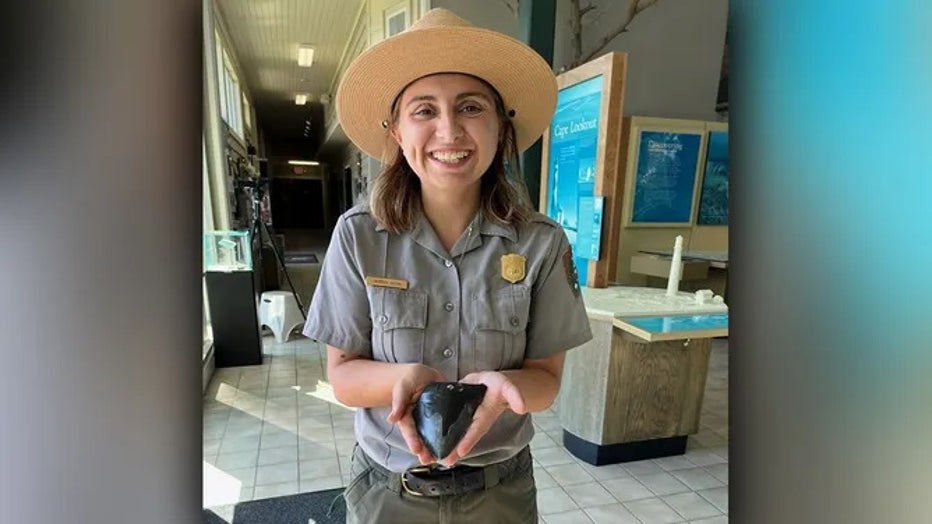 A Cape Lookout National Seashore park ranger happily holds the large fossil shark tooth found on the beach by a mother and son while beachcombing on Cape Lookout, North Carolina. (NPS)
According to scientists, the megalodon was the most terrifying predator that ever dominated the oceans.
The ancient shark lived roughly 23 to 3.6 million years ago in nearly every corner of the sea, the Smithsonian Ocean reports. 
It also holds the title for being the largest ever and believed to have been three times bigger than the modern-day great white shark.