Pentagon pulling 1,100 troops from U.S.-Mexico border mission
WASHINGTON - The Pentagon is pulling 1,100 active duty troops from the U.S.-Mexico border it deployed earlier this year as the government prepared for the end of asylum restrictions linked to the pandemic.
Defense Secretary Lloyd Austin approved the deployment of a total of 1,500 active duty troops for a temporary 90-day military presence surge at the border in May. At the time, illegal border crossings were swiftly escalating with concerns they'd go even higher after the restrictions ended but instead the numbers have fallen.
The 1,100 troops will conclude their 90-day mission by Aug. 8; the remaining 400 will be extended through August 31, a defense official said on the condition of anonymity to discuss details ahead of an announcement.
At the time the troop movements were made public officials stressed that the active-duty troops would not be taking front-line positions on the border or interacting with migrants but instead doing tasks like data entry or warehouse support with the goal of freeing up Customs and Border Protection personnel to be out in the field.
The troops were intended to help back up border officials dealing with the end of Title 42. That rule allowed the government to quickly expel tens of thousands of migrants from the country in the name of protecting America from COVID-19.
In the days leading up to the end of Title 42, border agents were encountering 10,000 migrants a day and at one point had 27,000 migrants in custody. But immediately after Title 42 expired, the numbers dropped sharply to about 5,000 encounters a day, and have stayed low, according to the agency's data.
But it's far from clear how permanent these drops are. Already the number of people crossing the Darien Gap, a key route for migrants headed to the U.S. from South America, during the first seven months of the year is more than all of 2022 combined.
The active duty military troops' departure is also happening as much of the Biden administration's immigration agenda is subject to court challenges. Last week a federal judge ruled that an administration rule limiting asylum access at the southern border was against the law. The administration is appealing that ruling, arguing that it's a key part of their efforts to maintain order on the border.
Separately the Justice Department last week announced it has sued Texas Gov. Greg Abbott to force the state to remove floating buoys in the Rio Grande that the federal government says present a humanitarian and environmental concern.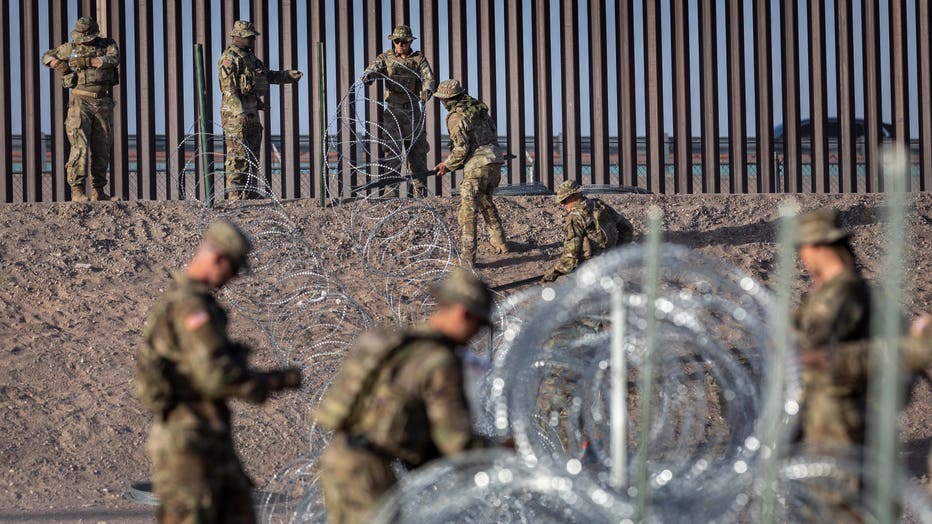 EL PASO, TEXAS - MAY 10: Texas National Guard soldiers uncoil concertina wire around a makeshift immigrant camp located between the Rio Grande and the U.S.-Mexico border fence on May 10, 2023, in El Paso, Texas. (Photo by John Moore/Getty Images)
The departures also do not impact an additional 2,300 National Guard troops under federal orders who remain at the border in similar supporting roles, National Guard chief Gen. Dan Hokanson said last week. Those troops will not be extended, but other units will be rotated in to replace them when their deployments end.
Austin has tried to get the Department of Homeland Security to fully assume the border protection role instead of continually relying on military troops. As a condition for Austin's previous approval of National Guard troops to the border through Oct. 1, Homeland Security had to agree to work with the White House and Congress to develop a plan for longer-term staffing solutions and funding shortfalls.
In a response to the AP, the Pentagon said DHS has outlined a plan to increase personnel and technology investments to meet future surges.
Over at the Yuma sector
Law enforcement along the border, like in Yuma, want troops to stay until a more permanent solution is made.  
"I would hope that they would not compromise our federal partners' ability to secure our border by removing these military personnel without back filling them with other resources so that is not impacting our federal partners from being out in the field and doing what they need to do," said Yuma County Sheriff Leon Wilmot.
He continues, "Anything we can do to not delete manpower and create a shortage, which would mean that would have to start pulling border patrol agents from the field back into their main office to do those different duties. That is concerning for us."
Wilmot touches on the number of people at the border.
"So it went from about 1,200 a day down to 300 a day, which is still a pretty significant amount of people that are coming across our border illegally," Wilmot said.
Title 8 and our extreme summer heat may be impacting the decrease. Wilmot says once the troops leave, he expects his deputies to become even busier.
"We're the ones that are filling the gap when the federal government doesn't perform their jobs, and that's what we've been doing for quite a while now," he said.