Police arrest man, teens in connection to Laveen home burglaries
LAVEEN, Ariz. (FOX 10) - Phoenix police have tracked down a group of teens suspected in a string of home burglaries. Five in total have been arrested. Police say the teens would knock down doors to get inside the houses. One woman was home during the break-in.
Police say Matthew Santos and four teenagers broke into three homes in the area of 51st Avenue and Baseline Road on the morning of August 12 and stole various items from the homes.
The break-ins were brazen, happening in broad daylight and a couple of the teens were armed with guns. Only one of the teens is at Fourth Avenue Jail - he's 19 with a felony history. But the other teens, ages 16 and 17, are being held at the juvenile detention facility.
Police say the third home the teenage burglars hit was on Monday morning. The homeowner says her 72-year-old mother-in-law was asleep in her home and awoke to the noise of the front door being kicked in.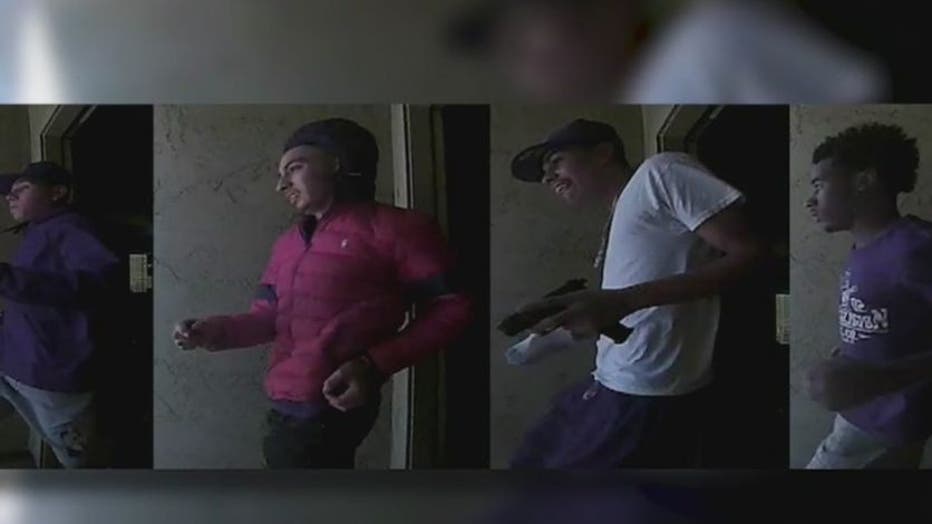 "She's sitting on her bed and looks up and this complete stranger, probably surprised to see her, too, stuck his arm through the door," Elvia Flores said. "He had a gun and told her to drop to the floor and then proceeded to shut the door."
Flores got a call from her frightened mother-in-law, who hid in the closet.
"She [told me], 'There's men in the house, there's men in the house, they broke into the house and I'm scared.'"
Two days later, police say four out of the five suspects were caught. Only one was over 18. Police say Matthew Santos admitted to taking part in the burglaries and that he and his accomplices, one of them his younger brother, broke into three houses in the Laveen area. He says they were looking to steal guns, Police seized a revolver and a 9-mm from the boys. 
"I mean, it's kind of sad," said neighbor Allen Hills. "They're just wasting away their lives and what they fail to realize [is] they did a serious crime."
Neighbors say they hope the boys learn their lesson after paying the consequences for their crimes.
"I feel sorry for them," Flores said. "I feel absolutely sorry for them."
Santos was arrested in May for marijuana possession and speeding and was not eligible for bond. The younger teens also face weapon charges in addition to burglary. 
If you have any information, please call Silent Witness at 480-WITNESS.