Restaurant at center of Jackson Mahomes controversy shuts down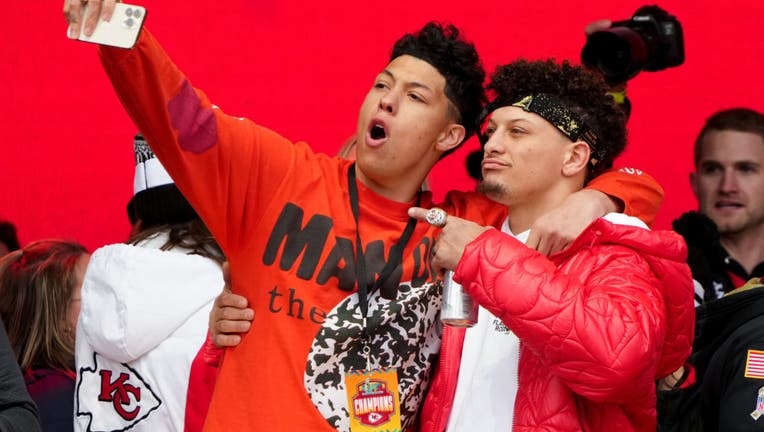 article
The Aspens Restaurant and Lounge in Overland Park, Kansas, the restaurant at the center of the legal case against the brother of Kansas City Chiefs quarterback Patrick Mahomes, is available for lease. 
The restaurant's social media pages posted a "For Lease" ad days after announcing the restaurant was "closed until further notice." 
Jackson Mahomes was arrested and charged with three counts of aggravated sexual battery and one count of misdemeanor battery in May after allegedly shoving a waiter and forcibly kissing the female owner of the restaurant. 
CHIEFS' PATRICK MAHOMES ON BROTHER'S LEGAL WOES: 'IT'S KIND OF A PERSONAL THING'
Stephanie Lopez, an employee of the restaurant, told The Kansas City Star the restaurant will be closed until another tenant takes over. 
"It's hard to own a company and go through everything that we've gone through," Lopez told the publication. "We were so close to making it, and then this whole thing happened."
The owner of the restaurant, Aspen Vaughn, told the Star in March Mahomes grabbed her by the throat and forcibly kissed her at least twice.
CLICK HERE FOR MORE SPORTS COVERAGE ON FOXNEWS.COM
Vaughn provided a video to the Star that allegedly shows Mahomes grabbing her by the throat and kissing her.
"He forcibly kissed me out of nowhere," Vaughn said, "and I'm telling him, pushing him off saying, 'What are you doing?' And then he proceeded to do it two more times, where the last time I was pushing him off. And I can see on the cameras that somebody was outside the office door. And I was yelling for them to come help because he's big and massive."
A lawyer for Mahomes denied the allegations in March. 
"Jackson has done nothing wrong," Brandan Davies said. "Our investigation has revealed substantial evidence refuting the claims of Jackson's accuser, including the statements of several witnesses. We have reached out to law enforcement to provide the fruit of our investigation so that they may have a complete picture of the matter."
CLICK HERE TO GET THE FOX NEWS APP
Vaughn told the Star in July business at the restaurant was down 75% and that she endured death threats and harassment after going to police. Vaughn also told the publication she suspected someone vandalized the restaurant by cutting its air conditioning connections, damaging the natural gas lines, and causing water damage by pulling a fire alarm.
"I feel like, definitely, since it's occurred, my safety is definitely at risk," she told the Star. "I'm feeling attacked by people I've never met. Why do victims not come forward? It's because this is how they get treated."
Read more of this story from FOX News.