Suspect in Phoenix police shooting, pursuit, carjackings and crashes identified by police
PHOENIX - A suspect involved in an officer-involved shooting on State Route 51 is in custody after he allegedly led Phoenix police on a chase Thursday, carjacking multiple vehicles and crashing into several cars along the way.
The incident began at around 5:30 p.m. near 16th Street and McDowell after the suspect, identified on Aug. 11 as 33-year-old Carlos Delfin, failed to pull over during a traffic stop. 
That car wouldn't stop, and a helicopter started following the vehicle until it stopped on SR 51 just south of Indian School Road.
An officer in an unmarked vehicle reported seeing Delfin get out of the car and try to carjack another vehicle while armed.
"This is when the first officer involved shooting occurred," said Sgt. Brian Bower with Phoenix PD. 
Eventually, Delfin reportedly stole a truck at gunpoint and drove off, and that same officer tried to shoot at Delfin for the second time.
Police say Delfin kept driving on side streets in the area, causing multiple crashes - one of which left a woman with life-threatening injuries.
He reportedly carjacked three more vehicles at gunpoint while trying to evade police and opened fire at another victim in the process. That person was unhurt.
Eventually, the suspect crashed an SUV into a house and was caught by officers in a neighborhood near 15th Avenue and Dobbins.
"The man ran from the crash site going into several residential yards until he was taken into custody without incident," Bower said in a statement.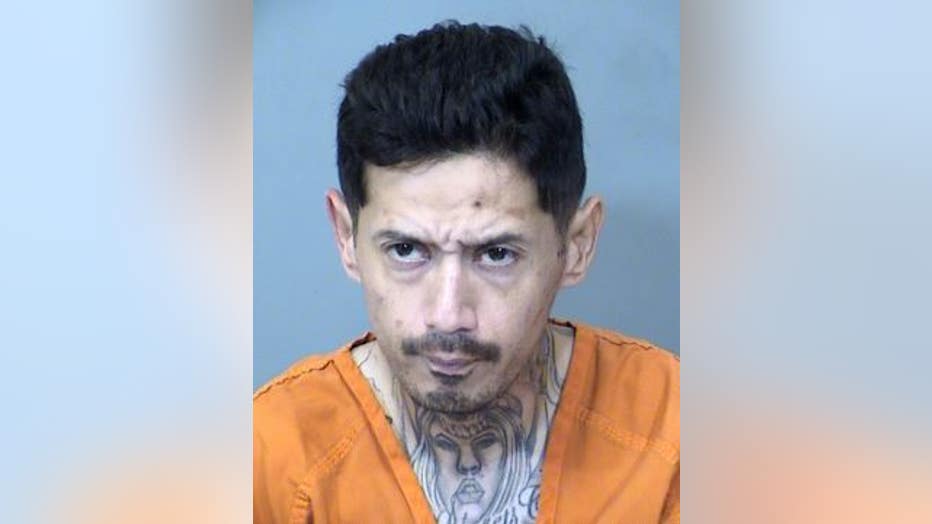 A firearm was recovered from the area where Delfin was arrested. No officers were hurt. In all, police say there are 12 alleged victims in connection with the crime spree.
State Route 51 was shut down throughout the night for the investigation but reopened Friday morning.
Delfin, according to police, has been booked into Maricopa County jail for 22 alleged offenses in relation to the crime spree. He's being held on a $600,000 bond.
His next court appearance is Aug. 17.
'It's chaos over here'
The chaotic scene caused a traffic nightmare during the evening rush hour on Aug. 10. 
One witness, Carlos Montufar, was driving when he saw what happened.
"Time froze for me at that moment. That's when he looked to the truck on my left-hand side and ran over, stuck his rifle through that window, yelled at that gentleman to get out of his car," Montufar recounted. "He came out with his hands up, and as quick as he could be, the man sped off."
Meanwhile, neighbors living in the area where the alleged carjacker was arrested described seeing a sea of cop cars, armored vehicles and SWAT members huddled in their community.
"When that happens, you're just blown away," said one person, identified only as 'Steven.'
Steven said he was out getting food when he arrived to find a car crashed up near his driveway.
"He made his way to the side of the house, ran into a friend of mine, and held him at gunpoint," said Steven.
According to Steven, the suspect was arrested shortly afterwards. Steven's friend, meanwhile, is still in the hospital.
Meanwhile, Steven said he is still trying to process all that happened.
"It was just traumatizing," said Steven.
Where the suspect was arrested