Feds suspect Tesla that hit fire truck in deadly I-680 crash was on autopilot
WALNUT CREEK, Calif. - A federal agency said Wednesday that it suspects Tesla was operating on an automated driving system when it crashed into a firetruck in California last month, killing the driver and critically injuring a passenger.
The National Highway Traffic Safety Administration said it has dispatched a special investigation team to look into the Feb. 18 crash on I-680 in Walnut Creek where emergency responders had to cut open the Tesla to remove the passenger. Four Contra Costa County firefighters had minor injuries.
"The bottom line for us is that we're very, very concerned," said Aaron McAlister, a deputy chief with the Contra Costa County Fire Protection District. "The highways have become probably the most dangerous places where we work. It's more dangerous than interior firefighting for us."
The probe is part of a larger investigation by the agency into multiple instances of Teslas on Autopilot crashing into parked emergency vehicles that are tending to other crashes.
"It's not perfect - it's good, but it's not perfect," said tech analyst Larry Magid, who owns a Tesla Model 3. 
"There's this odd bug which, for whatever reason doesn't seem to do well when emergency vehicles are blocking the highway. I don't know why that is," Magid said.
ALSO: 1 person dies when Tesla hits fire truck on I-680, 4 firefighters injured
The $1.4 million ladder truck was damaged in the crash on Interstate 680. The truck was parked to shield a crew clearing another accident, fire officials said.
The driver of the 2014 Tesla Model S was declared dead at the scene.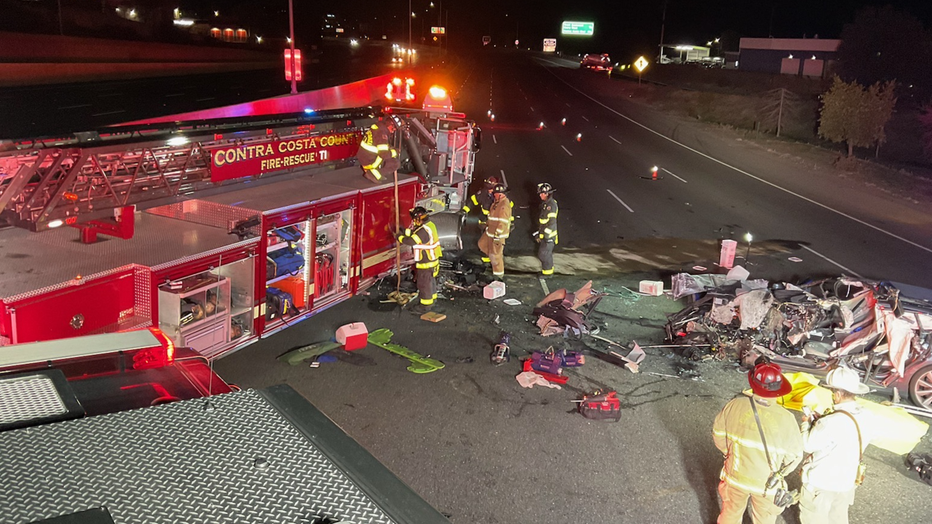 Tesla crash on 1-680 2/18/23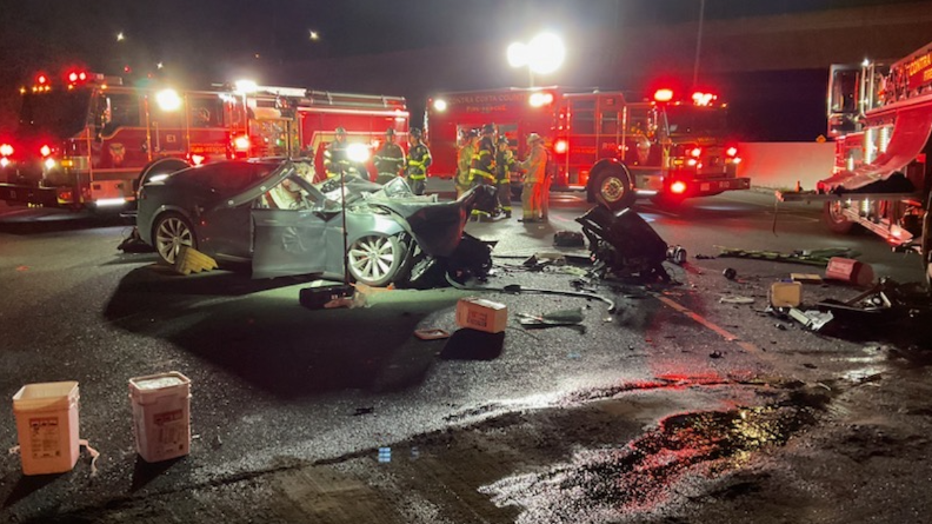 Tesla crash on 1-680 2/18/23
NHTSA is investigating how Tesla's Autopilot system detects and responds to emergency vehicles parked on highways. At least 15 Teslas have crashed into emergency vehicles nationwide while using the system.
Authorities said the truck had its lights on and was parked diagonally on northbound lanes of the freeway to protect responders to an earlier accident that did not result in injuries.
The fatal accident occurred around 4 a.m., and it took several hours to clear the freeway. The firetruck had to be towed away and is considered a total loss.
ALSO: Tesla driver who died in Walnut Creek after crashing into fire truck ID'd
The Model S was among the nearly 363,000 vehicles Tesla recalled in February because of potential flaws in "Full Self-Driving" a more sophisticated partially automated driving system.
The recall, to be done with an online software update, is aimed at correcting possible problems at intersections and with speed limits.
Despite their names, Tesla has said both systems are advanced driver assist systems and that human drivers must be ready to intervene at all times.
Messages were left Wednesday seeking comment from Tesla, which has disbanded its public relations department.
Associated Press contributed to this report.