Trump cancels press conference about election fraud on lawyers' advice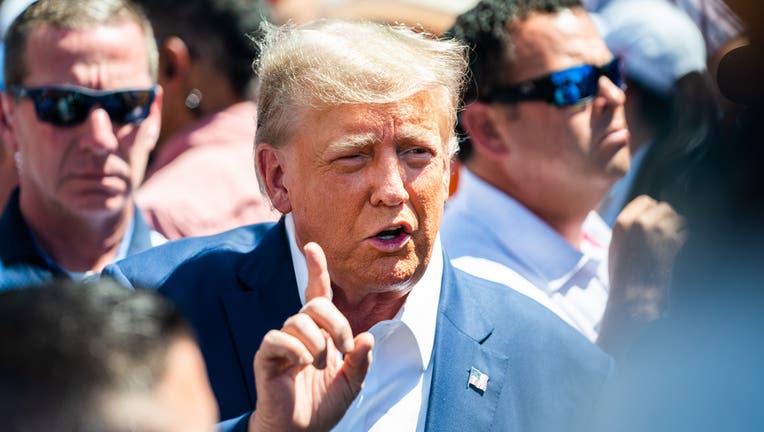 article
ATLANTA - A press conference originally scheduled for Monday by former President Donald Trump promising to unveil what he claims is new evidence of fraud in the 2020 election in Georgia was canceled on Thursday citing advice from his attorneys.
It would have come nearly a full week after Trump and 18 others were indicted by a Fulton County grand jury on RICO charges stemming from attempting to overturn illegally the results of the 2020 election which saw President Joe Biden win Georgia.
Nearly two-and-a-half years since the election, no compelling evidence has surfaced of widespread fraud that would legitimately overturn the election in Trump's favor. Both Gov. Brian Kemp and Georgia Secretary of State Brad Raffensperger have both said Trump's loss was legitimate pointing to three separate recounts.
The former president took to his social media platform on Thursday evening writing:
"Rather than releasing the Report on the Rigged & Stolen Georgia 2020 Presidential Election on Monday, my lawyers would prefer putting this, I believe, Irrefutable & Overwhelming evidence of Election Fraud & Irregularities in formal Legal Filings as we fight to dismiss this disgraceful Indictment by a publicity & campaign finance seeking D.A., who sadly presides over a record breaking Murder & Violent Crime area, Atlanta. Therefore, the News Conference is no longer necessary!"
Trump first announced he would be making a speech on Monday just hours after the indictments were handed up. He had said he would use the "major News Conference" at his Bedminster, New Jersey, golf club Monday morning to release what he claimed was an "almost complete" report, adding, "Based on the results of this CONCLUSIVE Report, all charges should be dropped against me & others - There will be a complete EXONERATION!"
Trump advisers had long urged him to spend less time airing his grievances about the 2020 election and more time focused on his plans for the future. Trump has already been warned to watch his public comments. US District Judge Tanya Chutkan, who is overseeing the election conspiracy case brought against him in Washington last week, warned the former president that there are limits to what he can publicly say about evidence in the investigation as he campaigns for a second term in the White House.
Judge Chutkan said that the more "inflammatory" statements are made about the case, the greater her urgency will be to move quickly to trial to prevent witness intimidation or jury pool contamination.
"I will take whatever measures are necessary to safeguard the integrity of the case," she said.
Trump's continued claims of fraud in Georgia had drawn criticism from state's Republican Gov. Brian Kemp, whom Trump had tried to lobby as part of his efforts to overturn his loss in the battleground state.
"The 2020 election in Georgia was not stolen. For nearly three years now, anyone with evidence of fraud has failed to come forward - under oath - and prove anything in a court of law," Kemp wrote on X, the site formerly known as Twitter.
Former Vice President Mike Pence, whom Trump had tried to pressure to unilaterally overturn the results of the election and is now challenging Trump for the Republican nomination, echoed that message.
"The Georgia election was not stolen, and I had no right to overturn the election on January 6th," he said this week.
Trump and the 18 others indicted earlier this week must turn themselves into the Fulton County Sheriff's Office no later than Friday, Aug. 25.