Valentine's Day marriages in downtown Phoenix: 'When it's time, just do it'
PHOENIX - Rain on your wedding day is good luck, right? That's what some Phoenix couples are hoping.
The rain, wind and cold temperatures didn't stop Valentine's Day wedding plans as two dozen couples tied the knot at the courthouse in downtown Phoenix.
They say despite the weather, the day was perfect.
"We waited a lifetime for this moment," a bride named Shelly said.
Her now husband, Billy, agrees.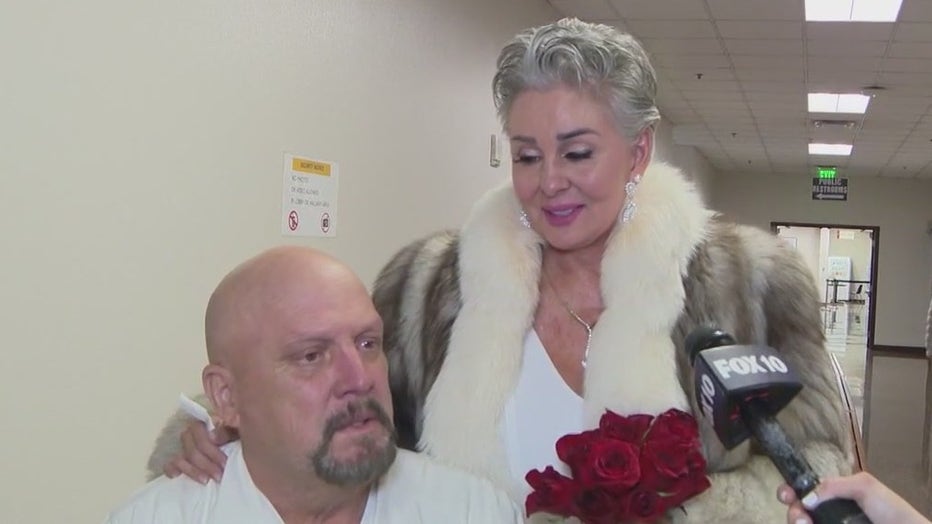 "Valentine's Day is such a special day, and it's all about love. Couldn't meet a better gal," he said.
The day may seem like a Hallmark holiday to some, but to others, it's a day to embrace those you love because you never know how precious life is until it's almost taken from you.
"He had a stroke just this last Monday and I thought I was going to lose him. So, I said we better up our plans fast. Right, baby? So that's what we did," Shelly said.
The new Mr. and Mrs. Billy Pete appreciate the meaning behind the vows they exchanged.
"Life, death, how you look at it," Billy said.
"Life is short, and wait for the one that's good for you, but when it's time, just do it," the bride said.
Without the glitz and the glam of extravagant and expensive weddings, they did it, with just their love and their best friends by their side in the Downtown Justice Center.
More reports:
Tune in to FOX 10 Phoenix for the latest news: