Tucson nitric acid spill on I-10 leaves driver dead, evacuation orders lifted: Latest updates
TUCSON, Ariz. - A driver has died in a semi-truck crash that caused nitric acid to spill on I-10 near Tucson, triggering shelter-in-place and evacuation orders in the area.
DPS closed I-10 in both directions between Rita and Kolb roads after the Feb. 14 crash involving a truck tractor pulling a box trailer. On Wednesday night, the roadway reopened.
Authorities say the semi was heading eastbound down the freeway when it started to drift off the road, eventually heading into uneven ground and rolling over. The rollover caused the nitric acid to leak from the trailer.
Residents within a half-mile of the crash initially were told to leave, and those within 1 mile were told to shelter in place after liquid nitric acid was determined to be leaking from the wreck.
Winter weather temporarily impeded hazardous material recovery and mitigation efforts, but by Wednesday morning, officials said the material had been removed from the truck and crews were using dirt to keep more nitric acid from being released.
The Pima Dept. of Environmental Quality says DPS told the agency that they tested the air in direction of wind 100 yards from the crash site and found zero nitric acid in the air as of Wednesday morning.
The shelter-in-place order was extended for a time to 3 miles but was lifted altogether by Wednesday night. Before that, area residents were told to turn off heaters and air conditioning systems that bring in outside air.
"Unified Command has rescinded the evacuation order. Interstate 10 has been reopened in both directions and detours have been lifted. The public may resume normal activities," DPS said.
The acid sent up eerie yellow and red plumes over a section of the asphalt roadway that runs through dry land scattered with a scrub brush. The interstate stretches across the entirety of southern Arizona in its nearly 2,500-mile coast-to-coast sweep from Santa Monica, California, to Jacksonville, Florida.
A high school that was ordered closed, a mobile home park for older adults and an RV resort are located less than a mile from the accident site. Calls left for managers at the Trails West Active Adult Community and Voyager RV Resort & Hotel seeking information about whether people had been affected were not immediately returned Wednesday.
The driver of the truck, identified as 54-year-old Ricky Immel of Nevada, died in the crash. A service dog that was with him will be returned to Immel's family.
Officials have been dealing with Arizona's hazardous crash as Ohio residents continue to raise concerns about the release of toxic chemicals on board a freight train that derailed Feb. 3 and left 50 cars in a fiery, mangled mess. There were no injuries but officials later ordered the evacuation of the immediate area. Residents in that state worried about the potential health impacts from the wreckage.
If you feel your health has been impacted, you can visit www.pima.gov/acidspill for more information.
Updates can also be found here: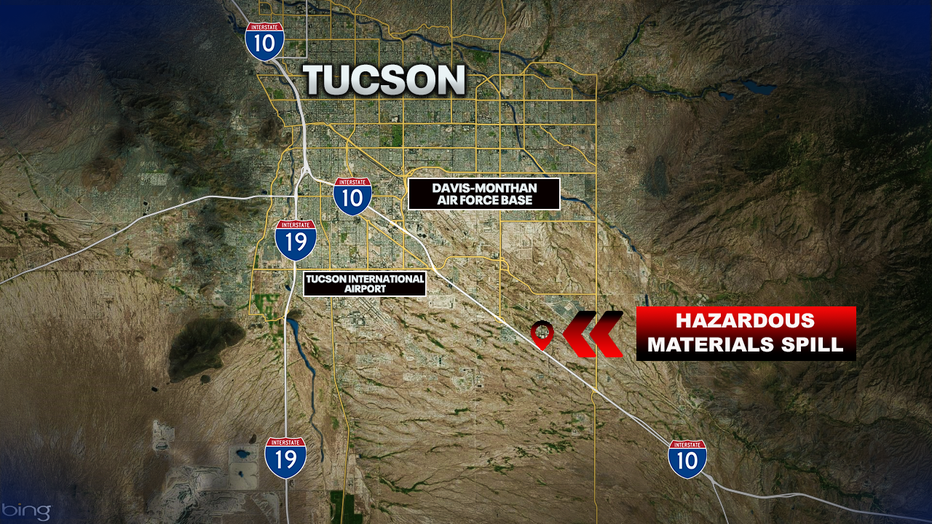 What is nitric acid?
According to the National Institute for Occupational Safety and Health (NIOSH), Nitric acid is used in making fertilizers, dyes, and explosives. It can also be used in the polymer industry.
The Centers for Disease Control and Prevention's website says nitric acid is a highly corrosive, colorless liquid with yellow or red fumes and can cause an acrid smell.
"Exposure to nitric acid can cause irritation to the eyes, skin, and mucous membrane; it can also cause delayed pulmonary edema, pneumonitis, bronchitis, and dental erosion. Nitric acid is highly corrosive. Workers may be harmed from exposure to nitric acid," read a portion of NIOSH's website.
Pima County's health department and poison control center on Wednesday recommended that anyone who may have been in contact with the gas for more than 15 minutes get a medical evaluation if they develop respiratory difficulties like wheezing or shortness of breath. They said symptoms could be delayed up to 24 hours after exposure.
Health officials said it is possible that some people living within a mile of the accident may have been exposed to the material for more than 15 minutes if the building where they were sheltering in place was using an air conditioner or heater pulling in air from the outside. But they said people who simply drove through or past the accident and chemical plume should not have been affected.
The Associated Press contributed to this report.
(Click here for interactive map)