What to know about the Wyrick Fire near Heber: Evacuations lifted, highways reopen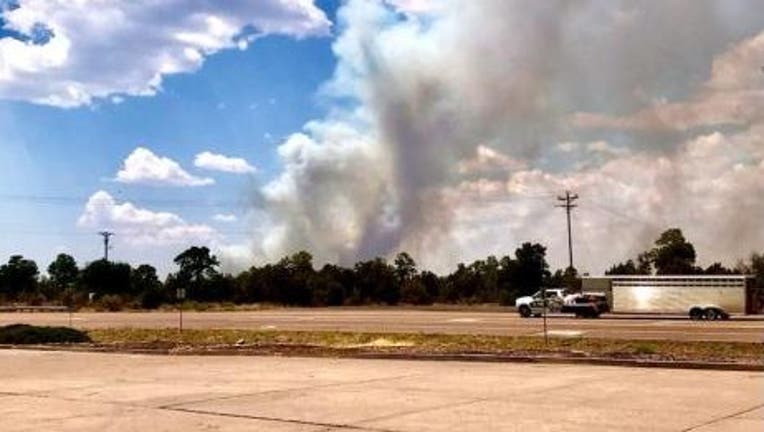 article
HEBER, Ariz. - Evacuations have been lifted amid a wildfire that is burning near Heber, Arizona that started on June 19 due to a lightning strike.
Timeline of the Wyrick Fire
The Wyrick Fire is at 7,592 acres and 92% containment.
June 29
The Wyrick Fire is now at 92% containment.
"Firefighters made good progress yesterday on the uncontained portions of the fire bringing overall containment up to 96 percent," officials said. "Infrared imagery from last night showed there are still areas of heat within the fire. So again today, firefighters will patrol and monitor the fire, looking for those areas of heat near the fire line."
June 26
Areas placed in "SET" mode:
Antelope Valley
Despain Ranch
Heber-Overgaard
Chevelon Retreat
Areas north of State Route 260 and northwest of State Route 277
Forest Road 504 is now open to residents and property owners.  
A complete closure of the Apache-Sitgreaves National Forests remains in effect. Arizona State Trust Lands in all 15 counties are closed for recreational use.
The Southwest Area Incident Management Team stated, "While not a lot of smoke is expected from both fires today, this weekend is trending drier and hotter, so expect some smoke production. A predominant southwest wind today should transport any generated smoke to the northeast. If fire activity increases, expect smoke impacts to Holbert, Snowflake, Concho, St. Johns, and Winslow. Overnight drainage winds may push smoke into Forest Lakes. The area may see influence from the Backbone and Rafael fires if winds shift as predicted, from the north."
The daily smoke outlook is available at https://fires.airfire.org/outlooks/EasternArizona
June 28
The Wyrick Fire is now 79% contained. The fire has burned 7,592 acres.
June 27
The Wyrick Fire is now 56% contained.
June 24
Authorities have lifted evacuations amid the Wyrick Fire, which has burned 7,452 acres. The fire is now 15% contained.
500 to 800 residents who were evacuated returned home.
"Things are calmer than they were a couple of days ago that is for sure," said Terrance Gallegos, an Operations Section Chief.
June 23
The Wyrick Fire has burned 7,101 acres and remains 0% contained.
With the rainfall on June 23 the crew got control of the fire making lines that are covering three quarters of the fire. 
There is still expected to be a dry weekend and a 20% chance of lightning residents are still being asked to be cautious. 
State Routes 260, 277, and 377 have been reopened.
A virtual community meeting will be held on the West Chev Fire Information Facebook page. The meeting is scheduled to begin at 7 p.m.
June 22
The Wyrick Fire has grown to over 7,000 acres and remains 0% contained.
"Dry conditions will continue during much of the day Tuesday with increasing moisture late Tuesday afternoon through Wednesday leading to a chance of showers and thunderstorms," officials said.
Over 90 personnel have been assigned to fight the lightning-caused wildfire.
June 21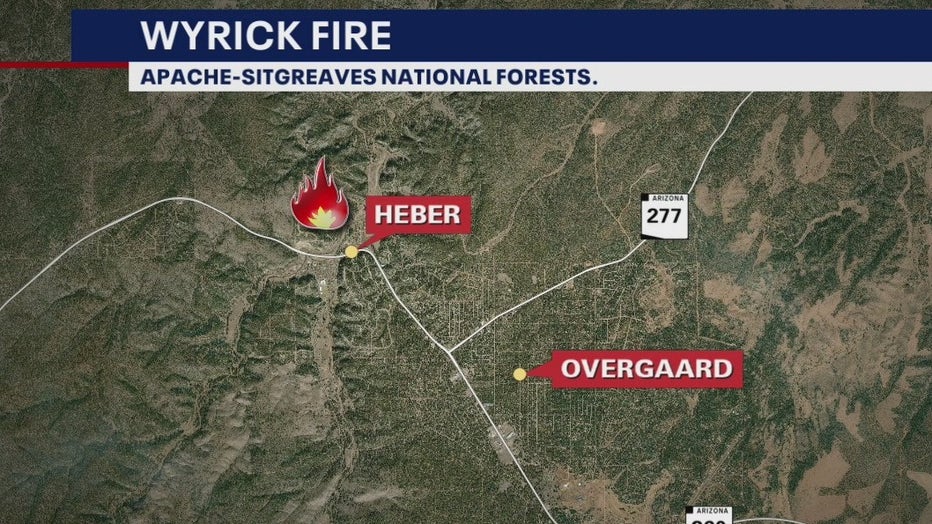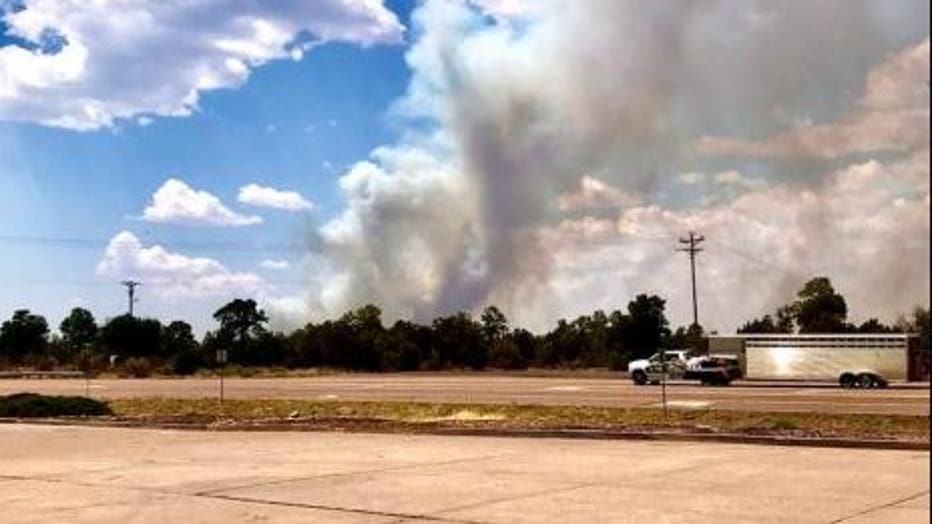 The fire exploded to 5,700 acres by Monday, prompting evacuations. The power lines are about one mile to the west of the fire.
The Navajo County government has declared a state of emergency to gain additional resources from the state.
June 20
On Sunday, fire activity had greatly increased. Inciweb says outflow winds from thunderstorms were pushing the fire southeast and "generally spreading in all directions."
June 19
The Wyrick Fire started at just 116 acres due to lightning. The biggest concerns have been the 500 kV power lines located west and northwest of the fire and Chevelon Retreat.
Latest on Arizona Wildfires
Tune in to FOX 10 Phoenix for the latest news
For the latest local news, download the FOX 10 News app