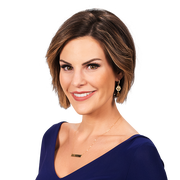 Christina Carilla
Anchor/Reporter
Christina was born and raised in Philadelphia, Pennsylvania. She is thrilled to join the FOX 10 Phoenix news team, and so happy to watch the sun set over the beautiful mountains.
Before moving to Arizona in June of 2018, she spent three years as Morning anchor of ABC 7 (WZVN) in Fort Myers, Florida. In September of 2017, she reported live from Fort Myers Beach as Hurricane Irma made landfall, and proceeded to devastate several Florida communities. She also interviewed the co-hosts of ABC's "The View" from the Walt Disney World Resort.
Before moving to Florida, Christina spent 18 months in Fayetteville, Arkansas as a multimedia journalist for KNWA/Fox 24. She was quickly promoted to evening reporter, weekend anchor and producer, before ultimately serving as the permanent fill-in anchor on the Fox prime-time evening desk. The NBC affiliate, KNWA, was voted "Best of Northwest Arkansas" during her time with the station. Christina covered several controversial topics including gay marriage and medical marijuana.
In 2015 she interviewed actress Geena Davis at her inaugural Bentonville Film Festival, an event designed to empower women in film and media. Christina has a Bachelor of Arts in broadcasting, media studies, and production from Temple University. She completed several internships with major companies including The Disney College Program, and a full-time internship for "Today in LA" with the NBC News affiliate in Los Angeles, California.
Christina is excited to call Phoenix home. She lives with her Chihuahua, Jaxon, and loves being outside. She is also a lover of music and theater and spent several years performing on stage. A classically-trained soprano vocalist, she is an advocate of the arts.
The latest from Christina Carilla