FOX Bet Super 6 NBA Finals contest: Veteran host gives Heat-Nuggets insight, picks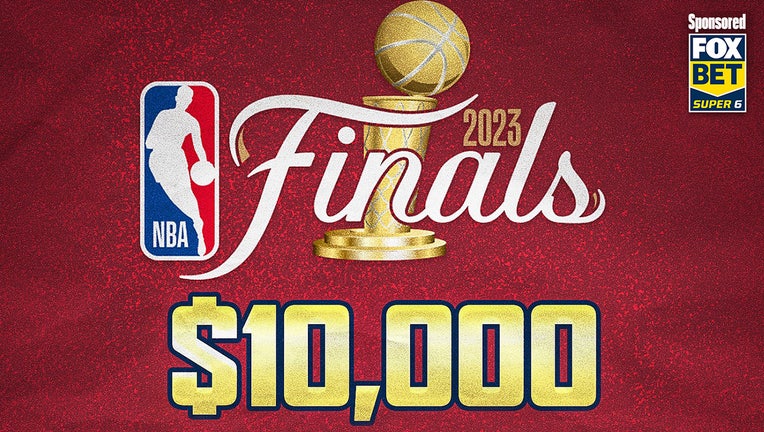 article
When the postseason rolls around for any sport, everyone enjoys pulling receipts. For a ruthless competitor, there's nothing more fulfilling than reminding others how badly they missed the mark on their way-too-early predictions. 
But when we went to pull Mike Hill's record, the basketball savant and brilliant FOX Sports studio host, we were pleasantly impressed.
Not only did Hill declare the Denver Nuggets as the best remaining team back during the semifinals, but he also predicted that the Miami Heat would represent the Eastern Conference in the NBA Finals. 
You heard that right. Mike Hill picked the No. 8-seeded Heat, who have been underdogs throughout the playoffs, to have a shot at winning the Larry O'Brien Trophy. From their incredible Round 1 series against the Milwaukee Bucks to Game 7 against the Celtics in the Eastern Conference Finals, most fans and oddsmakers counted them out. But not Hill. 
How did he know?
"They got heart," the 20-year broadcast veteran explained. "And the Heat have the ultimate weapon in Jimmy Butler when it comes to having heart.
"Sometimes, we look at just the skill that a certain team might have, but if you've got chemistry and desire, that's the key."
According to Hill, Jimmy Buckets wasn't the only key that turned Miami's dead-in-the-water season into playoff success. He said Heat coaching, like Butler's play, has been top tier.
"Even though he's won a couple of championships, I think Erik Spoelstra is one of the most underrated coaches of all time," he noted. "He always makes the right adjustments, like in Game 2. 
"You can't name anybody on the Heat that's a high-caliber, lifetime superstar. Yes, Butler is great, but he's not the first person that you think about when it comes to an MVP candidate every year. So Spoelstra is great at doing the most with what he has."
While the Heat's path to the Finals in the East was paved with impossibility and lined with naysayers, Denver virtually skated through the West to get to the big dance. In the Nuggets' matchup before facing the Heat, what many forecasted would be a competitive series against the Lakers ended up being a sweep for the Nuggets.
"I was surprised," Mike admitted, referring to the Lakers-Nuggets Western Conference Finals. "I thought with Anthony Davis playing well and LeBron [James] doing everything he could do as a 38-year-old, LA had a chance."
But instead of the Lakers being the focus of this year's playoffs, their storylines have revolved around LeBron's alleged retirement or even his possible move to Dallas to reunite with former teammate Kyrie Irving. From Hill's perspective, all of that is a no-go.
"LeBron is not serious about retiring. He just wanted to throw a verbal jab at the front office to get them to do something, force their hand," Hill said. "And no, he's not going to Dallas. Bronny just committed to USC, and LeBron's gonna want to be [in LA] to see as many of his home games as he can."
But back to the Nuggets, the squad that actually did make it out of the West. Mike contends that Denver's debut on the Finals stage will go a long way for one player's legacy.
"The good thing about Denver being in the NBA Finals is that the world gets to watch Nikola Jokić on a consistent basis and appreciate his greatness," Hill said. "The Nuggets don't have a lot of nationally televised games, so a lot of people haven't gotten a chance to see how good he is."
Speaking of greatness, FOX Bet Super 6 is giving you an opportunity to prove that you're better than the rest by playing to win $10,000 in Wednesday night's NBA Finals Contest.
FOX Bet Super 6 is a free-to-play contest where you can pick six different outcomes in the NBA Finals Contest to win $10,000. Just download the FOX Bet Super 6 app on your phone or mobile device, make your picks and submit your selections before the game tips off Wednesday night.
Playing FOX Bet Super 6 is always free, easy and fun. And people really do win!
If you need some help before you head over to the app to make your predictions, check out Hill's expert picks.
NBA Finals Game 3: Mike Hill's picks for FOX Bet Super 6
Which team will have more turnovers and how many will they have combined?
0-15, 16, 17, 18, 19, 20, 21, 22, 23+
"I think Denver will have more turnovers in Game 3. I know Denver plays well on the road, but Miami's crowd will be a factor. Denver playing on this stage for the first time is also a factor. And then you have to think about the Nuggets having a couple of nights in South Beach. They might come out a little sluggish, and Miami might jump out early."
Prediction: Denver, combined 23+
Which team will have more rebounds and how many will they have?
0-35, 36-37, 38-39, 40-41, 42-44, 45-47, 48-50 51-53- 54+ 
"I will say that the Nuggets will have more rebounds because they have a bigger front line, and Nikola Jokić will be leading the way there."
Prediction: Denver, 42-44
Which team will have more assists and how many will they have?
0-18, 19, 20, 21, 22, 23, 24, 25, 26+
"Once again, I'm going to give the edge to Denver because Jokić does it all. But you know, the great thing about Miami is that they took the assists away from Jokić, and that's how they won Game 2. But overall, Denver does pass the ball a little better than Miami."
Prediction: Denver, 24
Which team will have more steals and how many will they have combined?
0-6, 7, 8, 9, 10, 11, 12, 13, 14+
"I'm giving the edge here to Miami. The Heat will play more passing lanes, Jimmy Butler's going to get a couple of steals, and then you have Caleb Martin's defense off the bench."
Prediction: Miami, combined 13
Which player will score more points — Nikola Jokić or Jimmy Butler — and how many will they have?
0-21, 22-23, 24-25, 26-27, 28-29, 30-32, 33-35, 36-39, 40+
"Jokić is gonna score more points in Game 3."
Prediction: Jokić, 33-35
Which team will win and by how many points?
1-2, 3, 4, 5, 6, 7, 8-10, 11-12, 13+
"I think the Heat will win Game 3 at home. The crowd's going to be fired up. They got home-court advantage, but it will be a close one."
Prediction: Miami, 5
One last prediction… and how to play
Since Hill predicted the Heat would make a Finals appearance this year, we asked him to pull out his crystal ball again. 
"Denver will win this series in six games," Hill said. "The Nuggets are the better team. As long they don't have any injuries, they win this series. Jokić is one of the smartest guys in the NBA, and he will win Finals MVP. 
"But when the Nuggets win Game 6, it will be a team effort. Guys like Jamal Murray will catch fire, KCP [Kentavious Caldwell-Pope] will knock down a couple of 3s and Bruce Brown coming off the bench will be a factor in a couple of these games as well."
With Hill's assist, you should be ready to make your winning picks for Wednesday night's FOX Bet Super 6 Finals Contest. The $10K cash prize could be yours if you take a chance on Game 3.
Download the FOX Bet Super 6 app and submit your selections for the NBA Finals Contest now. Then be sure to share your picks with us by tagging @FOXSuper6 and @EricaReneeD and using the #EricaSuper6 hashtag across all social media platforms.
Good luck!
Download the FOX Bet Super 6 app for your chance to win thousands of dollars on the biggest sporting events each and every week! Just make your picks and you could win the grand prize. Download and play today!
No purchase necessary. Open to legal residents of the US, excluding WA. 18 and older. See terms and conditions at foxsuper6.com. Sponsored by TSG Interactive US Services Limited.