Air travel made better: 20 rules of airplane etiquette no one ever tells you (but should)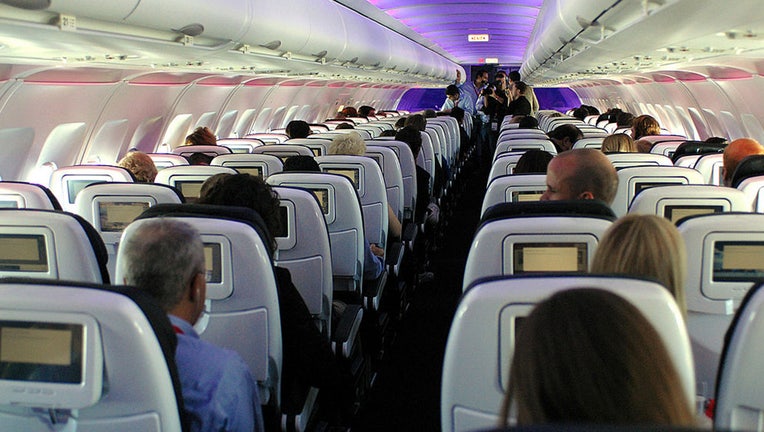 article
With spring travel season here and summer right behind it, there are some very smart ways to make air travel a little more pleasant for everybody involved.
It means following some basic rules of good etiquette — etiquette that a lot of people, judging by dramatic experiences shared in a wide variety of platforms, appear to have left behind.
Jacqueline Whitmore, founder of Protocol School of Etiquette in Palm Beach, Florida, and a longtime etiquette expert, shared some basic rules of thumb when traveling by air.
FLIGHT PASSENGER'S 'MANSPREADING' BEHAVIOR GETS LITTLE SYMPATHY FROM OTHERS: 'DOESN'T GIVE YOU THE RIGHT'
"With the seats getting smaller and smaller these days, we all have to learn to get along," she said of air travel.
Here are 20 top tips for more pleasant and civil travel — with a few cheeky reminders from Whitmore, too, for passengers who just can't help engaging in problematic behaviors on board an aircraft.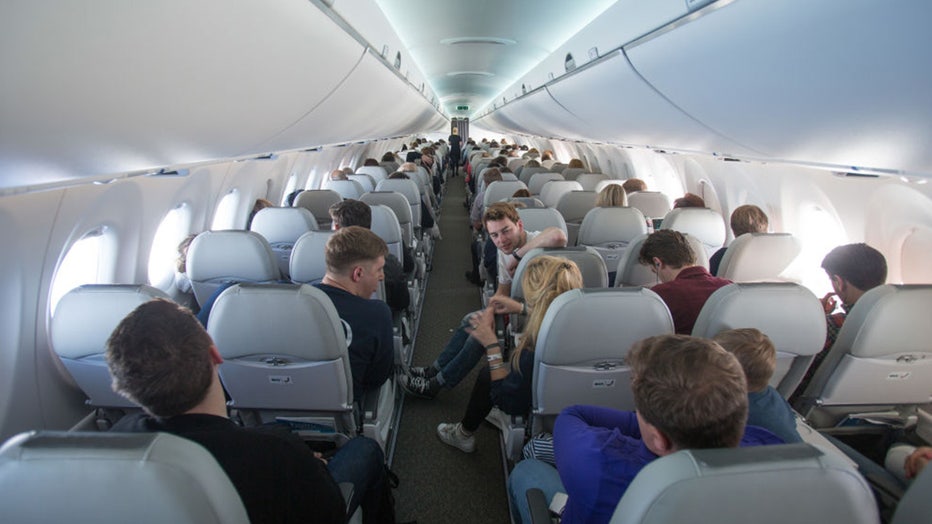 FILE - Passengers on an Air Baltic flight. (Nicolas Economou/NurPhoto via Getty Images)
1. If you bring food on board — "and if you're smart, you will," said Whitmore — "don't bring anything with a highly identifiable or offensive smell," she added.
"There's nothing more annoying than having to smell someone's greasy fish tacos."
2. If you can't lift your own bag, stow it instead of carrying it on. "Don't rely on others to risk pulling a muscle and lifting it for you," she also said.
FLIGHT FRIGHT: FAMILY ASKS PERSON TO SWITCH PLANE SEATS, HE REFUSES — AND BIG TROUBLE ENSUES
3. Wipe down the sink in the lavatory and leave it in better condition than you found it. "Don't treat it like your own bathroom," said Whitmore.
4. If you have to swap seats with someone, make sure the new seat is comparable with the one you've been assigned.
Said Whitmore on this point, "Don't assume you're entitled to an upgrade just because you paid for a cheap seat and you want to sit with a family member in a more expensive seat."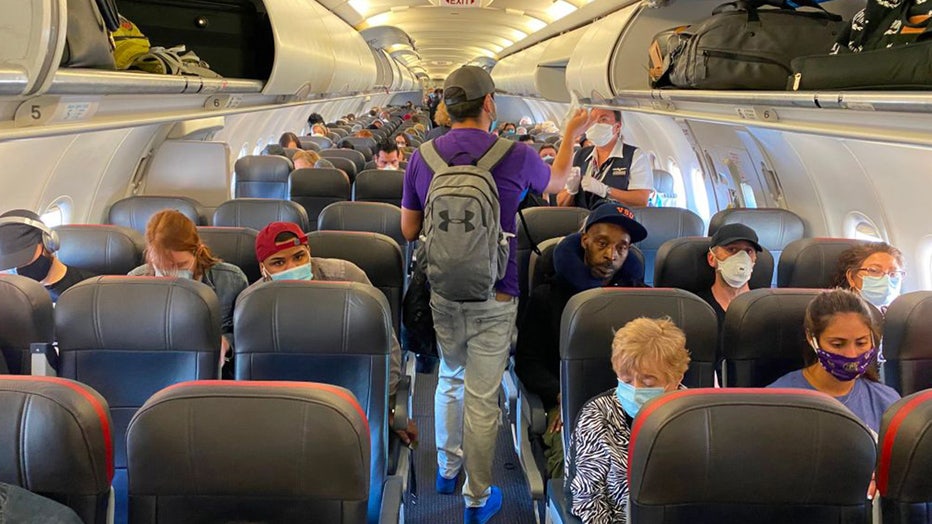 FILE - Passengers, almost all wearing facemasks, board an American Airlines flight. (ELEONORE SENS/AFP via Getty Images)
5. Every passenger has the right to recline his or her seat, said Whitmore. "That's what the seats were designed to do," she said.
She advises, however, that people "keep their seat upright during take-off, landing and during meals," as is usually advised by aircraft personnel.
AIR TRAVEL CONTROVERSY: PEOPLE WHO RECLINE THEIR SEATS ARE SEEN AS 'RUDE' 
"If you feel compelled to recline all the way for maximum comfort, take a quick peek to avoid breaking someone's knees or laptop," she added.
6. If your seatmate is wearing headphones or typing on his or her computer, this clearly means, "Do not disturb," said Whitmore.
"If someone chooses to engage in a conversation with you, keep your voices down. No one wants to hear your conversation," she said.
7. An airplane is no place to practice your agility skills, noted Whitmore.
"If you're seated in a window or middle seat and must go to the lavatory, gently tap your seatmates and say, 'Excuse me,' instead of crawling over them."
If you're on a long-haul flight, she suggested people do their business "after you finish your meal, even if you don't think you have to go." This will eliminate the need to disturb others when everyone is sound asleep.
8. "Keep your dirty feet off the seat in front of you. This is not only gross, it's unsanitary," said Whitmore.
She also said, "Don't treat the airplane like your living room. If you must air out your feet, keep your socks on or wear slippers. What may look like water on the floor in the lavatory is something else instead."
AIR TRAVEL DRAMA: TALL PASSENGER WHO DIDN'T BUY EXTRA LEGROOM IS CHEWED OUT ON FLIGHT
9. "Keep your arms and legs to yourself. The seats may be getting smaller by the day, but that doesn't give you the right to spill over into someone else's space or put your head on another person's shoulder — unless, of course, you know that person well."
10. Never put your belongings in someone else's overhead bin or underneath someone else's seat, said Whitmore.
11. If you're in an aisle seat, keep your long legs and sharp elbows out of the aisle.
Added Whitmore on this point about minding one's space, "And don't even think about putting your food, drinks or trash on someone else's tray table without their permission."
12. Control your children. "Nothing is cute or amusing about getting the back of your seat kicked, your hair pulled or watching someone else's children running like wild banshees up and down the aisle," said Whitmore.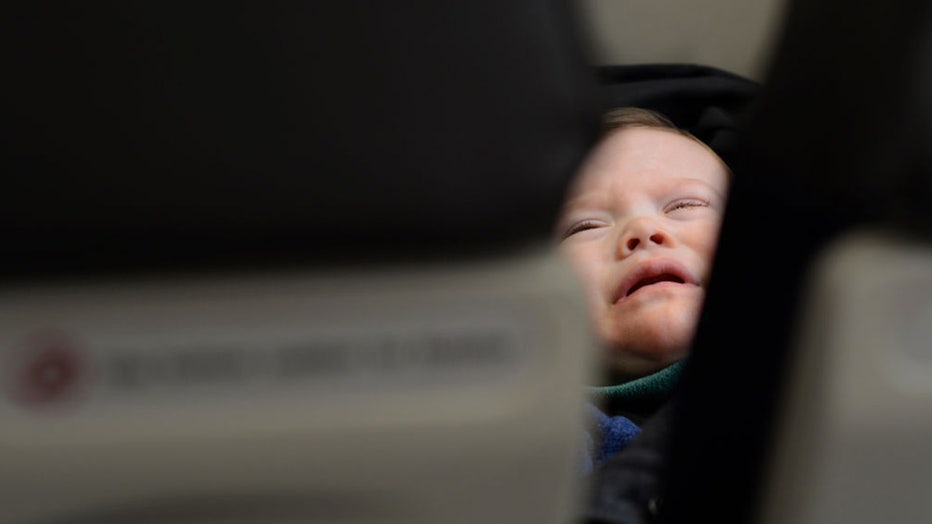 FILE - A toddler cries the seat beside his mother as they fly. (Robert Alexander/Getty Images)
To this end, she said it's wise for parents or guardians to "bring plenty of games, toys and snacks to amuse your child. Crying babies are an exception as they may have aching ears. The crying helps alleviate the pressure. So does a bottle of milk, water, juice or Benadryl."
JUST 'PLANE' BAD ETIQUETTE: AIRLINE PASSENGER DRAPES HER LONG, THICK HAIR OVER THE BACK OF HER SEAT
13. The unlucky person in the middle seat gets one perk: sole ownership of the armrests, according to Whitmore.
She added, "The person in the window seat gets the best view. The person in the aisle seat gets more breathing space as well as the benefit of getting out of the plane quicker in the event of an emergency."
14. Avoid grabbing the back of someone's seat when you sit down, get up or walk down the aisle. 
Said Whitmore, "The headrests are not there to help you balance yourself as you get in your steps or make the long trek to the lavatory."
15. Be respectful to the flight attendants. "Their job is hard enough and they don't make enough money to put up with your b.s.," said Whitmore.
She added, "They're there for your safety, not to wait on you hand and foot. Furthermore, if you're kind and considerate, you might possibly get an upgrade or an extra alcoholic beverage."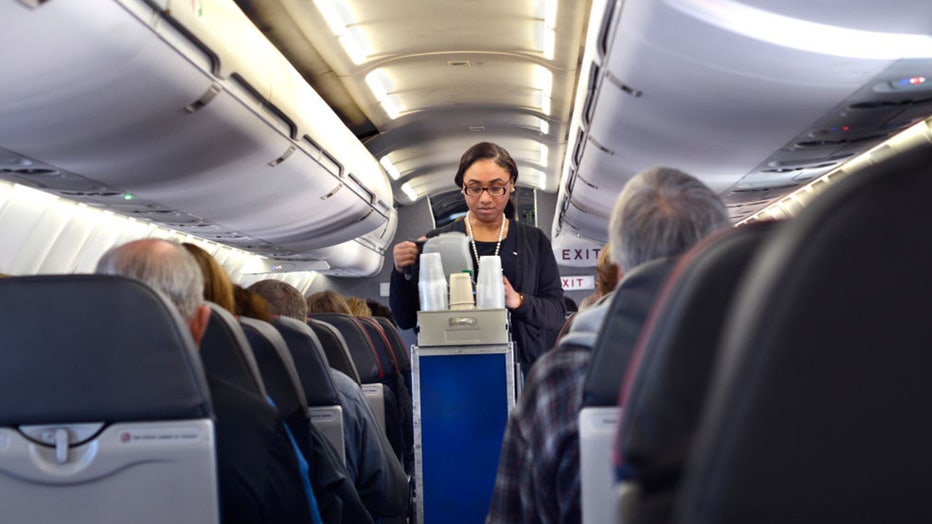 FILE - An American Airlines flight attendant serves drinks to passengers after departing. (Robert Alexander/Getty Images)
16. "Unless you like to be detained by the TSA, keep your voice down, follow the rules and treat the flight attendants with respect," she also said.
REDDIT USER SPARKS HEATED DEBATE ABOUT RUSHING TO LEAVE AIRPLANE UPON LANDING: 'JUST RUDE'
17. Also, "if another passenger is ticking you off, don't take matters into your own hands. Ask a flight attendant to step in and be the bad guy."
18. When the plane hits the tarmac, "don't race for the door," said Whitmore. Instead, "wait for the seatbelt sign to turn off before getting up. Be patient, wait your turn and file out in the order in which you are seated."
19. On this related point, "if you have a connecting flight to catch, ask politely before skipping the line."
20. Wear headphones. "They come in handy whenever you want to cancel out a crying baby or avoid getting into a conversation with someone," said Whitmore.
CLICK HERE TO SIGN UP FOR OUR LIFESTYLE NEWSLETTER
She said they also should be worn whenever you watch a movie on your phone, tablet or computer.
CLICK HERE TO GET THE FOX NEWS APP
"This may be common sense," she also noted — "but most people forget to pack their common sense (and their manners) whenever they travel."