Arizona Gov. Ducey goes to Texas in border push with other GOP governors
MISSION, Texas - Arizona Gov. Doug Ducey visited Texas Wednesday with other Republican governors to announce a new state border security push for the Biden administration to implement in order to "resolve the border crisis."
The governor traveled Tuesday before speaking at a news conference in Mission, Texas, with Gov. Greg Abbott on Oct. 6.
Ducey spokesman C. J. Karamargin said seven other GOP governors planned to attend the event, where they unveiled their 10-point border security plan:
Continue to invoke Title 42, which denies entry to migrants due to COVID-19

Dedicate more federal resources to eradicate human and drug trafficking

Enforce deportations of migrants convicted of crimes

Re-enter the Trump administration's agreements with the Northern Triangle Countries: El Salvador, Guatemala and Mexico

Notify states when unaccompanied minors and other migrants arrive that need state assistance

Clearly state that the country's borders are not open and that "migrants seeking economic opportunity should not attempt to abuse or misuse the asylum process"

Deploy more law enforcement and National Guard troops to the border

End the "catch and release" policy

Reinstate the Migrant Protection Protocols

Continue building the border wall and invest in more border security
Ducey was joined by governors from Texas, Georgia, Idaho, Iowa, Montana, Nebraska, Ohio, Oklahoma and Wyoming. 
Officials said the visit came after 26 governors had requested a meeting with President Biden to discuss issues at the border more than two weeks ago. 
"President Biden has not responded to the request," officials said.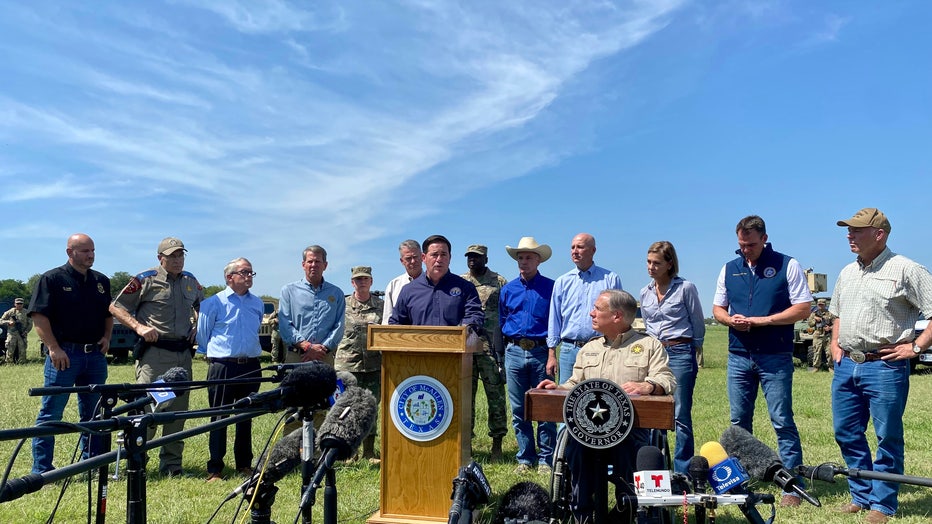 Republicans have seized on a record number of immigrants crossing the border this year as a top issue to target Democratic President Joe Biden. The surge of border crossings has happened despite Biden retaining many of the border restrictions put in place by former President Donald Trump.
Last month, Ducey and 25 other Republican governors sent a letter to Biden asking for a meeting with him on border security issues. Ducey's office says Biden has not responded.
Mission is in south Texas and sits on the Rio Grande River on the border of Mexico. It is about 245 miles (395 kilometers) south of San Antonio.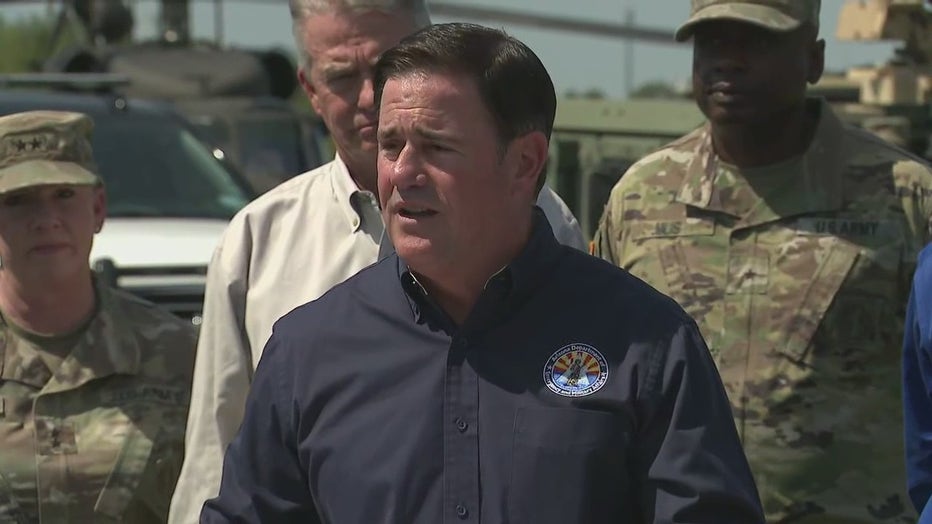 Gov. Doug Ducey speaks at the U.S.-Mexico border in Texas on Oct. 6.
More immigration headlines
Tune in to FOX 10 Phoenix for the latest news:
Sign up for FOX 10 email alerts, newsletters
Get breaking news alerts in the FOX 10 News app. It is FREE! Download for Apple iOS or Android.