California residents relocating here more than any other US city, study shows
LOS ANGELES - It looks like homebuyers from California's biggest metros are relocating to one city in particular more than others.
A new study from Redfin shows most homebuyers in California - particularly Los Angeles and San Francisco- are leaving the state in droves to find more affordable housing. 
The study found Las Vegas was the city residents are relocating to the most, followed by Phoenix, Arizona; Tampa, Florida; and Orlando, Florida - where homes are significantly cheaper. 
Redfin analyzed two million of its users looking for homes for sale in more than 100 metros in the U.S. between April and June 2023 to get the results.
According to Redfin, the median sale price of a home in Los Angeles is $975,000; it's even higher in San Francisco at $1.4 million. The median listing price of homes in California is $796,500.
SUGGESTED:
San Francisco's median sale price is over $1.4 million, the highest in the country. That's more than double the ~$600,000 median sale price in both Portland, Oregon and Austin, Texas, two of the 10 most popular destinations for homebuyers leaving San Francisco.
Redfin said this is the first time ever Las Vegas has topped its list.  
"Buyers with the freedom and inclination to relocate are choosing Las Vegas largely because their money goes a long way there," the real estate website said in its study.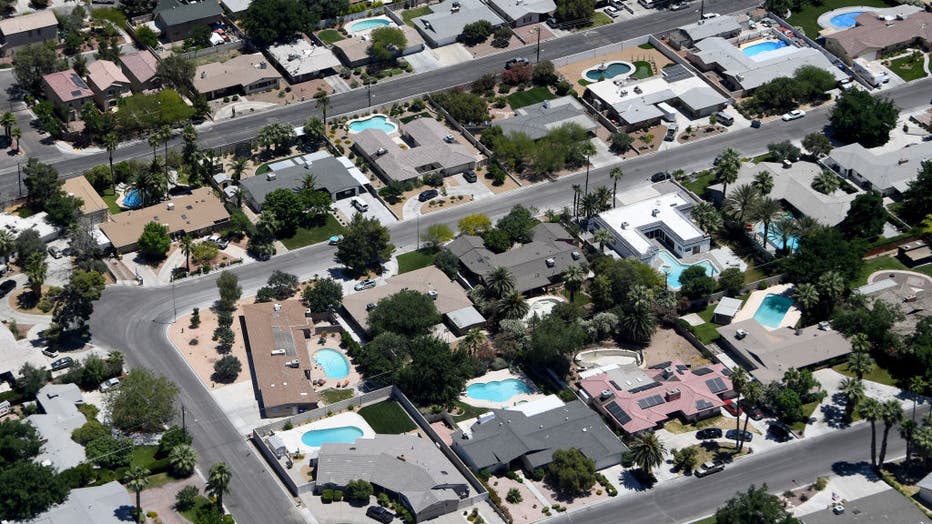 An aerial view shows a residential neighborhood on May 21, 2020 in Las Vegas, Nevada. (Photo by Ethan Miller/Getty Images)
In Sin City, a typical home sells at $412,000, less than half the price of a home in Los Angeles, the most common origin for buyers moving to Las Vegas, officials found.
According to Redfin, homebuyers are leaving expensive places in favor of areas with more affordable housing, which is made possible by remote work for many movers. 
Here are the top 5 metros people are leaving:
San Francisco, California
New York, New York
Los Angeles, California
Washington D.C.
Chicago, Illinois
Here are the top 5 metros people are moving into:
Las Vegas, Nevada
Phoenix, Arizona
Tampa, Florida
Orlando, Florida
Sacramento, California
To read more on the study, tap or click here.