Flag Fire: What you need to know about the wildfire burning in Mohave County
MOHAVE COUNTY, Ariz. - The Flag Fire is burning near the Wild Cow Campground in Kingman and the Bureau of Land Management says the fire is being battled from the ground and air.
Crews believe the fire began around 2 p.m. on Sunday, April 25 in the Hualapai Mountains. So far, nearly 1,300 acres of Ponderosa pine at higher elevations, brush and grass have burned.
The cause of the fire is under investigation.
Timeline of the fire:
May 1
Pine Lake residents have to started to return to their homes. The lifting of the evacuation applies only to residents while firefighters continue to work to control the fire, which is now 62% contained. 
The fire acreage was reduced to 1,265 acres.
"Incident Commander Alan Sinclair offers his and the entire team's sincere appreciation to the people of Kingman, Pine Lake, and the surrounding communities for your patience, support, and well wishes we encountered while fighting this fire," officials said in a statement. "He also would like to point out that the hard work done by local resources in creating fire breaks around Pine Lake previous to the fire as well as the initial attack by local firefighters, BLM Kingman Field Office, and the Central West Zone Type 3 Team significantly aided in the successful management of this fire."  
April 30
Evacuation orders have been lifted for the Pine Lake community as crews continue to fight the Flag Fire, which is 34% contained. Officials say proof of residence is required at the re-entry checkpoint. Residents returning to their homes will need to use Hualapai Mountain Road.
A new closure order is in effect for portions of BLM Road 7101 and Road 7178.
Over 330 firefighters have been assigned to the wildfire.
April 29
The Flag Fire is now 13% contained. Due to more accurate mapping, acreage burned has decreased to 1,279 acres. Because of Wednesday's rain, crews were able to secure portions of the eastern fire line and make progress in rougher terrain to the north and west perimeters.
Crews will continue today to extinguish hot spots, remove tree hazards, increase fire lines, and create barriers.
April 28
April 27
Overnight rain and snow helped crews working to contain a wildfire that earlier forced the evacuation of over 200 homes and closure of a county park in the Hualapai Mountains in northwestern Arizona, officials said Tuesday.
The area received a light dusting of snow and increased humidity was expected to allow firefighters to clear containment lines ahead of the fire before warmer and drier weather conditions forecast later in the week, federal Bureau of Land Management officials in a statement.
April 26
A state of emergency was declared for Mohave County.
In the declaration, Mohave County Supervisor Buster Johnson asserts it is ordered that "Hualapai Mountain Park will be closed to new visitors…during the existence of said emergency or until the threat in the park is declared over."
His emergency declaration further states that "the Mohave County Emergency Response and Recovery plan is hereby activated and in effect until further notice."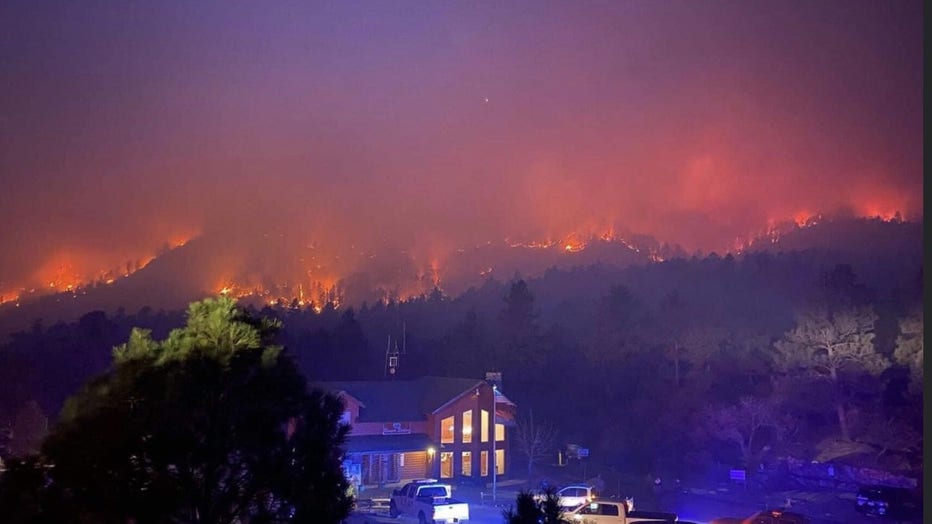 Photo courtesy of Jay Gates
Tune in to FOX 10 Phoenix for the latest news: 
April 25
EVACUATIONS & SHELTER
As of 4 p.m. Sunday, "GO" evacuation orders have been issued by the Mohave County Sheriff's Office for the following communities:
Hualapai Mountain Park

Lodge

Pine Lake
"SET" orders, meaning to be prepared to evacuate, are in place for the following communities:
Atherton Acres

Pinion Pine
A shelter for those being evacuated is set up at at 500 Maple Street in Kingman.
Anyone who needs help evacuating with livestock can contact the Bureau of Land Management at (928) 753-0753.
TRAFFIC
Hualapai Mountain Road is closed at milepost 10 to everyone except evacuees and first responders.
The Arizona Department of Transportation says traffic along Interstate 40 is unaffected but is sending a heavy amount of smoke into the area.
600 acres burned, shelter set up
The same area was hit hard by a wildfire last year and thousands of acres were affected. Now county officials are issuing a word of caution because we are now in fire season.
A fast-spreading wildfire in northern Arizona has led to evacuations across the region. People in Pine Lake, Hualapai Mountain Park and Hualapai Mountain Lodge are heading to safer ground.
"We have multiple air and ground resources on scene and en route," said Dolores Garcia, spokesperson for the Bureau of Land Management.
Garcia says the fire started between the Flag mine and the Wild Cow campground in the Hualapai Mountains. She says this was not a nature-caused fire, it appears to have been started by someone in that area. But the dry conditions she says made the fire that much worse.
"Very dry.. that area has received very little precipitation, much like the rest of the state. It did get some snow earlier, but not what we usually see. That area is under red flag weather conditions right now."
Kerry Rook lives in nearby and watched it all unfold.
"Was going for a walk around the property and I sat down to take my boots off, looked up and there it was.. watched it for a couple.. realized it was getting bigger."
After calling 911, his next concern was which way the wind was blowing.
Thankfully, his home, which is several miles away, was untouched. 
As we move into peak fire season, Garcia has a word of caution for those living not just near the forest, but anywhere with dry temperatures.
"A lot of our desert areas are just as susceptible to wildfires. It's time to prepare, get those evacuation plans ready, get those emergency safety systems signed up."
The Red Cross is getting a shelter ready at 500 Maple Street in Kingman for those affected by this fire.
The Associated Press contributed to this report.
More wildfire news: