Tips for gift giving and staying on budget this holiday season
From the holiday grocery shopping to the gift giving, this time of year can put a dent in anyone's spending. 
But planning for the expenses and staying aligned with your financial goals can help keep your stress level down this season. 
One big tip from a financial advisor, Addi Lock with Northwestern Mutual, is to take your time picking out gifts (for others, or yourself), especially as you see new sales and advertisements pop up. 
"Just slow down," she told LiveNOW from FOX. "Think about what your purchases really are and if they're something you really need or your family or friends really need."
RELATED: Thanksgiving dinner 2023: Breaking down the cost of the average holiday feast
"Honestly, sales these days aren't as great as you might think. They look exciting; they look fun; they look like you're going to get a lot out of it, but you over purchase. You buy things you don't really need. You buy for family when they already have something."
In fact, a vast majority of Americans reported they'd rather receive experiences anyway over physical gifts for the holidays, a sentiment that only seems to be growing since the pandemic.  
GetYourGuide surveyed U.S. consumers about their gift expectations, and 92% this year said they'd hope for the memories – up from 62% in 2021 and 77% in 2022.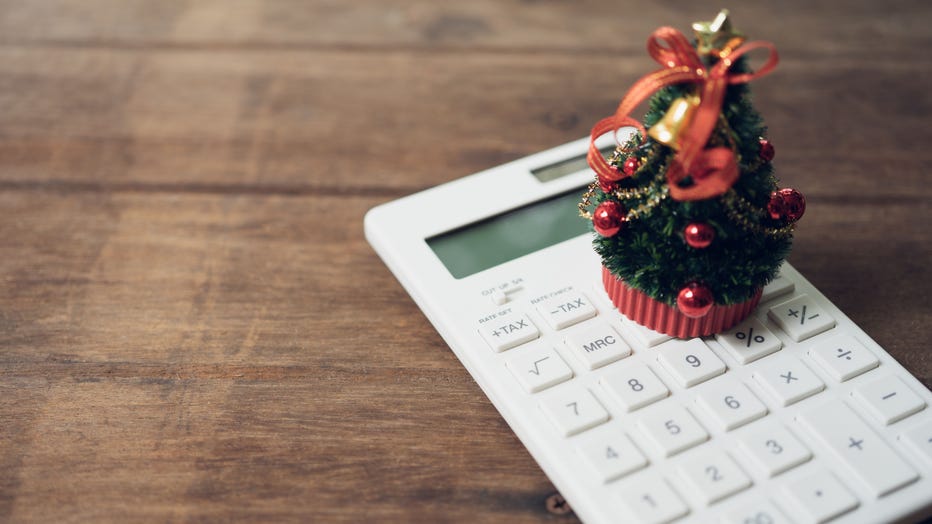 A beautifully decorated Christmas tree placed on a white calculator and with a miniature book. Christmas concept celebrated on December 25 every year.
RELATED: When should you put up your Christmas tree? Experts weigh in
Gift experience ideas
Subscription boxes
Craft kits
Membership to your local museums or zoo
Tickets to a show or performance
A reservation at their favorite restaurant
Gift card to a spa, golf course, or movie theater
A seat at a virtual class or workshop, such as through MasterClass, Airbnb or Alice's Table
A Cameo shoutout from a favorite celebrity
An offer to babysit or pet sit
Creating memories by gifting experiences is a sentiment that Lock agrees with and is her general advice to avoiding overspending. 
"The first thing is (to) remember that the holidays are about family and memories. And although we want to spend and we want to purchase things for others, it needs to be meaningful and take your time and really think about what you're spending the money on," she said. 
On that same note, one gift-giving tip from personal finance adviser Ramit Sethi is to give people what they specifically ask for, not what you "think they want" or need. 
Even if it's a simple gift card, you can make it more meaningful by how you present it to them. The act of giving the gift itself can become a meaningful memory if done right. 
RELATED: Mariah Carey talks 'All I Want For Christmas Is You' in 1994 interview: WATCH
Sethi says to always either wrap the gift yourself or get it wrapped. Some smaller shops often offer gift wrap for free, or you can find fun gift card holders in just about any major retailer's holiday section. 
And to take it one step further, Sethi suggests including a handwritten card.
Even if you're not giving a physical gift, a handwritten card can go a long way to making an impression during the holidays. 
"Nicole and Jack — We always have a great time when we hang out. We'd love to take you to [dinner/movies/show you a new piece of art at the park that we love] in the new year. Are you free on January 5th or 6th? –  NAME and Your Partner's Name," he suggests writing. 
"Think about what it would feel like to get a note like that. To feel appreciated and know others love your company," he writes on his blog. 
A little thought can go a long ways. 
This story was reported from Detroit.