Gilbert man accused of pulling gun on skateboarder in viral video - both sides speak out
GILBERT, Ariz. - A Gilbert man could be in some legal trouble after a viral video appeared to show him brandishing a gun in front of some skateboarders.
The video was taken on Aug. 13 at a church near Guadalupe and Lindsay Roads. At the time, the church's parking lot was empty, and three friends were skateboarding at the parking lot when a man got out of his black Tesla car, and pulled out his gun.
"At that moment when he pulled the gun out, I was honestly in shock," said one witness of the incident, who did not want to be identified. "That's why, if you watch the video, I couldn't move right away 'cause in my head, I'm like, 'is this really happening right now? Did this guy really pull a gun for skateboarding?'"
The witness did capture another angle of the confrontation. The video showed the man getting out of his car and quickly pulling out a gun.
He is seen holding it with two hands as he looks at the skateboarder, and then puts the gun back in his pocket.
The witness said he and his friends were told to leave.
"He went out of his way to mess with us and park right in front of that rail, and basically cause a commotion to give him reason to pull out the gun," said the witness.
Suspect speaks out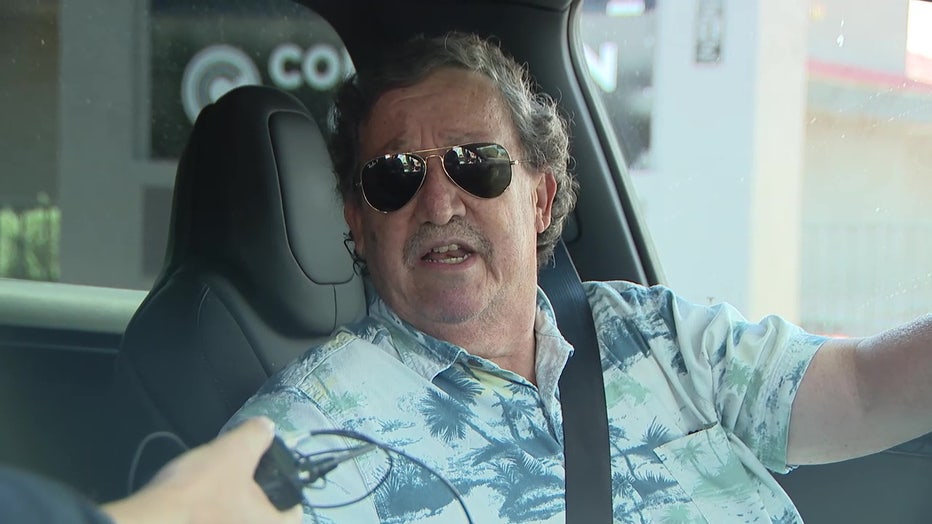 The incident was reported to Gilbert Police the following day, and on Aug. 19, while at the scene of the incident, we spotted a black Tesla driving out of the parking lot. The car was being driven by 68-year-old Bernardo Aillon. Aillon reportedly lives behind the church.
"You were the guy that pulled out a gun on these skateboarders on Saturday, 'cause they were being defiant?" Aillon was asked.
"Defiant when I kept telling him to just leave," Aillon replied. "I was going to go over there [and say] 'just stop right there. Just go. Leave,' and you keep going, and they said 'yes we're leaving.'"

Aillon said he is not affiliated with the church that is adjacent to the incident scene. He said he just wanted the skateboarders off the property, and went on defense in case things escalated.
"When he was that defiant, I decided to pull out my gun," said Aillon. "Not to shoot him, 'cause I know when to use a gun."
Aillon also said his wife was in the car at the time of the incident.
Victim speaks out
On Aug. 23, we caught up with the skateboarder in the video, Corban Wartenberg.
"He said you were being defiant. Do you feel you were being defiant?" Wartenberg was asked.
"I mean, what happened was he said we can't be here, we have to leave. So we told him 'you leave and call the cops,'" Wartenberg recounted.
Wartenberg said he didn't expect what happened next, with Aillon pulling out a gun. Wartenberg then simply walked away from the situation.
"Tried to remain relaxed and in control of myself, and just move on. Try to get out of there," Wartenberg recounted.
Police: Potential charges under review
According to a statement released by Gilbert Police officials on Aug. 19, the victim in the incident, as well as Aillon, were interviewed by officers after the incident was reported. Aillon's weapon was also seized and entered into evidence.
"What did Gilbert Police tell you when they took your gun?" Aillon was asked, on Aug. 19.
"That I have a Class 3 Felony," Aillon replied.
"Criminal charges against Bernard Aillon of Aggravated Assault with a Deadly Weapon and Possession of a Firearm on School Grounds have been referred for review to the Maricopa County Attorney's Office," read a portion of the statement released by Gilbert Police. "It is imperative that investigations are thoroughly investigated and documented prior to submitting criminal charges against an accused. The alleged behavior captured in the video is not tolerated in our community."
Aillon was not arrested in connection with the incident. The charges submitted included possession of a firearm on school grounds, because a school for children with autism and related conditions was near the area where it happened.
School official speaks out
On Aug. 22, we received a statement from officials with Lexington Life Academy spoke out about the incident.
In a statement, school officials said the incident happened on a property that the school shares with and leases from a church.
"The police that were involved asked Compassion Church if they could review the footage recorded from the security cameras that are present on the property. Unfortunately, Lexington Life Academy wasn't made aware of this incident prior to Friday (Aug 19th). This left our school unknowingly vulnerable for 6 days and incapable of making safety decisions any sooner," read a portion of the statement. "We were only made aware of this by a news reporter showing up to our campus on Friday the 19th, asking how we would like to comment on the incident."
School officials said after they were made aware of the incident, they immediately notified parents and staff, and requested as much information from the church and Gilbert Police as possible.
"With the small amount of info they were able to provide us at that time, and with the unfortunate reality that the gunman lives only 100 yards away from our campus, we had no other option than to move our students and staff to one of our other campuses," read a portion of the statement.
"It was an 'all hands on deck' effort for sure," said Harrison Rogers, who owns Lexington Life Academy.
Rogers also had this to say to frustrated parents.
"By some parents who thought we just waited this long to make the decision, 'cause they heard it happened last Saturday, and we agree with them: that that would have been a way too long of a time to have made this decision," said Rogers.
In response, Gilbert Police released a statement that reads:
"During the investigation of this incident, contact was made with the property owners as a standard measure, which happens to be the church. Due to this being a delayed report, there was no present danger to the school which would have initiated us to contact them for lockdown procedures."