'You saved 1,368 lives today': Firefighters cool down stranded load of piglets on Kansas highway
OVERLAND PARK, Kan. - A group of Kansas firefighters helped save the bacon – literally. 
On Thursday, firefighters in Overland Park received a call for help on U.S. Highway 69 to assist a broken-down tractor-trailer that was hauling pigs, leaving the animals stuck in the sweltering heat. The truck driver informed firefighters that the piglets wouldn't survive the heat without ventilation or water.
That's when crews grabbed their hoses to cool the pigs off as temperatures reached nearly 90 degrees in the area at the time.
WATCH: PIXY THE PIG AMONG ANIMALS PLUCKED FROM HURRICANE IAN'S FLOODWATERS IN FLORIDA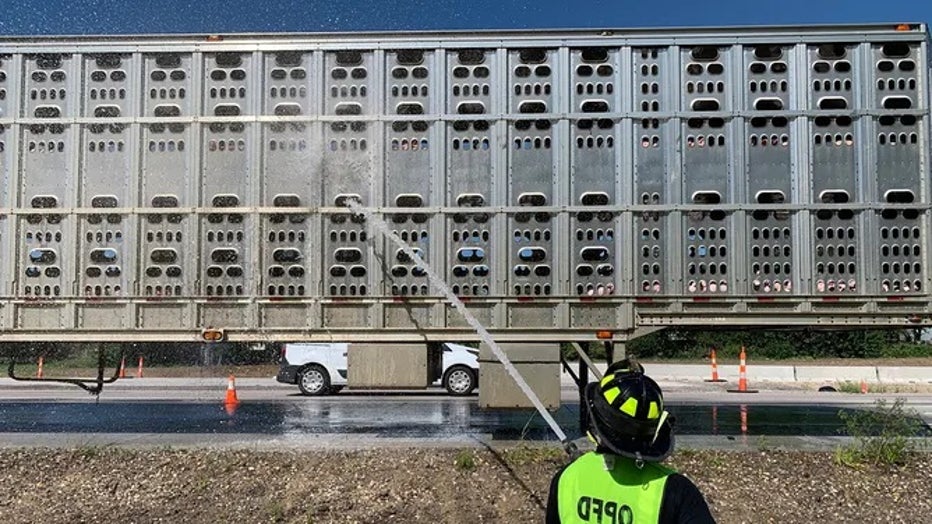 Firefighters in Overland Park, Kansas, cooled down a group of stranded piglets on U.S. Highway 69 on Thursday, August 10, 2023. (Overland Park Fire Department)
One of the piglets expressed gratitude to the firefighters after the cool-down, while the animals waited for another trailer to transport them to Iowa.
WATCH HOW ZOO ANIMALS ARE BEATING THE SUMMER HEAT AND STAYING COOL
These two Overland Park firefighters are all smiles as they rescue a grateful piglet from the heat. (Overland Park Fire Department)
According to firefighters, the driver exclaimed from the scene, "You saved 1,368 lives today!"
Forecasters said it's looking like another hot and humid afternoon for many in the Midwest, with thunderstorms possible through the evening. A few strong to severe storms are expected, the NWS said. Possible hazards include damaging winds and quarter-sized hail.