Man with machete shot by Phoenix police officer near a QuikTrip, department says
PHOENIX - Phoenix police are investigating an officer-involved shooting near 19th Avenue and Alta Vista Road Sunday afternoon that injured a suspect.
The incident started in a field just steps away from a QT gas station around noon on May 1. Officers just happened to be at the gas station on an unrelated call when Phoenix Police Sgt. Andy Williams says, "They observed an adult male in this dirt field here with a machete waving it around and screaming."
He continues, "The man walked away southbound on 19th Avenue, actually into the roadway. He was walking amongst vehicles, there were pedestrians on the roadway and on the sidewalks."
Officers followed the man and used stun-bag shotguns that fired bean bags to stop him, but still, he reportedly didn't stop. "Due to the language barrier, officers were unable to understand what he was saying," Williams said.
That's when things took a turn.
"He continued to yell in Spanish while advancing towards the officer with the machete still in hand. The officer transitioned to his handgun and fired, striking the man and ending the threat. Officers were able to move in, move that machete away from him, and began rendering first aid, including applying a tourniquet to his leg where he was struck by gunfire," Williams explained.
A crew with the Phoenix Fire Department arrived and transported him to a hospital where he was in critical condition, but he has improved to stable.
"This person had a machete. They were a danger," said a person at the scene.
Police release body camera video
On May 13, Phoenix Police officials released body camera videos taken during shooting incident. The videos were released as part of its Critical Incident Briefing on the shooting.
In one of the videos, the officer was heard telling the suspect, whose face was blurred in the video, to put down the machete. The suspect was heard speaking loudly in Spanish, and the suspect was later seen moving into the roadway.
In another video, another officer was seen taking out weapon that police say fired less-than-lethal stunbag rounds, and gave multiple commands for the suspect to lay down the weapon.
"Drop your weapon, bro. You're gonna get stunbagged. Drop the knife," the officer was heard saying.
The stunbag rounds were eventually fired, but police say it had minimal effect. Eventually, police say the officer fired his service weapon. Multiple rounds of gunshots can be heard in the video.
The officer involved, according to police, is a two-year veteran of Phoenix Police, and was assigned to the department's South Mountain precinct. An internal and external investigation is underway, and the findings will be reviewed by the Maricopa County Attorney's Office.
Following the shooting, police officials say officers rendered medical aid until other first responders arrive.
The suspect, officials say, remains in hospital, and will be booked into jail for alleged aggravated assualt when he is released.
More crime news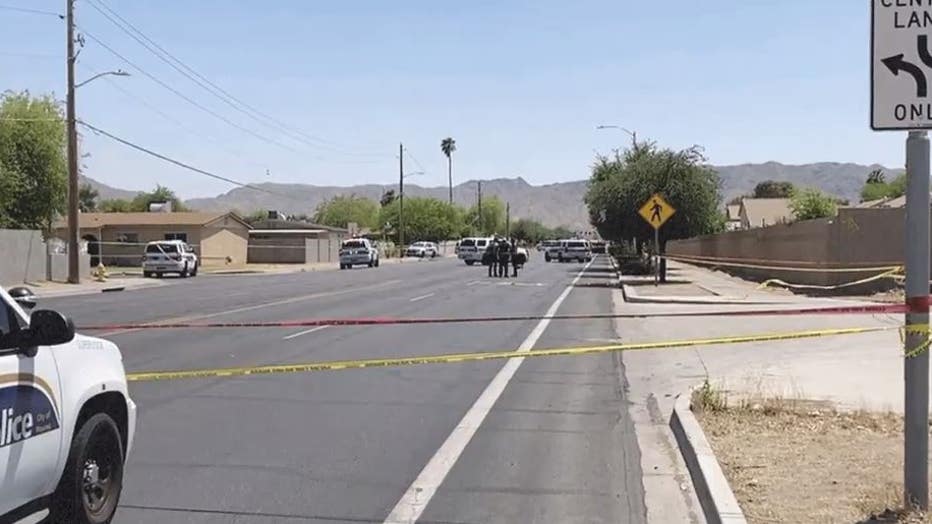 The scene of an officer-involved shooting in south Phoenix.