Suspect with lengthy criminal history jailed after carjacking APS worker, DPS says
AVONDALE, Ariz. - A suspect accused of stealing an Arizona Public Service worker's truck at gunpoint Wednesday morning has been arrested and is facing a slew of charges.
The Arizona Department of Public Safety says the incident began just before 5 a.m. on Feb. 15 when a 24-year-old suspect's stolen car broke down on the Loop 101 near Thomas Road in Phoenix.
An APS worker stopped to assist the suspect with his vehicle, but the suspect pulled out a gun and took the worker's truck, leaving the worker on the side of the road.
Authorities later found the vehicle abandoned in a ditch near Avondale and Lower Buckeye Road. After abandoning the APS truck, DPS spokesman Bart Graves said the suspect entered a nearby home through the backyard, still armed with a gun.
2023 mug shot of Anthony Sierra
A family of four was inside the home – a man and woman, and two young children.
"We are thankful that the father, in this case, was able to talk the suspect into leaving his residence… no one was harmed," Graves said.
After leaving the home, the suspect scaled multiple walls on nearby homes before he was found by a SWAT team and taken into custody.
"I just let the dogs in, took the trash out, and then came and sat down watching the story and then I just seen some in the backyard, and I was like [expletive]," resident Jason Ybarra said. "Then I seen the SWAT and everybody in there. And they took him down on that side of the house."
The suspect is Anthony Sierra. He will be booked into jail and is accused of burglary in the first degree, theft of means of transportation, armed robbery, criminal damage, trespassing and misconduct involving weapons.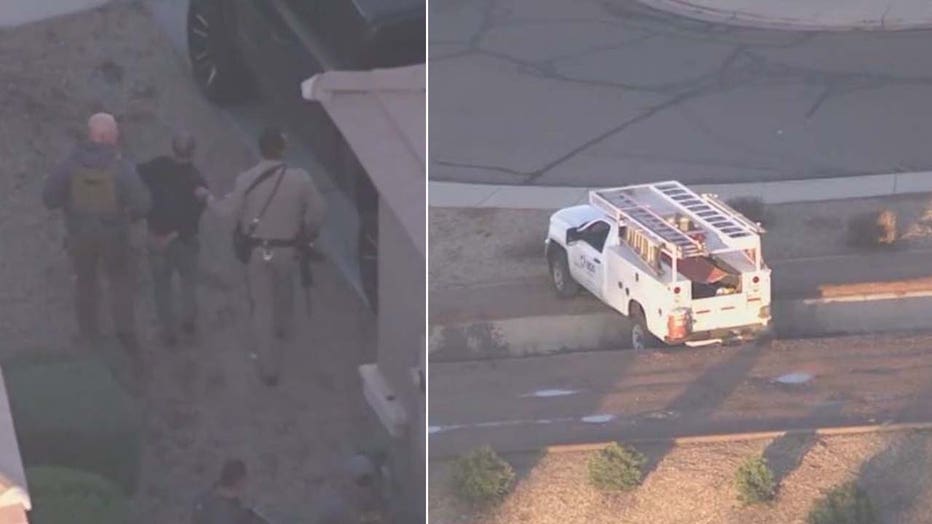 A suspect accused of stealing an Arizona Public Service worker's truck at gunpoint on the morning of Feb. 15 has been taken into custody.
Tune in to FOX 10 Phoenix for the latest news:
More Arizona headlines