Trump takes aim at judge overseeing 2020 election case on social media, testing court limits
WASHINGTON - Where is the line between free speech and behavior that can get you in trouble as a criminal defendant? It seems former President Donald Trump could soon find out.
While Trump awaits possible criminal charges in Georgia, he's taken to his social media platform to go after the D.C. federal judge overseeing the criminal case brought against him for his efforts to overturn the 2020 election, as well as her family.
Over the weekend, Trump reposted a tweet from Republican pundit Mike Davis on his Truth Social account that shows a picture of Judge Tanya Chutkan and claiming that the judge "openly admitted she's running election interference against Trump." 
The tweet also referenced Chutkan's husband — a former D.C. Superior Court judge who was also appointed under the Obama administration.
Trump has continued to lambast the judge in his posts, calling her "highly partisan," in line with the continued claims from him and his supporters that he will not receive fair treatment in D.C. courts. 
"She obviously wants me behind bars," he wrote. "VERY BIASED & UNFAIR!"
Chutkhan has proven harsh on Jan. 6 defendants in the past and she previously ruled against Trump when he tried to keep certain records from the House Select Committee investigating Jan. 6. 
But experts say it's strategically unwise for a defendant to go after the judge overseeing their case. 
"Criticizing a judge when you're under indictment and facing trial is really stupid. Nothing good is going to come of it," said Mark MacDougall, an attorney and professor at Georgetown University Law Center. 
"Other than alleging she's a Democrat, which is not a disqualifier to sit in a criminal case, there's really nothing there to suggest she's biased. In fact, in the one hearing they had there in the protective order matter she seemed to be inclined to rule more in favor of the defense than the government," he added. 
Nevertheless, Trump is entitled to his First Amendment protections.
Chutkan, however, cautioned Trump's lawyers in court Friday against making any "inflammatory statements" about the current case that could taint the jury pool and once again stressed that there are limits on what the former president can publicly say about the investigation as he campaigns for a second term in the White House.
"The fact that he's running a political campaign has to yield to the orderly administration of justice," she said. "If that means he can't say exactly what he wants to say about witnesses in this case, that's how it has to be." 
"To me, it's a little far-fetched that in this case, some comment by Trump is going to affect the jury pool," said former assistant U.S. Attorney David Katz. "Now, there's a more serious argument about violence. There is a cadre — a tiny sliver that seems to be prone to violence." 
In prosecutors' initial filing seeking the protective order, they included a screenshot of another one of Trump's Truth Social posts in which he wrote, "IF YOU GO AFTER ME, I'M COMING AFTER YOU!" 
Chutkan noted that "arguably ambiguous statements" could be construed as intimidation or harassment of potential witnesses, adding that she'll "take whatever measures are necessary to safeguard the integrity of the case." She says this could mean moving the case more quickly to trial to limit interference by the ex-president.
Those witnesses include former Vice President Mike Pence who has also come under attack in Trump's Truth Social Posts. The former president has repeatedly attacked Pence for being disloyal following Pence's decision to certify the results of the 2020 presidential election — a definitive move that signaled his disbelief in Trump's claims that the election was fraudulent.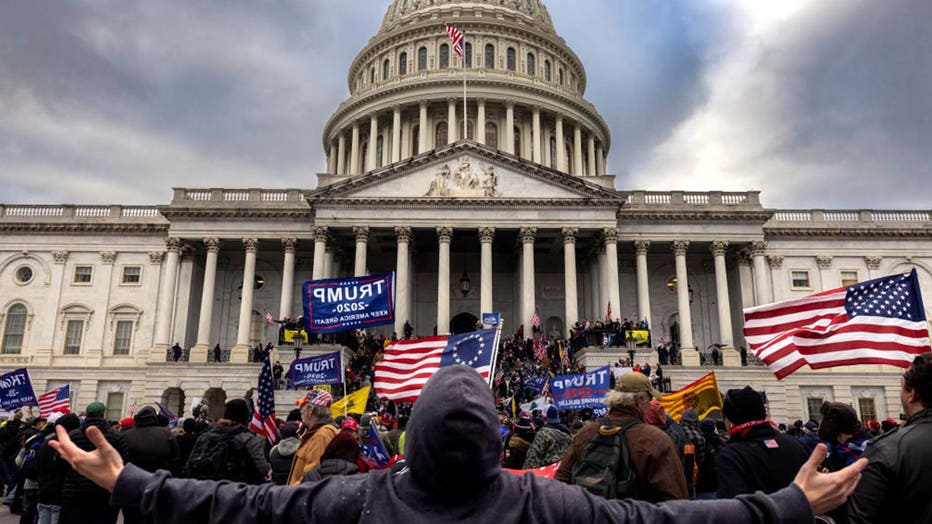 FILE - Pro-Trump protesters gather in front of the U.S. Capitol Building on Jan. 6, 2021 in Washington, DC.
Trump's posts about Pence have only become more antagonistic as the two campaign against each other for the 2024 GOP nomination. Despite the outward animus toward his former VP, Pence told CBS's Face The Nation that he has "no plans" to testify against Trump but will "respond to the call of the law."
Gag orders have been issued in other cases to prevent both sides from talking about the case publicly. 
It happened to former Trump campaign adviser Roger Stone as he faced criminal charges for obstructing a congressional investigation and witness tampering. 
Stone was convicted and Trump later commuted his sentence but during his case, Stone reposted a photo on Instagram of D.C. Federal Judge Amy Berman Jackson. Jackson then barred Stone from using social media.
"Roger's case was different because Roger posted something or something was posted on behalf of Roger that looked like a direct threat to the judge," Stone's former attorney Bruce Rogow said. "So that's a whole different kind of situation. And I thought Roger was going to go to jail over that."
Some speculate that Trump's post may also be part of a strategy to get the judge to do or say something that would require her to recuse herself from the case but that's a high bar — one unlikely cleared right now, according to experts.
"First of all, federal judges are terrific, almost universally impartial and they can put stuff like this criticism out of their minds. So he may be relying on the fact that she will do her duty," Katz said.
Trump has pleaded not guilty to all four felony counts in the federal indictment brought by DOJ Special Counsel Jack Smith, which includes conspiracy to defraud the U.S., conspiracy to obstruct an official proceeding, obstruction of and attempt to obstruct an official proceeding and conspiracy against rights. 
There has been no word from the special counsel's office about the weekend social media posts, although we know from previous filings that they appear to track Trump's posting closely. The next hearing before Chutkan is scheduled for Aug. 28.