'Macaroni Tony' gets beaten up by family at Houston Galleria, viral video shows
HOUSTON - A viral video captures local legend, 'Macaroni Tony,' in a shocking altercation at the Houston Galleria shopping mall after allegations of inappropriate behavior towards two teenage sisters.
If you've been to Galleria Mall you may have seen a man walking around in a flamboyant suit. Well, on Saturday an 18-year-old girl and her father ended up on video fighting the 73-year-old man after the girl says he attempted to touch her bottom with a feather he carries around.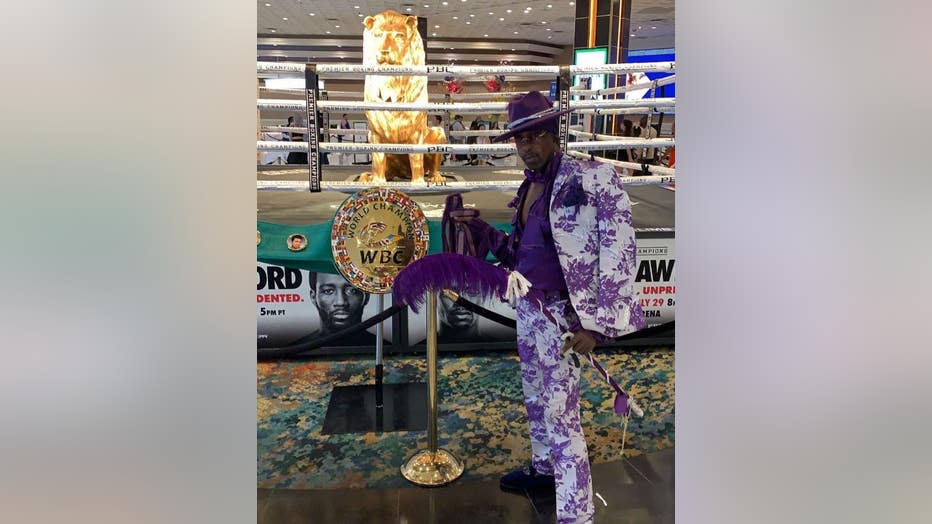 Macaroni Toni has been a notable figure in Houston and usually carries what many call a 'pimp feather.' A similar object is what allegedly lead to his beating at the Galleria.
"I saw him get the feathers and try to smack my butt and I moved. I was like uh uh and I moved and turned back, and he stuck his tongue out.  Then he put the feathers in my little sister's face," says 18-year-old Karinesha Jackson.  
The 18-year-old was shopping with her 13-year-old sister, younger brother and her dad. The teen says the man, who tried swatting her bottom with a feather, is someone often seen walking inside Galleria Mall wearing over the top suits, who's known as 'Macaroni Tony.'
SUGGESTED: Jugging on the rise
"I never saw him doing harm to anybody. He just walks around looking I guess extravagant," says one Galleria shopper. 
"If he's doing something inappropriate, especially to female girls of course I think any parent would get uncomfortable," another shopper adds.
In videos Macaroni Tony has posted to social media he can be seen rubbing women's bottoms with the feather.
The teen says she's never heard of him. She says when he tried touching her with the feather she told her dad.
"My daddy like pointed at his head and he was like don't you touch my kids, don't you touch my kids," Jackson explains.  
Karinesha Jackson, the 18-year-old seen in the viral video, recounted her experience in an interview with Isiah Carey, The Isiah Factor Uncensored host.
The 18-year-old says before customers started recording, the man grabbed her father. 
"And I guess he's got like rings on his fingers. I don't know what made that cut on my daddy's eye. I started seeing blood. I just started punching the man because he was choking my daddy from behind."
OTHER VIRAL MOMENTS: Tubi's 'No Disrespect' bullet scene goes viral
Several internet posts show Macaroni Tony's face now battered and bruised. He denies touching the teen with the feather, and he posted a response on social media.
"A big girl and little girl walk by, and I just wave, I'm waving. I'm feathering myself and they walk on by. They 15 feet away. When they looked back like this right here and that's it. This whole thing has been blown out of proportion. Me touching somebody with that feather is a damn lie."
FOX 26 Houston is now on the FOX LOCAL app available through Apple TV, Amazon FireTV, Roku and Google Android TV!
"He did not touch me. He did not. He tried to, and I said uh uh. and moved like he had the feather like he was trying to spank me," says the 18-year-old.  
Macaroni Tony has filed a complaint with the Houston Police Department and there is an assault investigation underway.
It's not clear what type of injuries Tony sustained from the assault, but he posted a photo of his swollen, bruised face with his GoFundMe account information asking for help with lawyer fees and medical bills.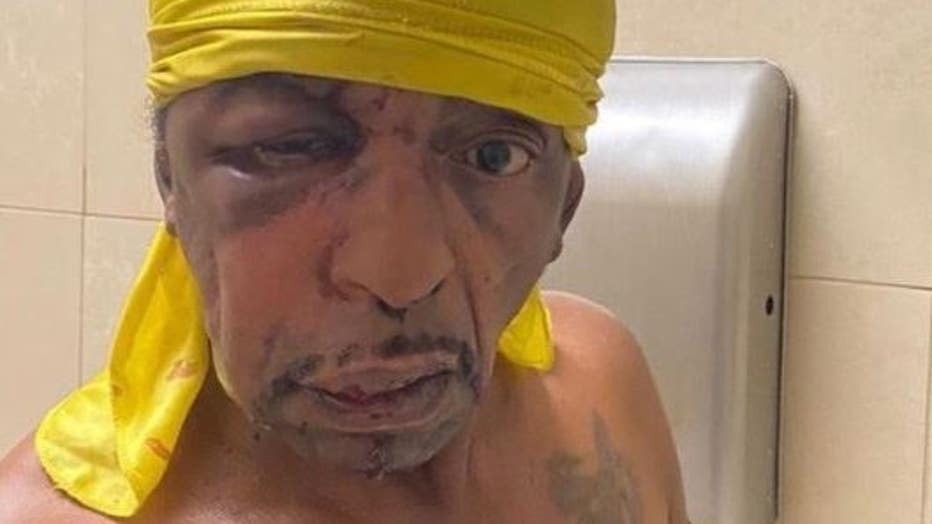 The viral video shows Macaroni Tony struggling to get up and bleeding after sustaining multiple injuries during the altercation (Photo courtesy of GoFundMe account set up by Ronald Thomas)
In an interview with Jackson and her mother, Porsha Anderson, the Isiah Factor Uncensored will provide more details of this altercation tonight on FOX 26. 
The interview delves into their perspective on the incident, shedding light on their feelings of discomfort and their decision to involve other family members in the situation.