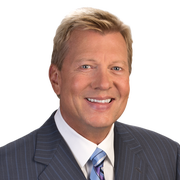 John Hook joined the FOX 10 News team in August of 1993. He anchors an hour of news on both "FOX 10 News at 5 pm" and "FOX 10 News at 9 pm." John and co-anchor Kari Lake make up "Hook and Lake," the longest-running news team in the Valley.
John also hosts the Emmy award-winning "FOX 10 Newsmaker Saturday" every Saturday night at 10:30 p.m.
Hook has been covering Arizona news for more than 24 years. He began his broadcast career in Phoenix radio. Prior to joining FOX 10, he was an anchor in Tucson.
Hook is a multiple Emmy award-winning journalist and a five-time recipient of the Associated Press "Anchor of the Year."
He is the author of the critically acclaimed book, Who Killed Bob Crane?
John holds a Bachelor of Arts in broadcasting from Arizona State University. In 2002, he was inducted into the Hall of Fame at the Walter Cronkite School of Journalism.
John lives in Scottsdale with his wife, Gina, their twin boys and daughter.
The latest from John Hook