90-pound Phoenix dog transformed after amazing weight loss journey
PHOENIX - If you need some motivation to get in shape, this may  be it. A Beagle named "Wolfgang" just had one amazing weight loss journey and he lives right here in the Valley.
A couple rescued, fostered, then adopted Wolfgang from a shelter in 2019. At the time, he weighed 90 pounds. Now he's down to 32 pounds, all thanks to his loving companions.
Wolfgang's owner, Erin McManis tells us there is no perfect solution, as every dog is different.
"They are not out there running a 5k with you every morning when it starts. So I think, at least initially, the diet is important because I don't see anyway that they are going to exercise.. at an intensity.. that is really going to let them burn a lot of calories."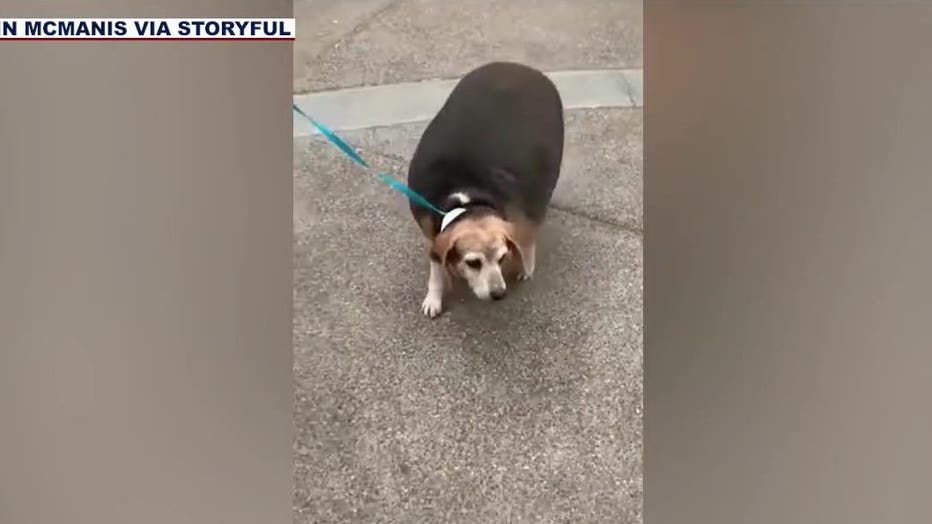 "Wolfgang" the Beagle. Credit: Erin McManis/Storyful
McManis and her husband hope their story will inspire others to get their dogs healthy.
On Oct. 9, McManis posted about Wolfgang's progress on Instagram in honor of Pet Obesity Awareness Day.
"October 13th is Pet Obesity Awareness Day, but we want to highlight this starting now and going through next week. As a family, we firmly believe that allowing a dog to become morbidly obese is at a minimum neglect. Please know we are talking about dogs that are grossly over a healthy weight, and having medical problems as a result of the obesity (or in Wolfgang's case three times a healthy weight). That being said, we advocate for keeping your dog at a healthy weight, even if your dog is not obese. Even if your dog is just a little overweight, losing the few extra pounds will do wonders for your dog's joints and likely will increase the quality of your dog's life," she said.
The American Veterinary Medical Association says, "Because excess weight can reduce your pet's life expectancy by more than two years, keeping your pet trim gives them the best chance of a longer, healthier, and pain-free life."
More Pets & Animals
Tune in to FOX 10 Phoenix for the latest news:
Sign up for FOX 10 email alerts, newsletters
Get breaking news alerts in the FOX 10 News app. It is FREE! Download for Apple iOS or Android.