Cardinals QB Murray honored with statue for Heisman season at Oklahoma
Tune in to FOX 10 Phoenix for the latest news:
NORMAN, Okla. - Former Oklahoma quarterback Kyler Murray returned to campus Saturday to be honored with a statue of his likeness in the Heisman Park across the street from Memorial Stadium.
The statue honoring his 2018 Heisman Trophy was unveiled before Oklahoma's spring game. His No. 1 and an image of the Heisman statue was painted onto the field at each 25-yard line and he was honored at halftime.
Murray was humbled by the experience.
"I have a bad habit of downplaying things like this in my career because I'm used to success, and I'm used to winning awards and stuff like that," Murray, the current Arizona Cardinals quarterback said after the spring game. "But this one was special."
At halftime, Murray reflected on his decision to transfer from Texas A&M to Oklahoma in 2015.
"I had a rocky start to my career. I chose the wrong school," he said, drawing a cheer from the more than 54,000 fans in attendance.
Several of Murray's former teammates returned to celebrate with him, and Oklahoma coach Brent Venables said the Cardinals' coaching staff attended.
Venables called Murray one of the best high school and college quarterbacks ever and said he's beloved by those who know him well, though he can come off as prickly to the media.
"He's a magnet for people," Venables said. "People love to watch him and his teammates love to play with him."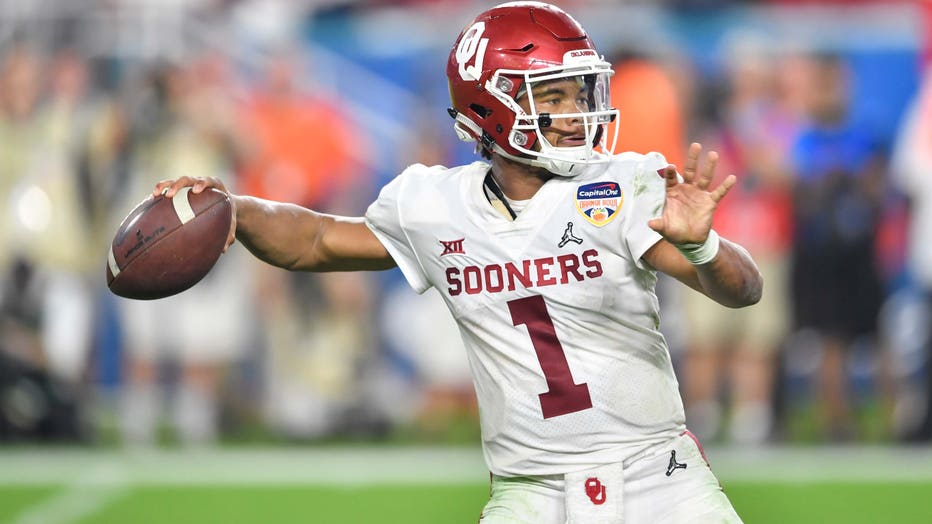 MIAMI GARDENS, FL - DECEMBER 29: Oklahoma quarterback Kyler Murray (1) throws a pass during the second half of the CFP Semifinal at the Orange Bowl between Alabama Crimson Tide and the Oklahoma Sooners on December 29, 2018, at Hard Rock Stadium in Mi (Photo by Roy K. Miller/Icon Sportswire via Getty Images)
Murray's statue joins Oklahoma's other six Heisman winners — Billy Vessels, Steve Owens, Billy Sims, Jason White, Sam Bradford and Baker Mayfield. Last year, Mayfield's statue was added to the park on the day of the spring game.
Murray could very easily have not played his Heisman season — he stuck with football, despite the Oakland A's making him the No. 9 overall pick in the 2018 Major League Baseball draft. He made the most of it and passed for 4,361 yards and 42 touchdowns and ran for 1,001 yards and 12 touchdowns while leading the Sooners to the College Football Playoff.
Murray said his relationship with Mayfield was extra special. Mayfield won the Heisman in 2017 while Murray watched and learned. Mayfield, who now plays for the Tampa Bay Buccaneers, was on hand Saturday.
"The competition between me and Baker was through the roof," Murray said. "Obviously, the friendship evolved through the roof. So we spent countless hours together, did a lot of things off the field. You know, we built the relationship. So it's a brotherhood and a friendship like no other just because of the way things happened. I support him to this day. He supports me."
Murray eventually was the No. 1 overall pick in the 2019 NFL draft and was the NFL's offensive rookie of the year. The two-time Pro Bowl selection signed a $230.5 million contract before last season.
He's also he's had some challenges, most recently an ACL tear last December that ended his season. He said he's recovering well.
"It's going good," he said as he stood for the interview session. "Getting stronger every day. It's a long process."