Dartmouth football coach suffers 'serious injuries' after being struck by pickup truck while bicycling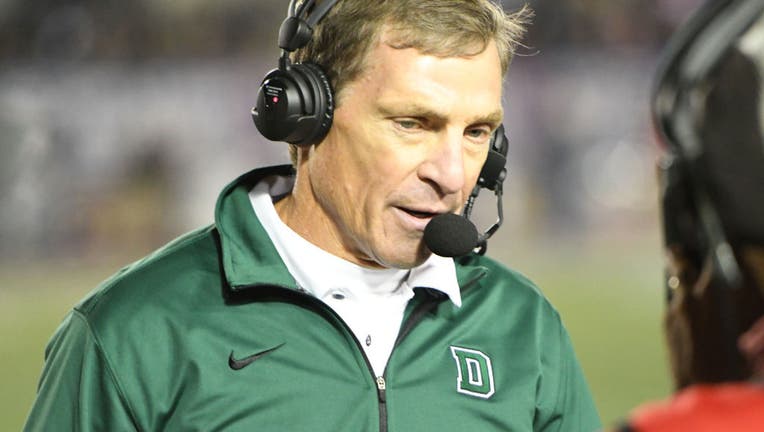 article
Dartmouth head football coach Buddy Teevens was hospitalized with "serious injuries" after he was struck by a pickup truck while bicycling in Florida last week, his wife said Monday.
Teevens, who is in his second stint as head coach of Dartmouth's football team, was injured during a "bicycle accident" in St. Augustine on Thursday, the university confirmed in a press release over the weekend. 
But details of the crash reported on by Valley News revealed that Teevens and his wife, Kristen Teevens, were both on bicycles while on their way home from a restaurant when the longtime coach was struck by a pickup truck being driven by a 40-year-old female driver.
COLLEGE FOOTBALL COACH HOSPITALIZED AFTER BICYCLE CRASH
"He has sustained serious injuries and is currently hospitalized," Kirsten Teevens told the outlet. "He is a healthy man and hopefully he will have a full recovery. We are very appreciative of all the support and the outpouring of love."
A preliminary report from the Florida Highway Patrol, obtained by the outlet, described Teevens injuries as "critical" and noted that there were "no illuminated lights were observed on the bicycle." 
CLICK HERE FOR MORE SPORTS COVERAGE ON FOXNEWS.COM
The report also noted that Teevens was not wearing a helmet and "was not in a crosswalk or designated crossing area."
According to the university, Teevens is not accepting visitors as he recovers.
CLICK HERE TO GET THE FOX NEWS APP
The 65-year-old coach is Dartmouth's all-time winningest coach. He coached the team to back-to-back Ivy League titles during his first stint as head coach between 1987 and 1991. He returned in 2005, winning three more titles. 
Teevens owns a 117-101-2 record and is 83-70-1 in Ivy League play over his career.
Fox News' Scott Thompson contributed to this report. Read more of this story from FOX News.