Kevin Durant misses game vs. Thunder on Feb. 24
PHOENIX - Fans anxiously waiting for Kevin Durant's debut in a Phoenix Suns jersey will have to wait a little longer.
Durant is out for Friday night's game at the Footprint Center against the Oklahoma City Thunder, FOX 10's Robbie Baker reports.
"Kevin Durant is OUT for tomorrow's game vs. OKC," Baker tweeted. "The Suns say Durant will be evaluated on a game by game basis moving forward."
The Suns beat the Thunder, 125-114.
There was increased speculation that Durant would make his Suns debut on Friday night after the cost of ticket prices spiked. The game was also broadcast to a national audience.
Durant is expected to make his Suns' debut on March 1 on the road against the Charlotte Hornets. He hasn't played since early January when he injured his knee.
Durant and T.J. Warren were dealt to the Suns in a blockbuster trade with the Brooklyn.
In exchange for the 13-time All-Star, the Suns sent Mikal Bridges, Cam Johnson, four first-round draft picks, and a 2028 pick swap to the Nets.
More Phoenix Suns headlines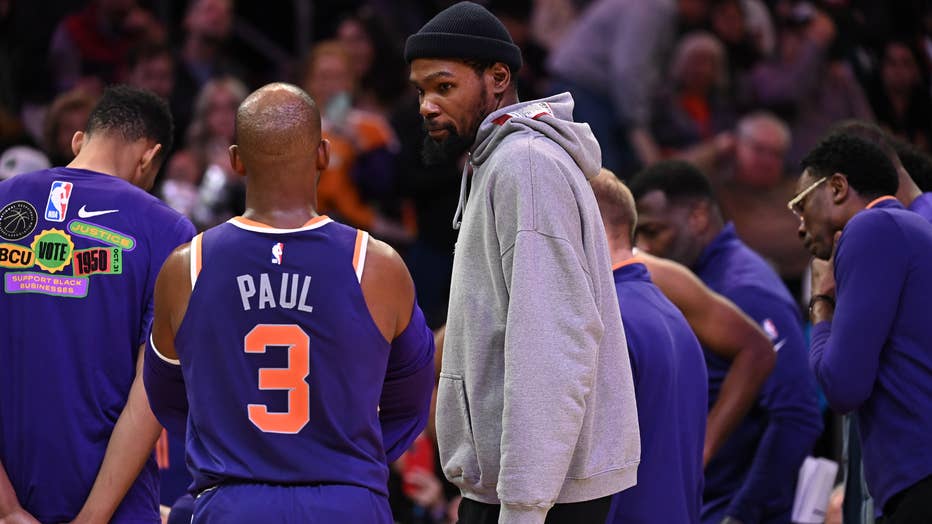 Basketball: Phoenix Suns Kevin Durant (35) and Chris Paul (3) talk during a time out vs Sacramento Kings at Footprint Center. Phoenix, AZ 2/14/2023. (Photo by John W. McDonough/Sports Illustrated via Getty Images)