2 die from hypothermia after canoe overturns in Lake Pleasant: MCSO
PEORIA, Ariz. - The Maricopa County Sheriff's Office says two people died in a canoe accident in Lake Pleasant on Saturday morning.
Deputies were called to an area near Waddell Dam just past 9 a.m. on Feb 12 on a drowning call.
They discovered that three men were on a canoe when it flipped over. All three of them were found, but two of them were dead. The third victim was hospitalized but is expected to survive.
22-year-old Arimus Nazareth and a 14-year-old male died in the incident. MCSO says they died from complications of hypothermia from being in the cold water.
Other boaters on the lake said Saturday was very windy. "This morning, we were coming out here because our friends are camping out here, dry camping, and we saw all the firetrucks and ambulance and police and sheriffs coming out. They went out on the dam ... we figured something bad had to have happened," said Adina Werner of Surprise.
Josh Beadle, who was at the lake Saturday afternoon explains how he makes sure he and loved ones have a safe time on the lake.
"I just think it's inexperience – experience level. When you go out there, you should definitely look out, see if there are white caps. I kind of lookout and see what's going on. If there's big boats, maybe I won't go out that day, but you gotta do your safety checks, make sure your lights are all working so when it gets dark, you're properly seen out there. Just unfortunate, unfortunate what happened," Beadle said, in part.
MCSO is investigating the incident.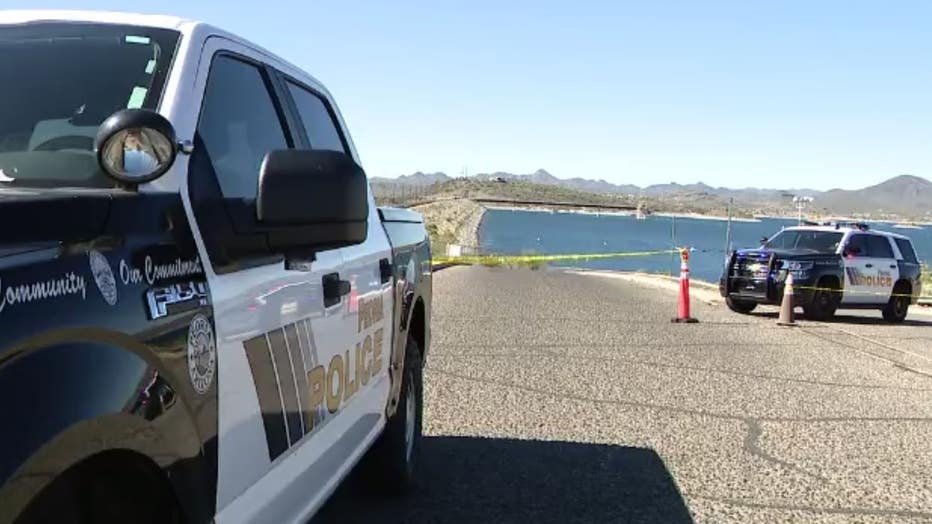 Scene of a drowning investigation at Lake Pleasant
More Arizona headlines
For the latest local news, download the FOX 10 News app.
Tune in to FOX 10 Phoenix for the latest news: