2 people hospitalized after Goodyear home explodes, ATF investigating
GOODYEAR, Ariz. - Goodyear Fire Department crews say two people were hospitalized for severe burn injuries after a home caught fire and exploded on the night of Sept. 12.
The 2-alarm fire broke out near Van Buren Street and Loop-303, says EMS Battalion Chief Eric Kleinschmidt with the Goodyear Fire Department.
The following day, Kleinschmidt said, "As of this morning, the cause of the fire is still under investigation and Goodyear PD has maintained security on the house for further investigation."
Alcohol, Tobacco, Firearms and Explosives agents were at the scene, attempting to figure out what sparked the explosion and fire.
The man and woman inside the home suffered burns. The woman was released from the hospital Monday and the man remains in critical condition.
A neighbor's surveillance camera caught the explosion on video. The camera is about a block away from the scene and neighbors say the explosion shook their homes.
"Honestly, it shook our house. It was super loud," said neighbor Tori Rocha.
Chamberlain Blanton, a neighbor, said, "My wife's in the kitchen, we hear this loud boom. Didn't know what was going on. I went outside and I saw the top of that house over there just completely come off.
He says he heard two people inside screaming for help.
"It sounded like they were trapped," he said, adding, "A couple neighbors did try and go around the back to try and get them out, but I said that wasn't a good idea."
Two homes in the area were evacuated on Sunday night as a precaution and those residents have returned home.
"At this point we're still determining the cause due to the nature of an explosion. ATF was called out just to help determine its initial cause and anything that might be related to that. Nothing suspicious has been reported at this time," said Kleinschmidt.
Fire department investigators have ruled out a natural gas leak as a cause of the explosion.
No names have been released in this case.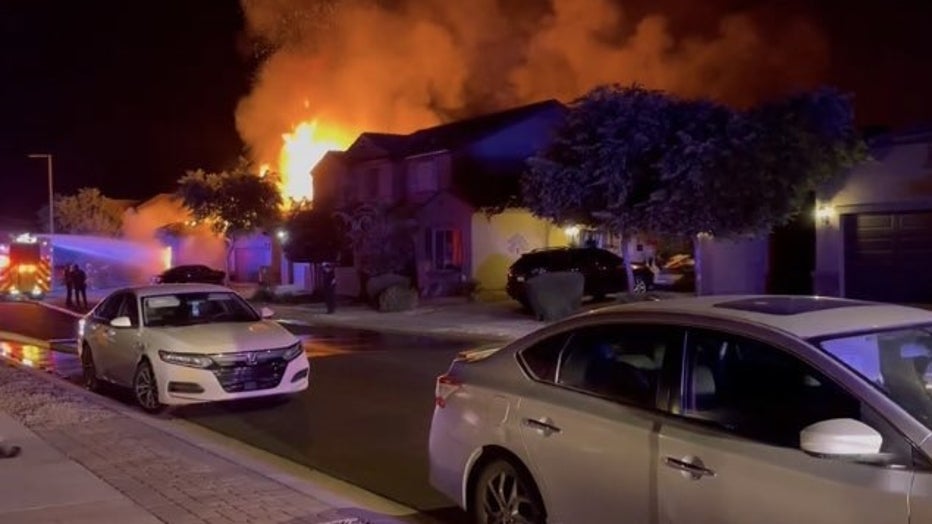 Goodyear house fire and explosion on the night of Sept. 12. Photo by Mauricio Rocha
More Arizona news:
Tune in to FOX 10 Phoenix for the latest news: