Afghanistan veteran in Arizona is trying to help Afghans flee from violence
PHOENIX - A Valley veteran who served in Afghanistan is speaking out about the crisis in the middle east and how he's trying to help people, including his friends, seek refuge.
Lance Adan Camarena II served in Afghanistan from 2017 to 2018 and he made friends over there who are at this point still stuck in Afghanistan.
A friend of Camarena's was trying to get to the U.S. with his family, then he says he was denied entry then wounded in a suicide bombing.
That friend is Mohammad Seyam Karimi. "The airport is bombed, my big son is dead," he said.
Karimi is injured and his seven-year-old son is dead. That's why he's urging the government to get these Afghans out of the country and to safety.
He broke his leg his arm in the suicide bomb attack.
"It breaks my heart. I mean these people were great people that I know. Loving people. They enjoy spending time with us every day. They dreamed of making it to the U.S. and now they're trapped. They can't make it to the U.S. They're trapped. The Taliban are harassing them. I mean it's heart-wrenching. He's mentally broken, I mean he's struggling from the anxiety and depression knowing there's a high possibility he may be left behind and the grief that he can no longer bring his son with him 'cause he's no longer with them," Camarena said.
He says he has a list of 21 people that he's trying to help get of Afghanistan and to safety in the U.S.
Karimi says he worked with U.S. forces for 12 years. He and his family are still dreaming of one day making it to the U.S.
Three weeks later, the family is still seeking refuge
Karimi and his young family are still hiding out from the Taliban as of Sept. 11. They've been trying to get out of the country for the last three weeks.
"I not go outside, I'm sick, I sleep every day, every night in the room," he said. "Of course it's dangerous. You see I work 13 years for your country there."
His two kids left behind, he says, are devastated, and scared too.
Camarena is advocating for him and his family to seek refuge in America.
"They're stuck. They're in danger. One of them was beaten by the Taliban the other day, pictures of him all bruised up," Camarena said.
After the U.S. troops had left, Karimi was reportedly told that all of his Afghan friends, including Karimi, were left behind.
"His son is passed now, he's living under Taliban rule, he's not getting contacted by the government and he needs to be evacuated in the most simple way possible 'cause he's not able to walk. He's having problems with his hands," Camarena said.
Karimi says he has practically no money left to make it to the U.S. even if he were allowed to leave. 
For now, he's just hoping that someone can help him. He says he's still bedridden from injuries and his wife will go out for food, but even then she has to be very careful.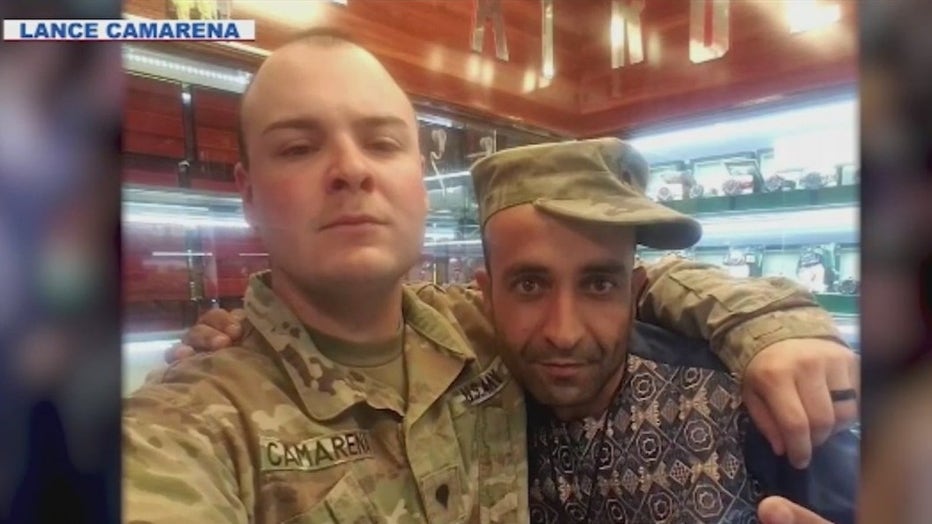 Related Stories:
Tune in to FOX 10 Phoenix for the latest news: