Built to Honor program gifts Army veteran, family new mortgage-free home in Florida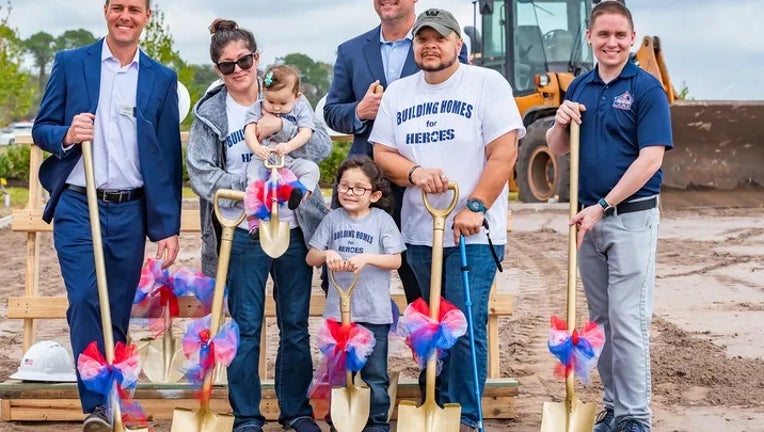 article
An Army veteran in south Florida will soon live in a mortgage-free home with adaptions for his disabilities courtesy of PulteGroup's Built to Honor program.
A groundbreaking ceremony was held for Army Sergeant First Class Lucio Gaytan and his family on Tuesday to celebrate the start of construction on their new home in the Sapphire Point at Lakewood Ranch community – a Pulte neighborhood. 
Friends and other community members lined the streets as Patriot Guard riders escorted the family to the site of their future residence, which will be a 2,200+ square foot single-story home with features to accommodate Gaytan's needs. The home will be ready for move-in this summer.
"We are thrilled to welcome the Gaytan family to Lakewood Ranch," Laura Cole, senior vice president at Lakewood Ranch, said in a statement. "They will be part of a strong and supportive community that has already embraced them before construction had even begun on their new home."
GOLD STAR FAMILY RECEIVES MORTGAGE-FREE HOME IN TIME FOR HOLIDAYS
According to the program, Gayton joined the military in 1996 and served for 22 years before medically retiring. He was seriously injured during a parachute jump in 2005 while training for a deployment to Afghanistan and sustained injuries to his neck and spine.
Despite his injuries, Gayton completed his deployment overseas and continued to serve until he was physically unable. At the time of his retirement in 2018, he was part of the Warrior Transition Battalion.
He was awarded the following medals during his military career: Bronze Star Medal, Afghanistan Campaign Medal w/ 4 Campaign Stars, Defense Meritorious Service Medal, National Defense Service Medal, and the Global War on Terrorism Expeditionary Medal.
BUILDING HOMES FOR HEROES: NON-PROFIT AIMS TO HELP WOUNDED VETERANS GAIN INDEPENDENCE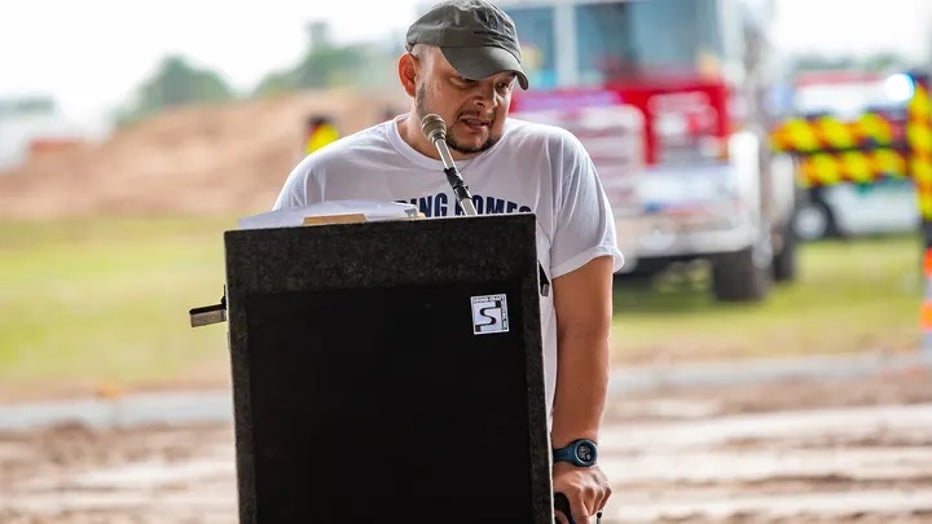 US Army SFC Lucio Gaytan speaks at groundbreaking ceremony for his new mortgage-free home from PluteGroup. (@BuiltToHonor/Twitter)
Over the years, Gaytan has had many medical procedures to help with his injuries, but he still suffers from a traumatic brain injury, hearing loss, tinnitus, and chronic pain.
He is very involved in adaptive sports, participating in wheelchair basketball and wheelchair football. Gayton has even played for Team SOCOM in the Department of Defense Warrior Games.
President of PulteGroup's Southwest Division Josh Graeve said in a statement "it is a privilege" for the team to build a home for Gayton's family as a small token of gratitude for his decades of service.
"The Lakewood Ranch community is the perfect place for the Gaytan family to call home, and we are so excited for the many happy memories they will create there together," Graeve added.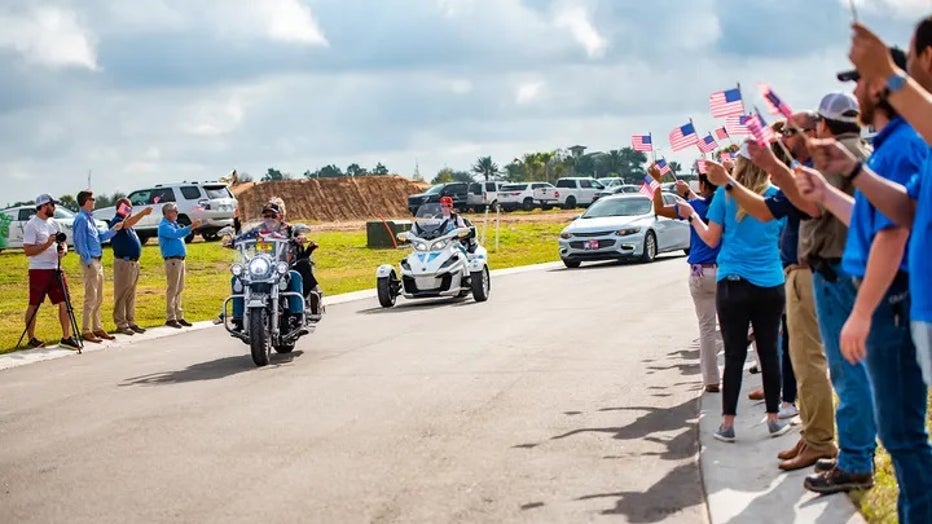 Community members celebrate US Army SFC Lucio Gaytan and his family receiving a new mortgage-free home from PluteGroup. (@BuiltToHonor/Twitter)
PulteGroup's Built to Honor program works with other organizations to identify veteran candidates. For Gayton's home, it partnered with Building Homes for Heroes, a non-profit organization founded in 2006 devoted to bringing renewed hope and service to injured veterans.
The Built to Honor program has built and donated 76 homes across the country since its launch in 2013, totaling more than $35 million in value.