Gov. Ducey: First doses of COVID-19 vaccine expected in Arizona by late December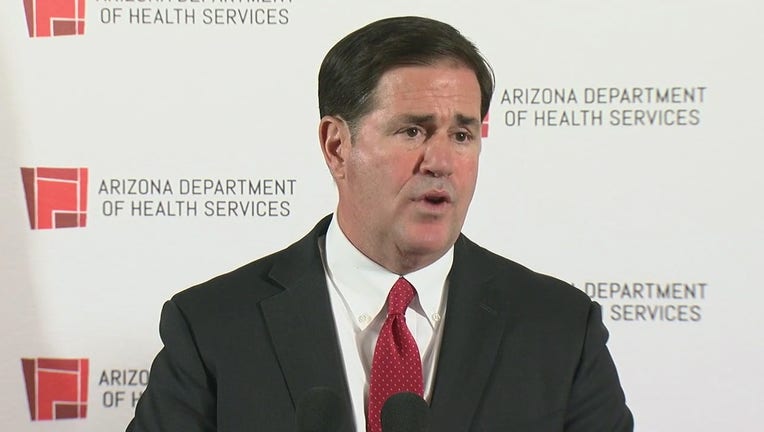 article
PHOENIX - Arizona Governor Doug Ducey says Arizona should expect to receive its first doses of the COVID-19 vaccine soon.
In a tweet made to his verified Twitter page on Nov. 23, Gov. Ducey said state officials have enrolled hundreds of providers who are ready to administer the vaccine, and that the first doses will be expected by mid to late December.
The announcement by Gov. Ducey was made on the same day Arizona announced 2,659 new COVID-19 cases, which brings the total number of cases to over 300,000. While no new deaths were announced, the total of coronavirus-related deaths stands at 6,464, as of Nov. 23.
Hospitalizations from COVID-19 also continue to rise with more than 2,000 people now occupying hospital beds.
Preliminary data: 3 vaccines show high efficacy
Throughout November, there have been news that three COVID-19 vaccines show high efficacy, based on early test results.
On Nov. 9, Pfizer announced that its COVID-19 vaccine, which was jointly developed with its German partner BioNTech, may be 90% effective. On Nov. 20, the two companies formally submitted a request for emergency use authorization.
Related: What does emergency use for a coronavirus vaccine mean?
On Nov. 16, Moderna announced that its COVID-19 vaccine appears to be 94.5% effective.
On Nov. 23, AstraZeneca announced that its COVID-19 vaccine with Oxford University was up to 90% effective in preventing disease, based on interim analysis of late-stage trials in the United Kingdom and Brazil.
State officials lay out vaccine distribution plan
According to a draft COVID-19 vaccination plan released by the Arizona Department of Health Services, vaccine distribution will take a phased approach.
During the first phase, state officials say supplies may be constrained, and vaccination efforts will focus on, at first, people serving in healthcare settings who "have the potential for direct or indirect exposure to patients or infectious materials and are unable to work from home," later expanding to other essential workers and people who have a higher risk of severe COVID-19 illness, including those 65 years of age or older.
Eventually, vaccination efforts will focus on the general population.
Medical professionals preparing for vaccine
In Arizona, doctors and other medical providers have been preparing for this latest development in the COVID-19 vaccine, as healthcare workers work around the clock to treat those who have been infected.
"We need to get it rolled out to the entire population so we can develop herd immunity to the virus, so we can get back to normal. I think it's an incredibly big step," said Dr. Sam Durrani, Chair of the HonorHealth Medical Staff COVID-19 Task Force.
Dr. Durrani says there won't be a mandate to get the vaccine, and he understands there might be some hesitancy by members of the public.
"You know our concern is vaccine hesitancy. That's why it's gonna be really important the FDA approval and for us to recommend the vaccine as well. I think people are concerned about how fast it was rolled out, but the science behind it is very good."
The CEO of Embry Health, Raymond Embry, says he wants 60 COVID test sites open by Dec. 1, and when the vaccine is available, each of them will provide it.
"We have no plans in opening separate vaccination sites. We believe that these sites can serve dual purposes. It just involves the logistics process and being able to set up accurate signage and ensure that you have adequate staffing," said Embry.
As cases in Arizona continue to rise, Dr. Durrani says the next few weeks will be challenging. Awaiting more data on the vaccine, he says people must ultimately trust the ruling by the Food and Drug Administration.
"You know they're looking to end the pandemic in a safe fashion. Can there be adverse to vaccines? There can be adverse reactions to any vaccine," said Dr. Durrani.
Tune in to FOX 10 Phoenix for the latest news:
Get the latest coronavirus news by downloading the FOX 10 News App. Our promise is that our alerts are there to inform you - not scare you.
Sign up for FOX 10 email alerts, newsletters
COVID-19 symptoms
Symptoms for coronavirus COVID-19 include fever, coughing, and shortness of breath. These, of course, are similar to the common cold and flu. 
Expect a common cold to start out with a sore or scratchy throat, cough, runny and/or stuffy nose. Flu symptoms are more intense and usually come on suddenly, and can include a high fever. 
Symptoms of COVID-19 may appear more slowly. They usually include fever, a dry cough and noticeable shortness of breath, according to the World Health Organization. A minority of cases develop pneumonia, and the disease is especially worrisome for the elderly and those with other medical problems such as high blood pressure, obesity, diabetes or heart conditions.
RELATED: Is it the flu, a cold or COVID-19? Different viruses present similar symptoms
COVID-19 resources
CDC Website for COVID-19
https://www.cdc.gov/coronavirus
https://espanol.cdc.gov/coronavirus/2019-ncov/index.html (In Spanish/En Español)
AZDHS Website for COVID-19
https://www.azdhs.gov/preparedness/epidemiology-disease-control/infectious-disease-epidemiology/index.php#novel-coronavirus-home
https://www.azdhs.gov/preparedness/epidemiology-disease-control/infectious-disease-epidemiology/es/covid-19/index.php#novel-coronavirus-home (In Spanish/En Español)